I always want to visit Sagada especially when I heard and read stories from friends, family and bloggers/travelers. But, getting there takes more time and patience. Plus, I am not sure if it is safe to travel because of the zigzag roads.
But the amazing stories pushed me more to fulfill this plan. And so, when I have a travel in Manila, I took the opportunity to visit Sagada on the weekend before my schedule. When my cousin knew about it, she also wanted to go. And so, together with my cousin, aunt and uncle, we all went to Sagada on a Friday night.
HOW TO GET THERE
There are many ways you can get to Sagada.
Their terminal is at HM Transport Terminal, Monte De Piedad St., corner Maryland St., Cubao, Quezon City. Below are the schedules and fares based on their website.
From Quezon City to Sagada

From Sagada to Quezon City
It is best to book online ahead of your trip so that you can secure a seat. There are bus stops along the way.
Bus to Baguio City then Bus to Sagada
Another way is to take a bus from Manila to Baguio then take another bus to Sagada. One of the bus lines that will go to Baguio is the Victory Liner which you can also book a ticket online. Travel time is 5-6 hours to Baguio and another 5-6 hours to Sagada.
There is an hourly trip from either Cubao, Pasay or Sampaloc to Baguio City.
From Baguio City, you can take a bus to Sagada either by GL or Lizardo Bus.
From Baguio City to Manila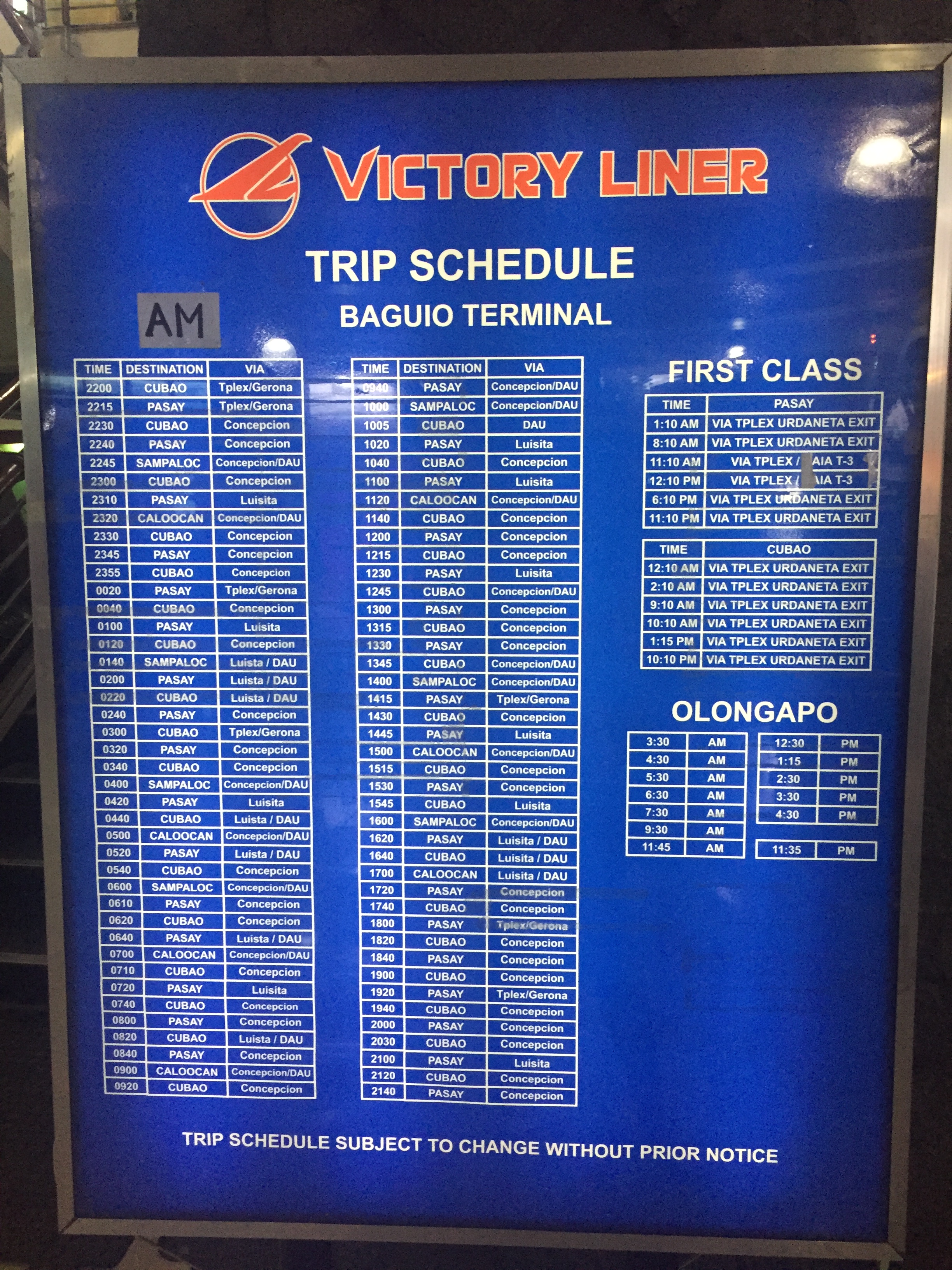 Bus to Banaue then Bus to Sagada
Bus to Bontoc then Jeep to Sagada
BELOW ARE THE SCHEDULES FROM SAGADA
You may check Pinay Solo Backpacker\'s Sagada Blog for the detailed information on how to get to Sagada.
HOW TO GET AROUND
Most of the tourist spots, restaurants, souvenir shops and hotels/inns in Sagada can be reached by walking. It is better to do it this way to enjoy the view. Also, it will not be that tiring because of the cold air.
You can also take a jeepney to go from one place to another. Just make sure to ask if it will pass your destination.
Their Information Center can help you rent a vehicle to tour you around or even take you to neighboring towns.
WHAT TO DO IN SAGADA
When you visit Sagada, you will notice that their tours are being regulated by the Local Government Unit. Once you arrived, you need to pay a one-time Environmental Fee of Php 40 at the Information Center where you will also register your names, contact details and the place you will be staying. Always bring the receipt of the Environmental Fee as this will be needed during your tour. They will also provide you a guide and information about Sagada.
If you want to have a tour, make sure to coordinate and book it with the in-charge in the Information Center. They regulated it that all tours must have a tour guide.
Below are the different tours that you can try in Sagada.
OUR EXPERIENCE
Once we arrived in Sagada, we directly went to the Information Center, paid the registration fee and registered. Then we scheduled a tour for the day. We chose the Adventure Trail for the Echo Valley Walking Tour and Kiltepan Sunrise the next day.
We checked in first at Masferre Inn and Restaurant
There are many inns and hotels in Sagada that you can choose from. You may check it with Agoda, Booking.com and other hotel apps.
After we got settled and changed, we then headed back to the Information Center where we met our tour guide.
And the Adventure Trail began…
Church of St. Mary the Virgin
Echo Valley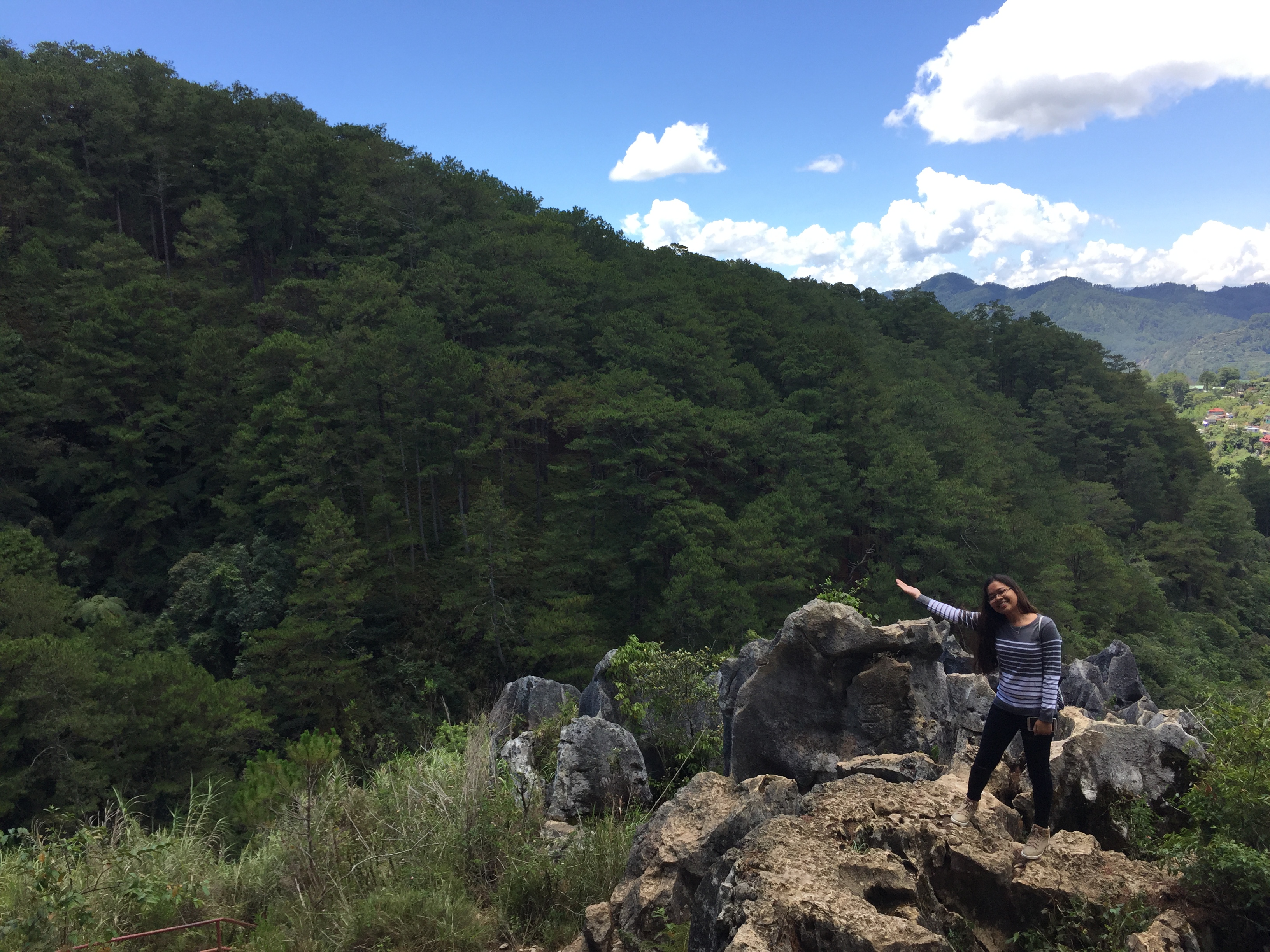 TREKKING
UNDERGROUND RIVER
FOREST & CAVE
FIELD
WATERFALLS (BOKONG NATURAL SWIMMING POOL)
After the 3-hour Adventure Trail, we were so hungry and dying to have our lunch. Our guide called the driver and pick us up after walking for who knows how many steps up from Bokong Falls.
We then went to GAIA CAFE AND CRAFTS SAGADA for lunch. They offer purely vegetarian foods, no additional seasonings, and that Sagada beer.
It was raining when we got there. By the way, this is where Mace & Anthony in That Thing Called Tadhana had their breakfast.
The place is so beautiful. It is an overlooking of the hills and trees. Everything is green, making it so relaxing.
After that, the driver picked us and sent us back to the hotel. We then rested and eventually, had a nap. We will supposedly go to Lake Danum for the Sunset but it was raining the whole afternoon.
And so, we went out later that night to buy for some pasalubong and souvenir. There are many souvenir shops in the area. If you are staying in Masferre, they have their own souvenir and pasalubong store. Also, there are shops across the inn.
Once done with all the shopping, we headed to LOG CABIN CAFE SAGADA to have our dinner. We tried their buffet dinner for Php 500 each. You need to pay for a reservation fee of Php 200 each. Dinner starts at 7PM. Below is the menu for the night.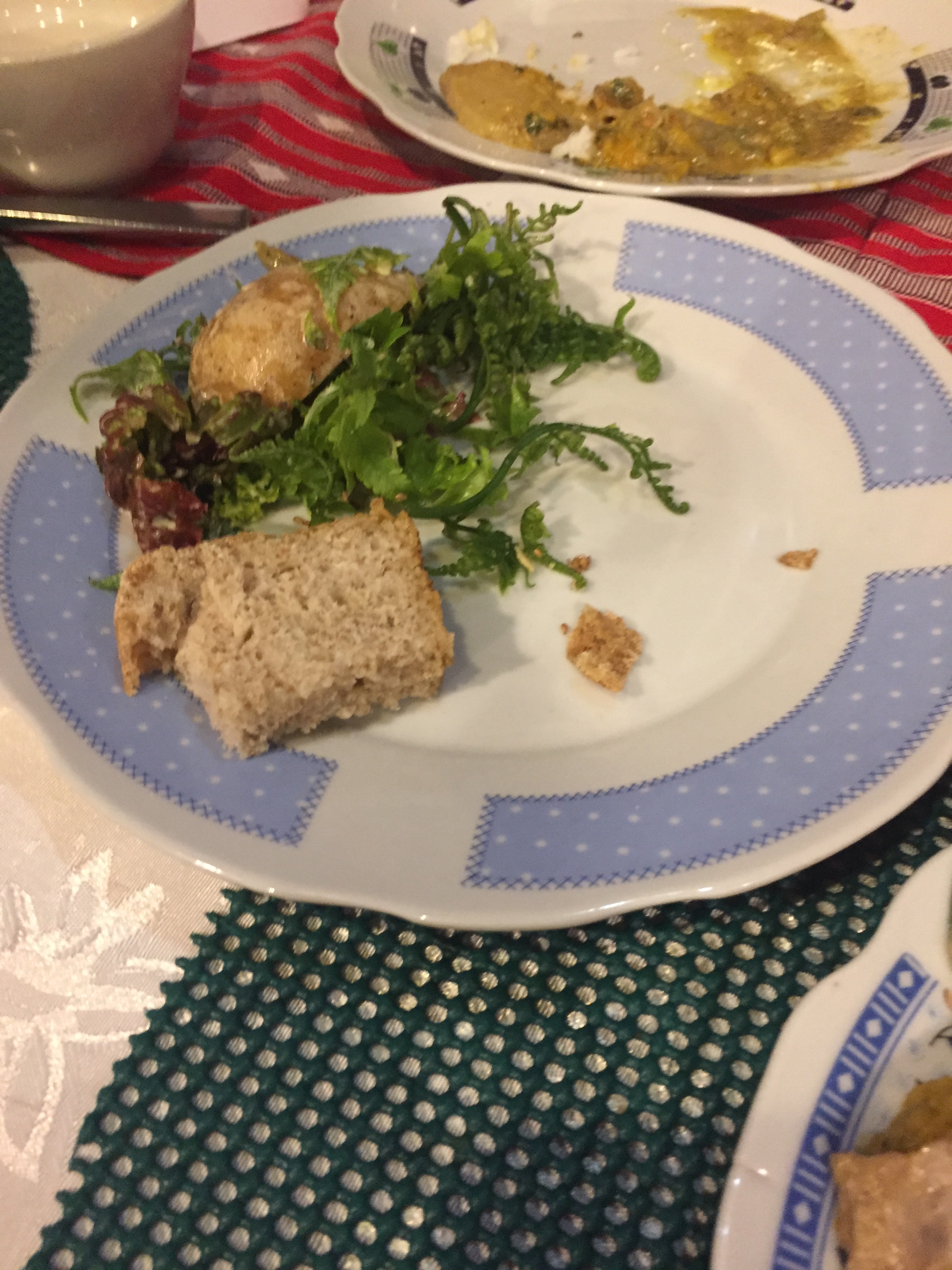 The foods are delicious and healthy especially the chicken and chocolate mousse. The chef is a foreigner. I am not sure if his French.
Then, we called it a day. Slept early because we need to wake up early for the sunrise.
Day 2
The guide/driver called me around 3AM asking if we were ready. And since we were not yet, he said that he will go back. At around 4AM, we went to the Information Center (which was closed that time and so we stayed outside with 13 or 14 degrees Celsius) and waited for the driver. He arrived almost 5AM then we directly headed to Kiltepan Peak.
When we arrived, many tourists were already there taking pictures, drinking coffee, chatting, etc. We then went to look for a place perfect to capture Mr. Sun. Luckily, we did find one.
The estimated sunrise that day was at 5:40AM. Mr. Sun showed at 5:45AM. Everything was magical. I barely witnessed sunrise since I am not a morning person. That\'s why I was very amazed. It\'s like the mountains were giving birth to something and the sun is the baby.
I have a time-lapse video of the sunrise but unfortunately, I cannot post it here yet because of some WordPress plan thing. I am just going to share it in my FB page.
Then, we went back to the inn and had our breakfast.
We packed our stuff and went to the bus station for Baguio City. If you checked the schedule above, first trip is at 5AM, second trip is at 7AM then hourly until 10AM. The afternoon trips are at 1PM and 5PM. The travel time is 5-6 hours and the fare is Php 220.
That sums up our 25-hour tour (plus 24 hours travel time) in Sagada. It was short but still the looong trip is worth it. With all the fresh & cold air, beautiful environment, the trees, the hanging coffins, the river, the cave, the fields, the clouds, the sunrise, the people, the temperature, the foods and being away from the hustle & bustle of the city. It is indeed a good breath-taker and refresh before starting another busy week.
If you asked me why this is where the broken hearts go in That Thing Called Tadhana? I will copy my answer in my FB page when a friend asked me. Just need to translate it to English! Hahaha!
Didto muadto ang broken hearts kay bugnaw ang lugar (pareha kabugnaw sa love life niya), nindot isyagit (isyagit ang loneliness ug pain), mingaw (mas mingaw pa sa iyang life nga wala na siya). Pero didto niya makita ang kanindot sa world (ma remind siya na naa pay mas nindot kaysa gugmang nahumana ug naa pay daghang nindot diring kalibutana), healthy foods (which is kailangan niya para healthy siya) ug fresh air (pang refresh sa iyang life na nahimong toxic tungod sa iyaang ex). LOL! HAHAHA. 😂😜😁
TRANSLATION (please bear with me! HAHAHA):
The broken hearts will go to Sagada because the place is cold (as cold as one\'s love life), good place to shout (shout all the loneliness and pain), quiet (much quieter than one\'s life when the ex is gone). BUT! In Sagada, one will find how beautiful the world is (s/he will be reminded that there is more beautiful than a love that has ended and there are more beautiful things in this world), healthy foods (which one needs to be healthy) and fresh air (to refresh one\'s life that became toxic because of her/his ex). LOL! HAHAHA.
😂
😜
😁
Well… there are more beautiful things in Sagada that one should visit. Not just because you are lonely or brokenhearted. But be in Sagada for the nature, for the wonders, for the foods, for the people and for the experience that you can write in your book of life. In fact, there are many foreigners in Sagada (more than we would expect).
If you are planning to visit Sagada, here are some tips.
Travel time is too long. Make sure that you are okay with the long trip. Mostly, it takes 12-13 hours to get there by bus. I am not sure if there is another way though than land travel.
Book ahead your seats in the bus because bus going directly to Sagada is not hourly and the trips & seats are limited. You can book online though.
Bring foods during the trip. It might be difficult for you to buy somewhere when you get hungry during the trip. Remember, it is night time and stores might be closed already. However, there will be bus stops but usually at dawn for the driver to have some coffee break.
There are many inns and hotels you can choose from in Sagada. You may book it in advance. Best to choose those near the Information Center where every tour will start, there are many restaurants & shops around.
DO NOT FORGET to drop by the Information Center once you arrived in Sagada. Pay and register.
There tours are regulated and required tour guide so book one if you want.
Bring water during the tour. You will definitely be thirsty and you might not be able to pass a store. Bring also a biscuit with you in case it will take longer.
FOLLOW THE RULE. Leave nothing but footprints. Take nothing but photos. Kill nothing but time. So never leave your garbage anywhere. Never take the stones or leaves or fruits. And definitely, never kill the animals that you will find there. It is there home so pay some respect.
There is an ATM in the Information Center if you need to withdraw. But it is only one machine (I am not sure if it is DBP or PNB).
If you will be going to Baguio after, be early at the bus station especially during weekend where more people are going there. Remember that the trips are limited. Otherwise, you have to stay an extra night.
And one more thing, enjoy your stay in Sagada. Capture as much as you want. Cherish every moment. And relax too. Leave the stresses in the city. Just spend your time with nature. It is totally worth it and fun. 😉