BtoB or Born to Beat is a South Korean boyband formed in 2012. It consists of 6 members: Eunkwang (the leader and main vocalist), Minhyuk (the oldest, lead rapper, lead dancer), Changsub (lead vocalist), Hyunsik (main dancer, lead vocalist), Peniel (lead rapper), and Sungjae (maknae, face of the group, vocalist). They were supposedly 7 with Ilhoon leaving the group around 2020.
I am not really into KPop but I love Missing You (그리워하다) and Only One For Me (너 없인 안 된다) songs of BtoB. The lyrics and the melody are so good. The group also sings so well.
So when they announced their fan meeting this year, I was hoping to get a seat. Unfortunately, it went sold out within the day. I gave up and did not try again.
But a week before my trip to South Korea, I tried to check again if there's available, and there was. So I bought it immediately. The schedule that I purchased was for the second day, it's Sunday March 19, 2023.
My trip to South Korea was on March 17.
When March 19 arrived, I started my day by attending the English Mass at 9AM KST at Myeongdong Cathedral. The fan meeting will start not until 5PM so I still have more time to do something else.
I went to Daiso with my friend after the mass, I had a breakfast at a Gimbap shop then went back to the Airbnb. I rested for a while before I decided to go to the venue which was at the SK Olympic Handball Gymnasium in Olympic Park.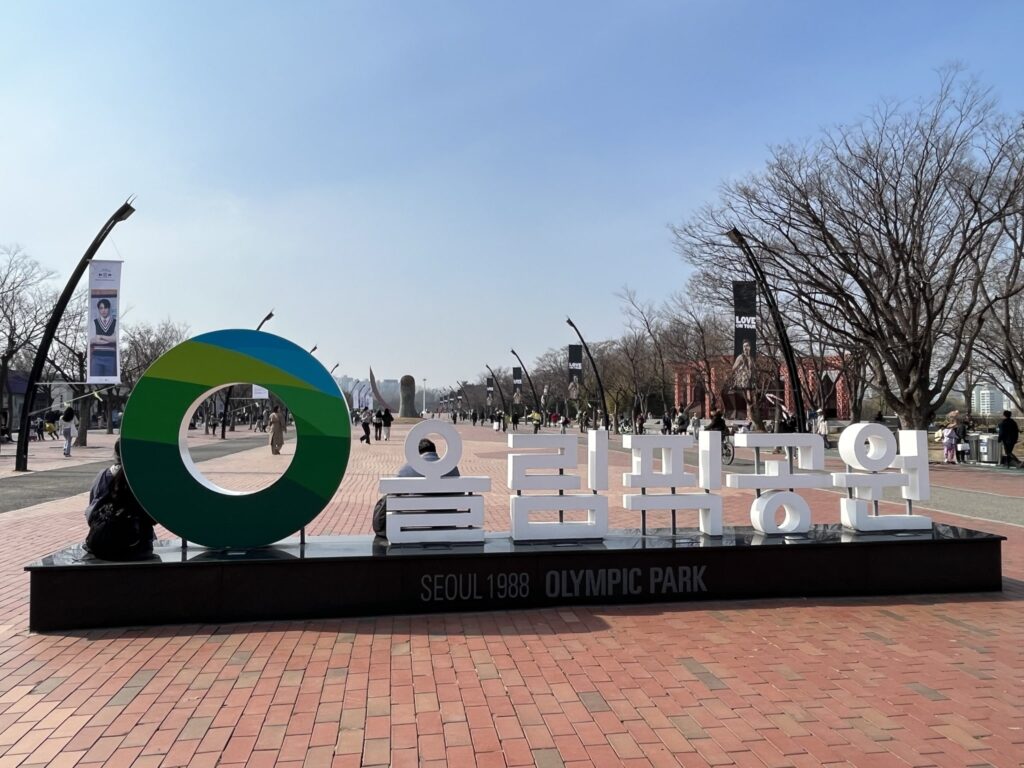 When I got there, there were already a lot of people. Some were there for the fan meeting, others were there to buy the merchandise for Harry Styles concert, and the rest were there to have lunch or spend their time at the park.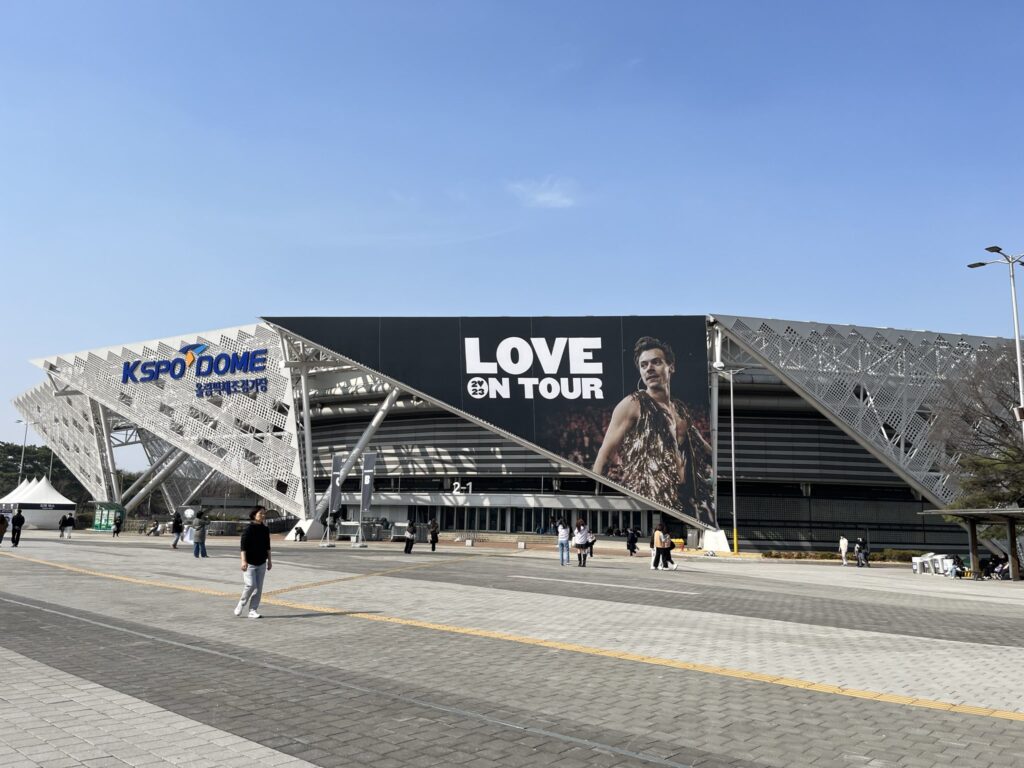 I went directly to the Ticket Booth to claim my ticket. I also went to the Merchandise Zone and bought fan lightstick and some photo/message cards.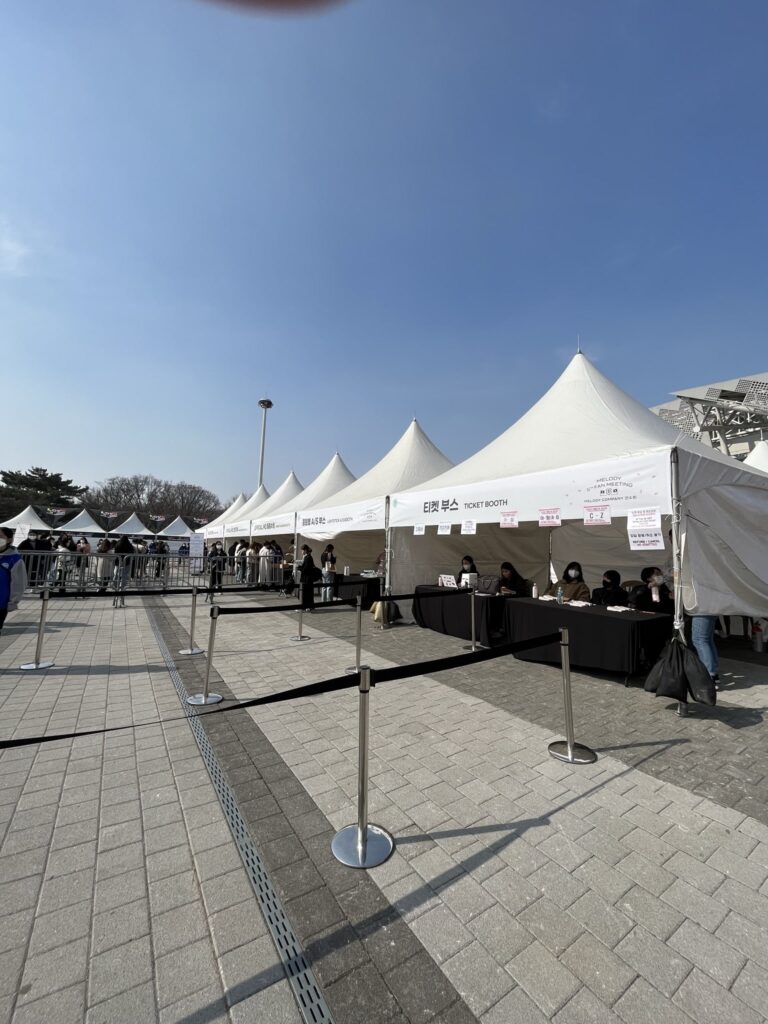 Since it was still early, I went back to the entrance of the park and hoping to buy a coffee at the cafe but they only served take out as of the moment. So I just went out and headed back near the venue. There was a convenience store there so I just bought some drinks and bread to eat.
Until the venue opened and fans started to enter. Everyone can get one fan board with a message for BtoB. I got two and ended giving the other one to my seatmate. 🙂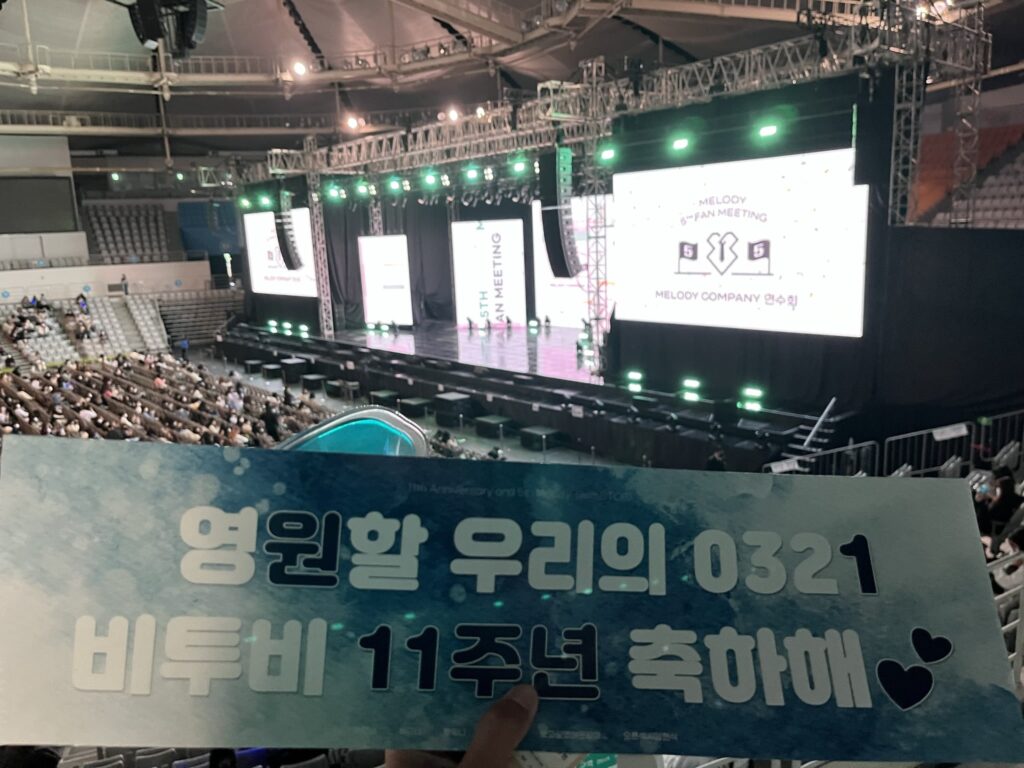 I found the system so organized. From getting inside to sitting on your assigned seat. And whenever you need to go to the comfort room, you have to bring your ticket because someone will check at the entrance.
I got so excited. It was my first time to attend a fan meeting in South Korea of all places. Surrounded with probably 90% Korean fans. I have strangers as seatmates but we ended up talking to each other though just for a short period.
Before BtoB went out, a video recording was played. Once it was done, they went out singing their first song Remember that (봄날의 기억). Then followed by my fave Only One For Me (너 없인 안 된다). Then they did an introduction and had some talking. And then there first game.
Then they sang another song followed by games and singing a song again and so on. There was also a time wherein the fans sang the song Never-Ending or Endless (끝나지 않을 (Melody)) which I really really love.
There were times that BtoB has to exit and change. There was also a break at the middle wherein fans can do a quick pee break.
When BtoB went back at the last few minutes of the event, they went down to the fans area while singing a song. The fans at that area were able to see the members up close and some even gave gifts.
They also took photos with the fans.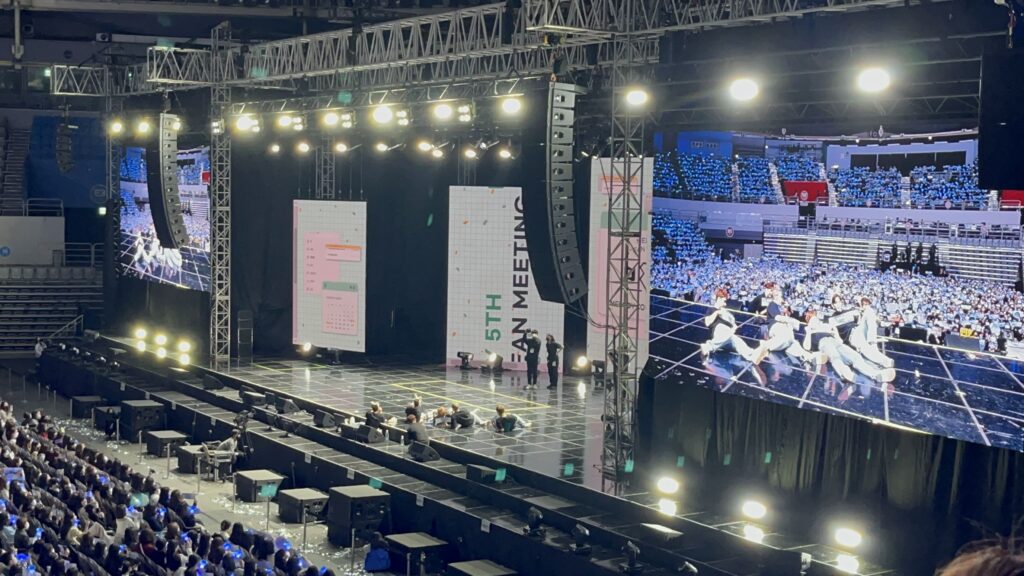 BtoB bid farewell twice or thrice until the show has finally ended.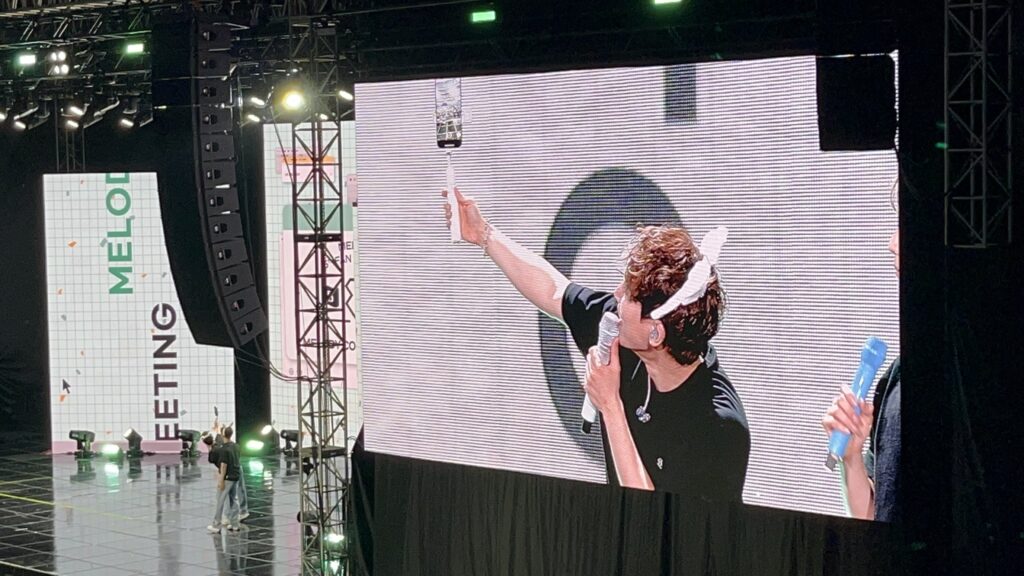 It was indeed a super fun and memorable experience for me. It was totally worth it given that they really sing so well. They were so fun too especially during the games.
The thing with watching it in South Korea is that there is no translation like it is in another countries where translators would translate after the idols will say something. I really didn't get much of what they're saying but I still feel like I got it and I still enjoyed.
Definitely, I will do this again! Either with BtoB, Super Junior or my main EXO. 🙂
I had my dinner at a Japanese restaurant within the park and speaking of EXO, found birthday greetings for Sehun's birthday at the subway station.