We started our 2nd day with a hearty breakfast. A toasted bread with marmalade & butter, a scrambled egg, a cereal with milk, a coffee and a kitchen all for ourselves. Coz it\'s already 9:30AM. Don\'t know if where the last guests eating the breakfast. 😂
For that day, we visited the Gamcheon Culture Village 감천 문화 마을. It started as a place of difficult life for refugees in the Korean War in the 1950s and continues to live their three goals a village where people can live well, a village friendly to visitors, and a village that residents live on their own. It is a village with houses painted in different color making it livelier and pleasing to see.
There are a lot of ways to get there. You can walk from Pusan National University Hospital or take Bus #2 going up from Gamjung Elementary School Bus Station.
We started our journey at around 10:40AM. We arrived at Pusan National University Hospital at 11:06AM and started our walk going up. Yes, it\'s an uphill road. So, good luck! 😂
We had a few stops to breathe & rest or take a photo. Halfway, we realized that there was a bus that we can take which would supposedly save us some sweat and stop from burning all our hearty breakfast.
But since we were already walking, we thought of the positive side. We\'re becoming positive people from this trip. Really! Hahaha
First, we were able to appreciate the beauty more of a normal Korean village. We saw different houses, parks, cars, and other establishments. We met locals who were so friendly to greet us back when we said annyeonghaseyo (the only Korean word I can say aside from gamsahabnida). It\'s like immersing to the Korean life even for a little while. 😅
Second, we go beyond our goal for the day. The 10,000 steps a day. I think we almost got double. 😄
Third, it was a great bonding moment for both of us. While trying to ease the tiredness and all, we talked and talked. Until we did not notice, we arrived.
We reached the sign at 11:47AM. That\'s more than an hour. Who would have thought. And we got lost too. 😁
But you know, it is worth all the sweat, walking and getting lost. 👌
When we got there, the place was crowded already. It\'s almost noon and we just got there. Haha
The first stop was the Information Center. This is where you can get the Stamp Map which you need to complete all the stamps. But before that, you have to register first. They also gave us freebies about Busan – a ref magnet, a postcard, a salt, a face mask. You don\'t have to worry because they have friendly staff. And they got kilig when we mentioned about KDrama. 😄
There are a lot to see in this village – souvenir shops, mini shops, eateries, restaurants, cafés, pastry shop, photo zone, guesthouses, museums, and of course, the houses of the residents & locals living here. There are areas that are prohibited to be accessed by visitors. And you are reminded to speak in a soft voice to avoid causing disturbance to the residents. Before taking pictures on private property, ask for permission.
And for me, this is a best place to buy your souvenirs and pasalubong. It is because there are a lot of varieties and the prices are pretty reasonable.
We went to the Little Museum to get our first stamp. Here, you\'ll find photos/paintings of how the place looked like before, the things they used and a literal small house.
Next, we met this Welcome Statue at Miro Miro.
And the wall with blocks formed into a fish.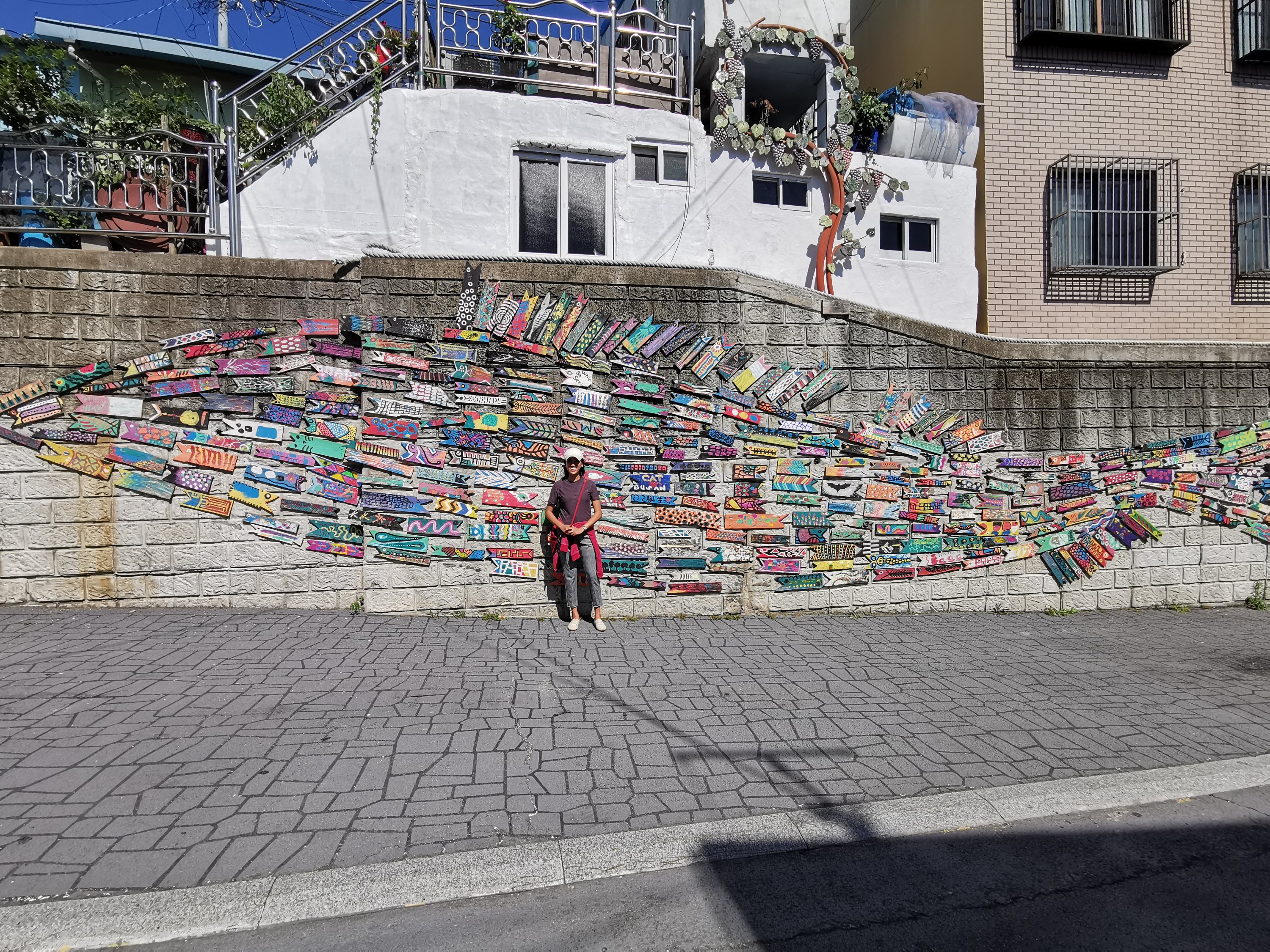 Then, our next stamp destination was Haneul Maru. It has a sky floor with a view of Busan and Gamcheon ports. You can see here the colorful houses, buildings, ports, the mountains.
Before continuing our walking tour, we dropped by at Gamnae Café to have some refreshment. The guy who was doing all around (cashier, server) got our orders (apparently all were iced tea). We really need some ice to cool down. Haha
And we continued our walking tour. Stopping from one shop to another. Regretting when we found a café that sold Buy 1 Take 1 drinks but since we\'re positive people, we had good justification. Hahaha
We found Little Prince, too which the visitors were falling in a long line to take a photo with him. We just passed by though. Hehe
We went to Asteroid B612 Souvenir Shop for the 3rd stamp and took some photos overlooking the houses.
And resume our walking tour. We found Gamnae Food Restaurant and went inside. We decided to buy galbi and just have our lunch at the guesthouse since we had leftover fried chicken from last night.
Lastly, we went to a postcard shop and bought postcards for our friends at home. I already bought dropped the postcard for my parents before we went to Little Museum. Actually, the village has many shops that sell postcards and you can buy stamp there too. You just have to leave the postcard to them and they will mail it for you. Cool, right? 😉
By the way, we completely collected the 4 stamps. 😅👌
Then, we went back to the guesthouse and had our lunch. Since we were the only guests again in the Kitchen & Lounge, we grabbed the chance to chat with the staff who speaks English very well. The more we look at her, the more we can see Dara Park in her. Yet, she does not believe. Hehehe
Next stop for the day was an hour later which I will share in my next post. Thank you! ❤️