After the visit at the Orchid Garden and National Museum, I went to Central Market to buy some pasalubong and souvenirs. Okay! I did say I won\'t be buying any pasalubong. In fact, I don\'t have a baggage allowance. But I would still be happy to bring some.
So, taking the advice from my friend, I went there when the sun is up and shining. Grabe ang shine kay init jud. Hehe!
Central Market is famous for affordable souvenirs and other stuff like coffee, milktea, chocolates that you can bring home. There were many stalls and stores inside selling variety of things, foods and drinks. There were few Filipino vendors, too. Though most of the items were sold on a similar price for all the stores, you can still try to haggle especially if you\'re buying in bulk.
After roaming around, buying anything, and collecting plastics (I\'m sorry for this as I don\'t have and they don\'t have eco bag), I decided to go back to the hotel and leave all those stuff before I proceed to wherever my feet will take me next.
But before going back, I dropped by at KFC (just across the hotel) for lunch, a super late lunch.
Then, I headed to the hotel, dropped my stuff and slept. Haha! I really got tired of walking around and carrying those heavy stuff.
When it was dinner time, I was looking for a restaurant (other than those fastfood chains nearby). My colleague told me to try Nando\'s so I asked the receptionist where is the nearest and how to get there. Though I already googled it. 😀
She told me that the nearest is in Sogo Mall, just walking distance from the hotel. The one I saw online was on the other side. She also said that there\'s one in Bukit Bintang.
So, I thought of going to Sogo Mall but when I wall a few meters from the hotel, it was already dark and there were few people on the street. So I returned to the direction of the hotel then headed to the branch that I saw on the internet. However, same thing, it\'s dark and few people. I was kinda afraid! Hahaha.
Finally! I decided to go to Bukit Bintang instead. I took the train from Masjid Jamek to Bukit Bintang. But, I alighted at AirAsia-Bukit Bintang. That\'s why my token was not accepted. What the! Hahaha!
From there, I walked going to Pavilion where I found online that they have a branch there.
I was surprised on how crowded the area. It seems it\'s the busiest street in KL. There were shopping malls. There were even stores outside. There were many people walking, buying anything, eating, etc.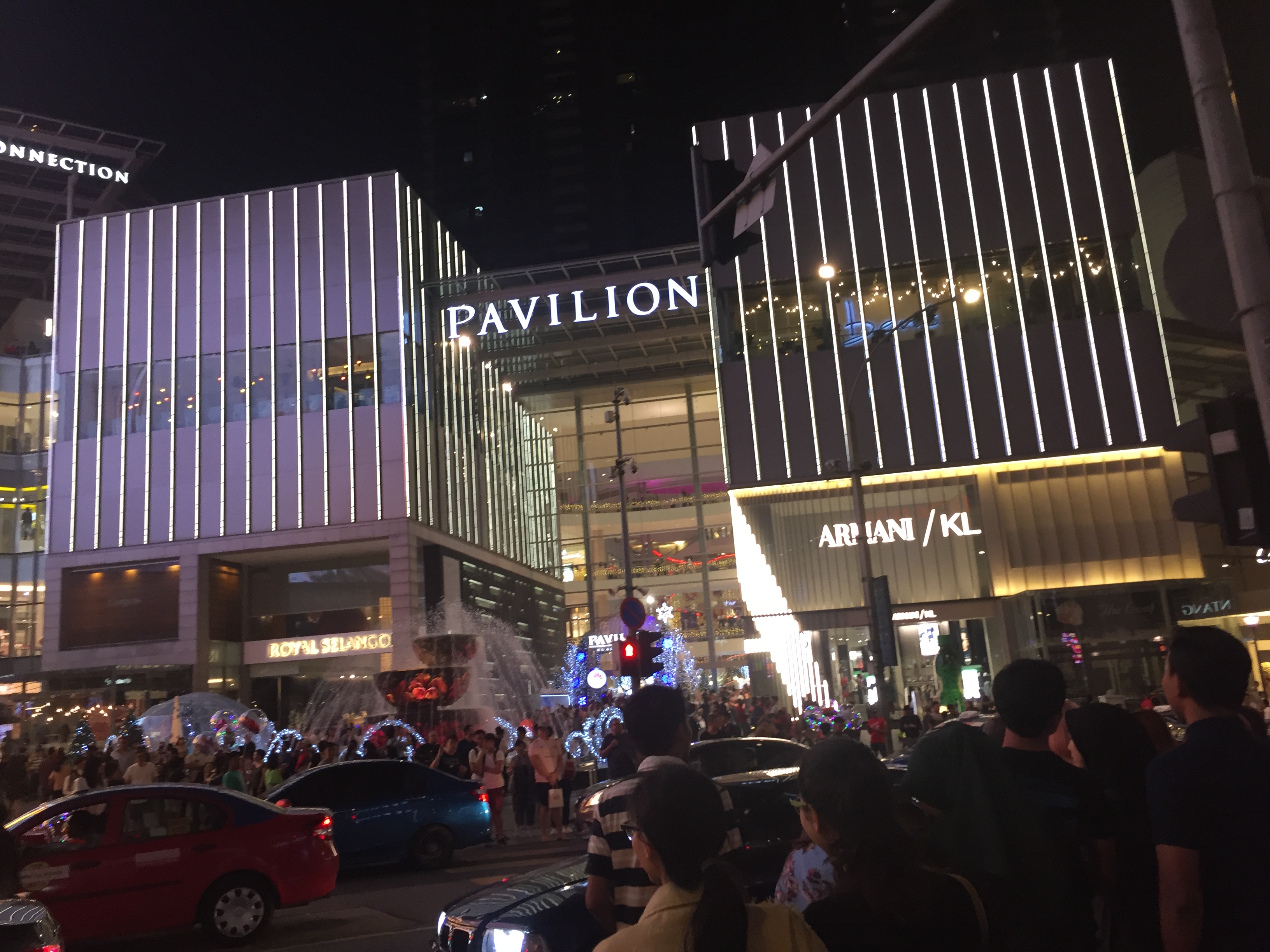 There is a fountain formed like a Hibiscus flower outside the Pavilion. Hibiscus is the national flower of Malaysia.
And since it\'s Christmas season, there were Christmas trees and decorations inside and outside the mall. Mickey Mouse was having a meet & greet too.
But because I was really hungry, I then looked for the restaurant. Until, I found it and luckily, there was an available table for me. 🙂
What I love about this restaurant is that they served really good food and the service is pretty excellent. The waiters were accommodating.
I then went back to the hotel after that and decided to sleep as early as possible because I still need to wake up early the next day.
TIPS!
As recommended, go to Central Market during day time. Aside from the fact that it is safer, it would also be more convenient to roam and shop when the sun is out.
Bring an eco bag or a big bag for you to put the items that you are buying. This will help you from bringing too much plastics.
Try to haggle. They will even try to give you discount.
I found that it\'s cheaper to buy the coffee (Old Town) in KLIA\'s grocery store than in Central Market.
Visit Bukit Bintang at night. It is more livelier and more fun.
Try to check the shopping malls within the area.
You can either alight at Bukit Bintang or AirAsia-Bukit Bintang.
There are areas in KL that look so beautiful at night time too. An example is the mosque near Masjid Jamek.