While planning for my trip to South Korea last autumn, I was looking for places in Busan that are best for sunrise since I really love sunrises, and Busan was my first destination during this trip. I found some blogs that mentioned a beautiful temple situated on a cliff, the Haedong Yonggungsa Temple. Klook even offered a tour that includes this tour. You can check it here.
I made sure to include it in my itinerary and decided to go there no matter how flexible my schedule was.
What is Haedong Yonggungsa Temple?
Haedong Yonggungsa Temple is a buddhist temple located in Gijang, Busan, South Korea. It was built in 1376 by Rev. Na Ohng, once the consultant of King Gong Min of Koryo Dynasty. He recognized the current location of the temple as the holiest place with a mountain at the back and the sea in front. He was determined that those who prayed their wishes in the morning could come true in the evening.
There is also a teaching that Gwanseum Bodhisatva, the embodiment of illimitable mercy, is seated in such a secluded place as where Haedong Yonggungsa is located.
Ever since the enshrinement of Gwanseum, everyone who prayed in heart in Haedong Yonggungsa is said to have met Gwanseum in his/her dream. There is a verse famous in the temple: Pray in Heart, Your Wish Answered.
How to get there?
You can either take the bus or a taxi to reach the temple. Since I was going so early, the subway was not an option as it might not be operational at that time.
I planned on taking the bus, which required me to take two bus rides. I left the hotel at 5:26 AM and hurried to the bus stop, which was about 300 meters away since the bus was already arriving. I literally was running!:D
I took Bus 180 from Haeundae Hot Springs Sageori since I was staying in Haeundae. There were only few passengers and most of them were Ahjussi & Halmeoni.
I got off at Sindosi Market.Asean Culture Center and was supposed to take another bus from there. However, the bus had already left by the time I arrived, so I decided to take a taxi. I reached the temple in just 7 minutes.
I still had to walk from where I got off to the temple.
What time the temple is open?
The temple is open from 4 in the morning and closes at 8:30 in the evening.
My Sunrise Experience
Before I went to sleep, I checked the sunrise time, which was scheduled for 6:45 in the morning. I arrived at the temple after rushing to the bus stop, taking the bus, hailing a taxi, and walking, a little past 6 in the morning.
I was mesmerized by the temple's beauty, with the lights shining while the sky was still dark until it slowly lit up. Plus, it was located on top of a cliff.
There were devotees who came to the temple to pray, and I saw a few monks as well. So, it's important to respect the place and keep your voices as low as possible so as not to disturb them.
When I arrived, there were only a few people. Apart from the monks, I think there were less than 10 people. Some, like me, were waiting for the sunrise, while others were there for morning exercise.
The place was so serene, calm, and peaceful. It made me feel relaxed and at peace too.
While waiting for the sunrise, I walked around the temple. It was quite big, both the temple itself and the surrounding area.
I went to an area closer to the ocean with a Buddha statue. I sat there, taking photos, looking around, embracing the peace, listening to the sound of the waves, and once again, being mesmerized by the temple.
The sun slowly rose after 6:45 AM. I stayed a little longer until the sky was fully lit up.
I left the temple at around 7:25 AM with a full heart.
I walked to the Yonggungsa.National Academy of Fisheries Sciences Bus Stop and took Bus 1001. It required two more bus rides. However, I got lost after getting off at Songjeong Beach Entrance Bus Stop. Hahaha.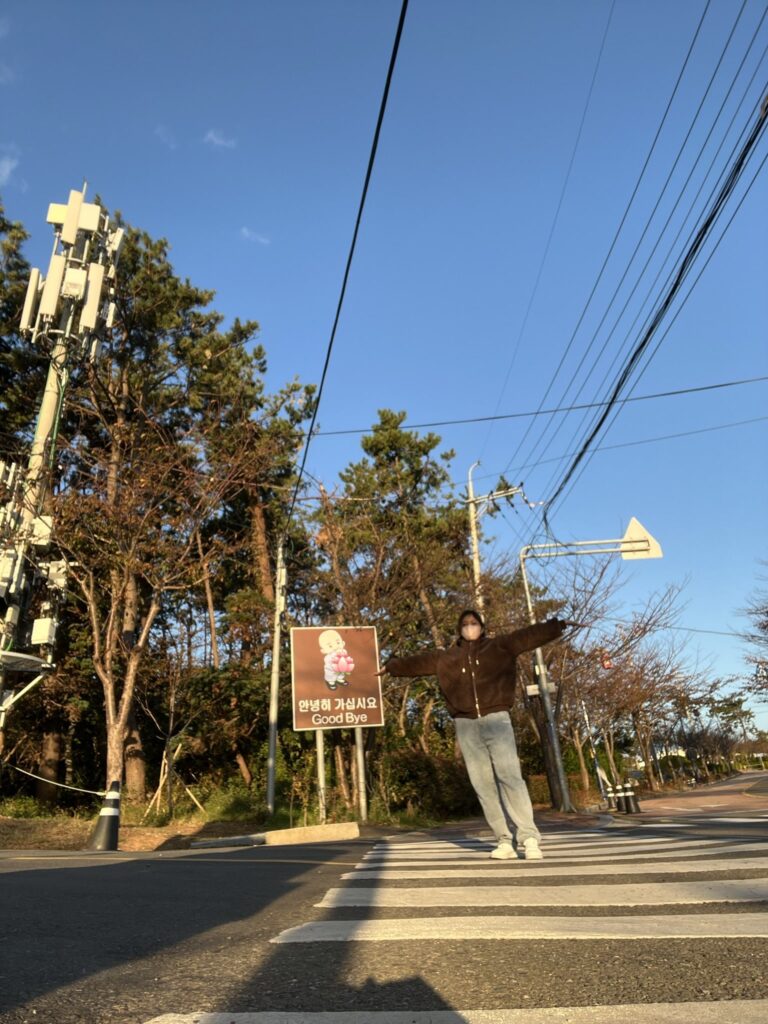 But that's the charm of traveling, right? 🙂
If you are coming to Busan, consider including a visit to Haedong Yonggungsa Temple. I highly recommend visiting there during sunrise when it's peaceful, quiet, and magical.
If you find it challenging to go there on your own, you can join organized tours like the ones offered on Klook.