If there\'s one thing that this pandemic had made me into, then it\'s about becoming a Korean thing addict. From watching Korean Drama to Variety Shows to eating Korean Food to listening Korean Songs to studying Korean Language to having a Korean Friend to Korean Crush to dreaming of living in Korea. I don\'t know what\'s the other name to call that aside from being a Korean Addict. 😅
If it\'s good or not? Hmmm… For sure, it\'s a good thing except of spending a lot in the Korean store buying Korean stuff. Haha
But anyways, it\'s fine. 😁
And these past few days or months, I have been into watching Korean Variety Shows.
What I love about their variety shows are how fun and real they get. You will see the authenticity and not being scripted. Yes, for sure there are lots of edit out but still you can see something real. Even how they look when they woke up. With all the messy hair and sleepy face. Definitely not attractive but real.
So, I came up of an idea into writing the things I learned from these variety shows I watched & is watching and apply it to my future travel adventure. Yes, it may not be within the year but hopefully, sooner possible. 🤞🙏
Here you go… 😅
TWOGETHER
A Travel Documentary in Netflix that features two celebrities, Korean singer and actor Lee Seung-gi and Taiwanese actor Jasper Liu. They traveled to Indonesia, Thailand, and Nepal to accomplish their one goal – meet their fans. Challenges need to be survived, budget needs to be met in order to reach their fan\'s house.
What I like? They travel by budget. They need to accomplish a challenge successfully. They get to meet their fans on those places.
SALTY TOUR
This is a South Korean television program that airs in tvN. It\'s Korean name is 짠내투어 which is directly translated as Salty Tour or also known as The Thrifter\'s Guide. They already have 2 seasons and 122 episodes since when they started last January 2017. Their hosts changed throughout these seasons. But the current hosts are the Park Myung-soo (since Episode 1), Kyuhyun of Super Junior (since Episode 79), Kim Jun-Ho (since Episode 111), and So Yi-Hyun (since Episode 116). They go to different places within and outside Korea.
What I like? They travel within budget which includes meal, accommodation and tourist attractions. Going beyond the budget could lead them to get the penalty which is to stay in the lowest budget accommodation or maybe in a tent. They also show how much you can see on those places even with the limited budget.
MASTER IN THE HOUSE
This is another South Korean television program. This one airs in SBS weekly. It\'s Korean name is 집사부일체. This is also known as All the Butlers. They already had about 135 episodes since they started last December 2017. This marked the first fixed variety show of Lee Seung-gi since he was discharged from the military. Together with him in the original casting called Butlers are Actor Lee Sang-Yoon, Kpop Idol Yook Seong-Jae of BTOB, and Comedian Yang Se-Hyeong. But just this year, Sang-Yoon and Seong-Jae graduated and left the program to focus Sang-Yoon\'s acting career and Seong-Jae enters military. They were later on replaced by Shin Seong-rok, Kim Dong-Hyun and Cha Eunwoo. The program focuses on a 24-stay of the Butlers with the Master. This Master would also teach them different things. The Butlers will have to learn from her/him and live the way the Master lives.
What I like? I like the different challenges that they did either who get to wash the dishes, to sleep with the master or to get a special item from the master. And of course, I love the idea that they meet masters in various fields that could teach them things they could use in their daily & personal life and of course, in their profession. Also, I like how the Butlers got closer to each other and learned to accept one another. And how they got closer to their Masters that even after the show, they still kept in touch.
TRAVELER
This is another South Korean television program. This one airs in JBTC. This is about the actors who go for a backpacking trip. It has 2 seasons already since they started last February 2019. The first season was in Cuba with Ryu Jun-Yeol and Lee Je-hoon as travelers. While the second season was in Argentina with Ahn Jae-Hong, Kang Ha-Neul, and Ong Seong-Woo. They stayed together for two weeks and do different adventures.
What I like? I only watched Season 2 and enjoyed a lot. I like how these 3 strangers became friends and brothers. How much they care about each other especially Jae-Hong who is the eldest among the three. I like how they go on every adventure together and not letting someone be left behind even skydiving. And like how they get their me time or alone time. Which I think is important even if you\'re traveling on a group or with someone. I love the adventures they did. From roaming around, devouring on asado, skydiving, driving for kilometers, camping, trekking to see the sunrise, and of course, reaching the end of the world. It made me want to go to Argentina.
SUMMER VACATION
This is another South Korean television program and airs in tvN. The Korean name if 여름 방학 and started this year. This is about two actors and friends, Choi Woo-Shik and Jung Yu-Mi to stay in a different place for a month to enjoy their summer vacation. They went to a small village with garden on their backyard and ocean a few meters from their house. They also invited guests and stayed with them overnight. And by the end of the day, they need to write in the diary what is special about the day.
What I like? I like how they get to live in a house with all the resources for food like vegetables and fruits. How relaxing the home is especially with 뽀삐. And how accessible the ocean is. Plus we can ride the bike around. The people are friendly and accommodating. How the two newly comers in the place were embraced by the neighbors. I like how they had the chance to make their own food and experiment new menu. They become independent.
I would supposedly be writing or sharing the list of shows which could relate to traveling. But there\'s one show that I watched recently which I loved.
LITTLE FOREST
This is another South Korean television program that airs in SBS. The Korean name is 리틀 포레스트. The program starred Lee Seo-Jin, Park Na-Rae, Lee Seung-gi, Jung So-Min. Seo-Jin is a certified chef who took cooking lesson. Na-Rae also did a cooking lesson. While Seung-gi and So-Min are certified child psychology counselor. The aim of the program is for the little children who have no place to play and to enjoy 2 Days & 1 Night away from their parents at Jjigbaggol, Inje, Gangwon. They met and made new friends with the other children. They got to play around while the cast made sure to provide the necessary care to the children. They had to feed, take them a bath, change clothes, play, teach them new things and have fun. They got them to sleep too. As they spent more time together, the children and the cast got attached to each other. The 4 single casts with no experience with children became equipped and were able to take care the children well. And oh! Seung-gi utilized his woodworking skills by making tree house, suspension bridge and footstool. Seo-Jin and Na-Rae were able to provide delicious and healthy foods for the children. While So-Min attended the needs of the kids.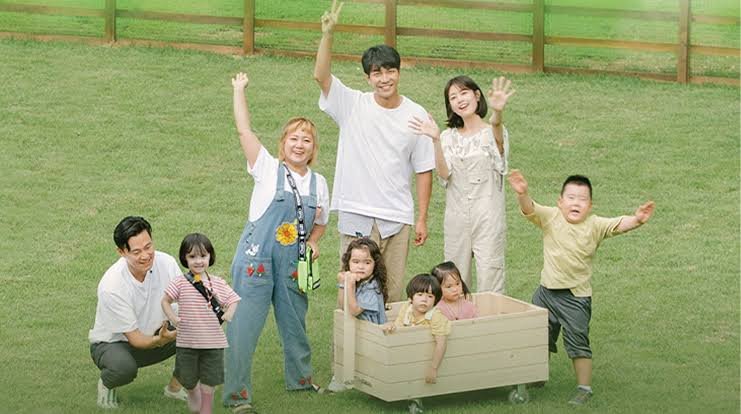 What I like? I like how these 4 single people who have no idea about taking care a child became expert and made the children happy during their stay. They taught them things like planting and even brought them to the market. They experienced the life to be away from the city and be surrounded by nature. They got to play with the chicken and rabbits. They were able to have fun at the same time learn. I hope there will be new season soon.
So, there! These are the Korean Television Programs that got me hooked and I enjoyed watching a lot. I got to laugh a lot too. This made me calm at times when I worried about a lot or when I\'m very much stressed. A good laugh for a good show though. ❤️