The sun is out, swimwear is all out being displayed in the mall, resorts are getting fully booked, bus terminals are jam packed, everybody is planning… Oh, hello Summer! Finally you are here! 😎
And like any other squads, Tropang Laagan are now on the brainstorming mode for the year\'s summer getaway. The difference this time is that we are celebrating a lot of things. 10 years of friendship (from acquaintances to bffs), reunion since April is going home and our annual out of town trip.
First suggestion was at a farm house in Busay. Unfortunately, the rent is expensive and we are all in budget.
So, next suggestion is at Lambug Beach in Badian, Cebu. I heard and saw about it a couple of times already and it is beautiful. White sand, you know.
Upon checking the resorts in the area, they have affordable rates. Actually, I got to contact just two.
I first contacted Grandeur Beach Resort. I already have their contact since I was asking about it before.
Below is their Summer Rate:
Each room with own Comfort Room inside. 
DOOR 1 Beachfront Aircon Room for 2 pax. Rate is Php 2,200.oo, allowed up to 3 pax excess.
DOOR 2 Beachfront Aircon Room for 4 pax. Rate is Php 3,000. Excess up to 2 pax, with 2 full size beds.
DOORs 7 or 8 Aircon Room. Rate is Php 3,000.oo each room and 6 pax  allowed, up to 2 pax excess.
DOORs 9 or 10 Aircon Family Room. Rate is Php 3,700.oo for 7 pax and allowed of up to 3 pax excess.
DOOR 3 is a 2-storey Fan Room. Rate is Php 2,700.oo for 7 pax, and up to 3 pax excess.
DOORs 4, 5,11 and 12 are all Fan room. Rate is Php 1,700.oo for 6 pax and up to 2 pax excess.
Php 100.oo each for excess pax for Comfort Room and water usage. Tent users are counted part of the excess person.
You may contact them at 0917-638-6640.
Other resort is Magic Beach Resort. It is situated just beside Grandeur Beach Resort. You can contact them at 0906-307-7210.
There are a couple of resorts to choose from within the area. They are situated beside each other. You can also bring your own tent.
How to get there
You can opt to commute in getting to Lambug. You just have to ride a bus (either Ceres Bus with a route of Bato via Barili or Librando Transpo).
We chose to ride the Ceres Bus with aircon. The fare to Badian Market is Php 142.00.
After 3 hours, we alighted at Badian Market and was welcomed by Kuya Frankie, a tricycle driver offering a ride to Lambug Beach. He is so nice and accommodating. He also helped us bought foods and other stuff that we will need in the market. Then he gave suggestions. When we were done buying, we then headed to Lambug. After 15-20minutes, we arrived at an area near the beach. We then gave our payment of Php 30.00 each to him. He gave us his contact number so that we will just have to call him the next day to pick us. Then he guided us to the resort we will be staying. I will post Kuya Frankie\'s number as soon as I get it.
Since we arrived earlier than the check in time, the in-charge told us that we can already check in but have to check out earlier the next day. Actually, just 15 minutes earlier. That deal is good so we agreed. We settled the remaining balance and the key deposit of Php 300.00 per room which is refundable upon check out.
Unfortunately, I haven\'t took a photo of the rooms. But it is big enough for the price. We rented Door 11 & 12. Both are fan rooms and are located just near the gate we got in (meaning far from the beach). The room has 2 double beds that can accommodate 2 pax per bed. In our case, we, the 3 girls were able to occupy one bed. It also has 2 ceiling fans, a bathroom, a sink and an area where we can place our stuff.
Outside the room is a table that we can use for eating or chitchatting or anything, a sink for washing, and a cooking area.
Below are the photos taken during our stay in Lambug.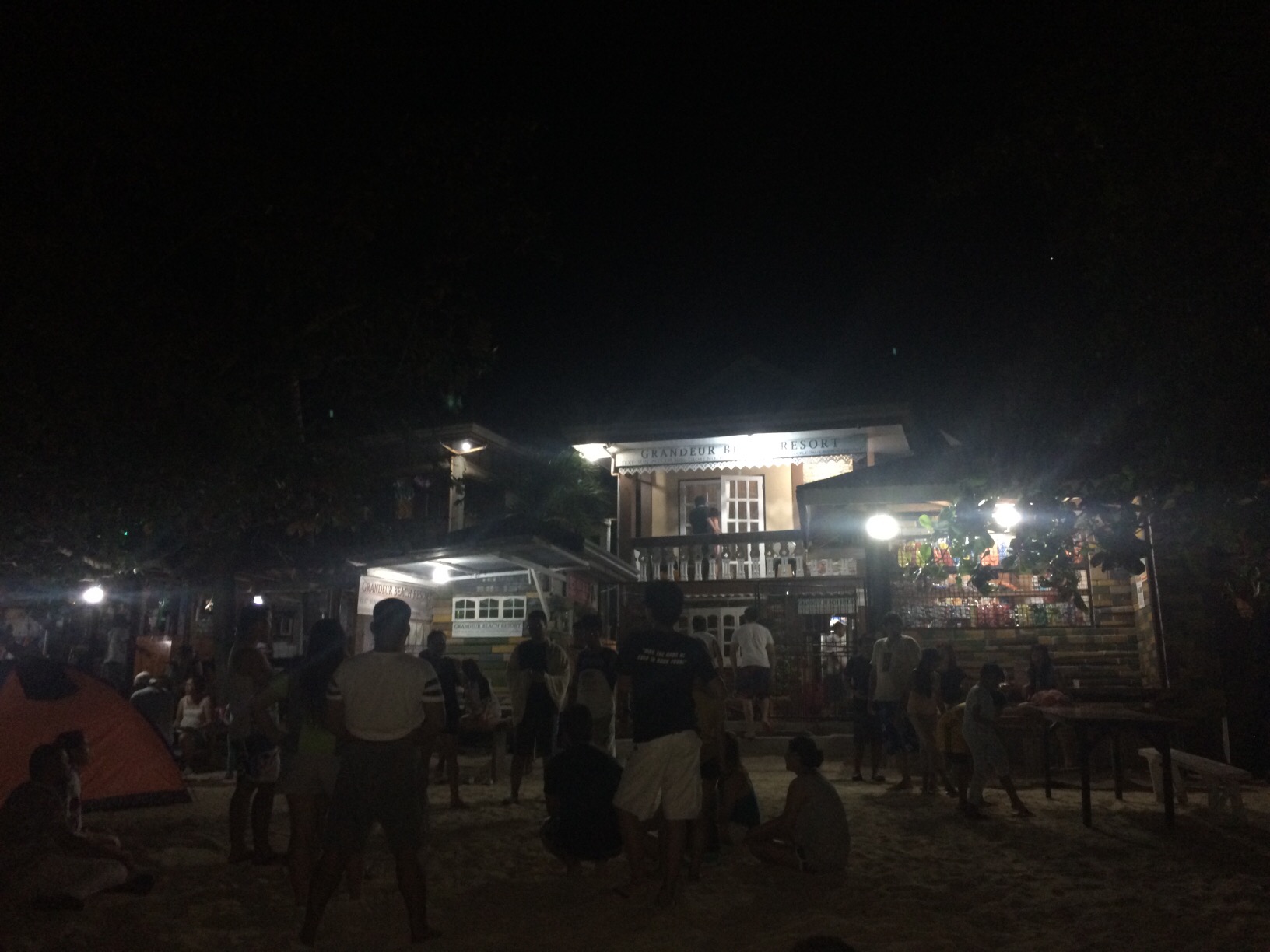 Beach front at Grandeur Beach resort during at night. These guys are workmates playing charades.
Campsite area in Lambug Beach. It is just a walking distance from Grandeur.
Look at that white, fine sand.
The only picture that I am in it.
The happy Tropang Laagan fellas.
Indeed, we had a great time at Lambug Beach. Though we were not complete that time but it was still a weekend we will always cherish.
What we love about our Lambug Beach getaway
1. We only spent Php 1,000.00. Just so enough for our budget.
2. There is less to no mobile signal in the area. Thus, we had less time on our phones and more time talking and bonding.
3. No restaurant near the area that we can eat. Though we found a store that seems to sell foods. But, through this.. We were able to work hard to cook and budget our foods. Plus, the boys are cooking while the girls are chilling. Perfect!
4. We were able to talk about a lot of things under the sun and moon. Personal to movies to politics to life to anything. We even slept at 4A.M.
5. Lambug Beach has a lot of visitors but still not crowded. You can still find that serenity and relaxation you are looking for.
6. We knew in our heart that we are with these people who will always be there for and with us in whatever situations we have in this life. True friends indeed!
We have a different story to tell. But one thing is for sure, we are on the same page in saying that Lambug Beach is indeed a hidden paradise waiting to be discovered.
Experience its relaxing atmosphere, white & fine sand, and crystal clear water. 🙂