Hometown Chachacha (갯마을차차차) is of the few Korean Dramas that I watched which is ongoing. I always watched completed series because I don't like to wait what's gonna happen next. My impatient self! Haha
But Hometown Chachacha made me do it and after every episode, I always cannot wait for the next one. It became a motivation to get through the week and wait for next week.
It was so fun light and romantic with a bit of drama. It was worth every wait. 😃
And so, when I planned to travel to South Korea, I did not miss to include visiting the filming location of Hometown Chachacha.
In the drama, they called it Gongjin. But in reality, it is in Pohang.
Pohang-si or Pohang City is located in the province of North Gyeongsang (Gyeongsangbuk-do). The city is divided into two wards (gu) – Buk-gu (Northern Ward) and Nam-gu (Southern Ward). It is more than 300 kilometers from Seoul and more than 100 kilometers North of Busan.
How to get there
From Seoul: You can take a bus (about 4 hours from Seoul Bus Terminal), a KTX (more than 2 hours from Seoul KTX Starion), or an airplane (about an hour from Gimpo Airport).
From Busan: You can take a bus (about an hour & 30mins from Nopo Bus Terminal), or a train (via Dongdaegu for about 2 hours in total).
How to get around Pohang
The transportation that I noticed when I went there were buses and taxis. While buses are cheaper but the waiting time is longer. And the taxis are more expensive.
That is why, if you are planning to visit the filming locations of Hometown Chachacha and other filming locations or tourist destinations, spending at least 2 whole days is a must. Locations are quite far from each other and again, the waiting time of the bus should also be considered.
Prior to my visit, I already reserved a room at BABA 펜션 via Kakao Talk. It is located in Nam-gu and in the neighborhood of the houses in Hometown Chachacha. The room rate varies especially during weekend. Since I went there on a weekday, I got mine at KRW 80K (more than Php 3000).
Since I took the KTX, the travel time from Pohang KTX Station to Nam-gu was about an hour with 37 stops via Bus 9000. Good thing, the driver did not stop to every stop unless someone got on and off.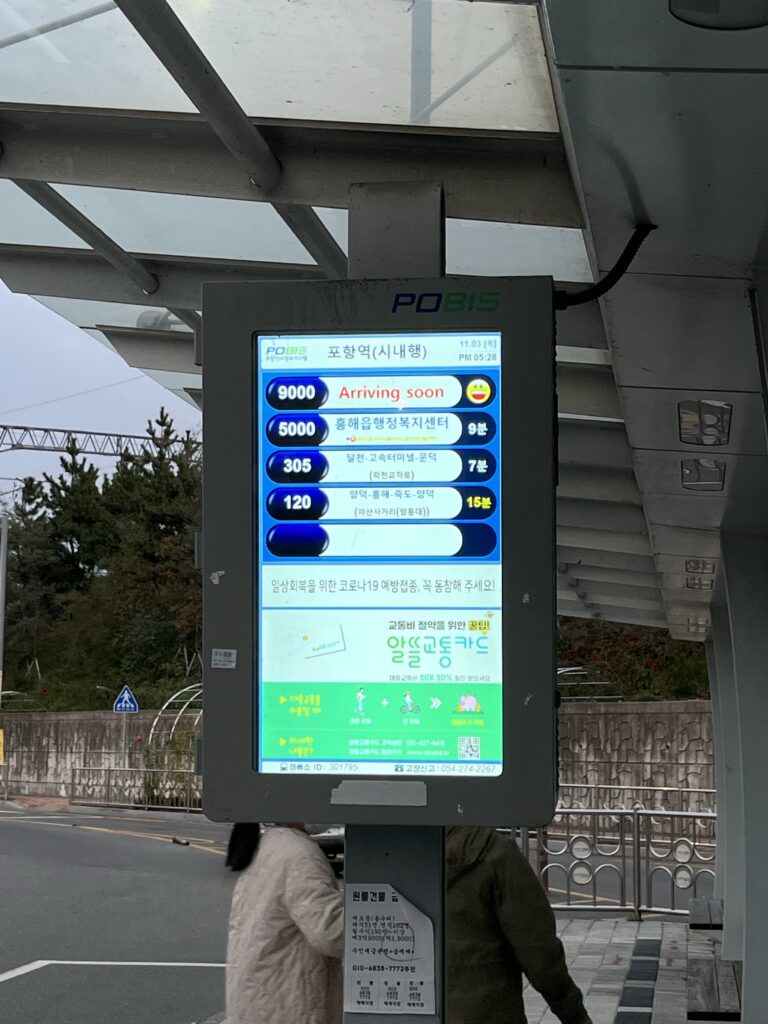 When I arrived, it was almost 7PM. The village was already quite and peaceful. I only saw 2 shops opened which are both for fishing. I was welcomed by the pension's caretaker. I asked him if there's restaurant nearby and he said no. I was a bit worried on what to eat for dinner.
So I just dropped my things in the room and took a walk in the neighborhood. I was so happy to see one store that's opened and bought water, ramyeon and biscuits.
Then the caretaker saw me and showed me around the filming locations of Hometown Chachacha. The houses, the lighthouse and the village hall were just so close to each other.
He also showed me some photos during the filming and the actors' autographs. He told me that filming took about 5 months. And they were all handsome and pretty. 😊
After the tour, I went back to the pension and prepared my dinner. Ahjussi also gave me food and told me to lock the doors including the common area since I am alone in the pension. Still solo! Haha
I was working the whole night and so I was surprised to see the beautiful scenery outside when I opened at around 6AM KST.
The sunrise was sooo pretty. It's mesmerizing. Seeing it from the room made me want to see it at the seaside.
So I took my coat, changed to my jeans and went outside. It's super cold but it's very jaw-dropping scenery.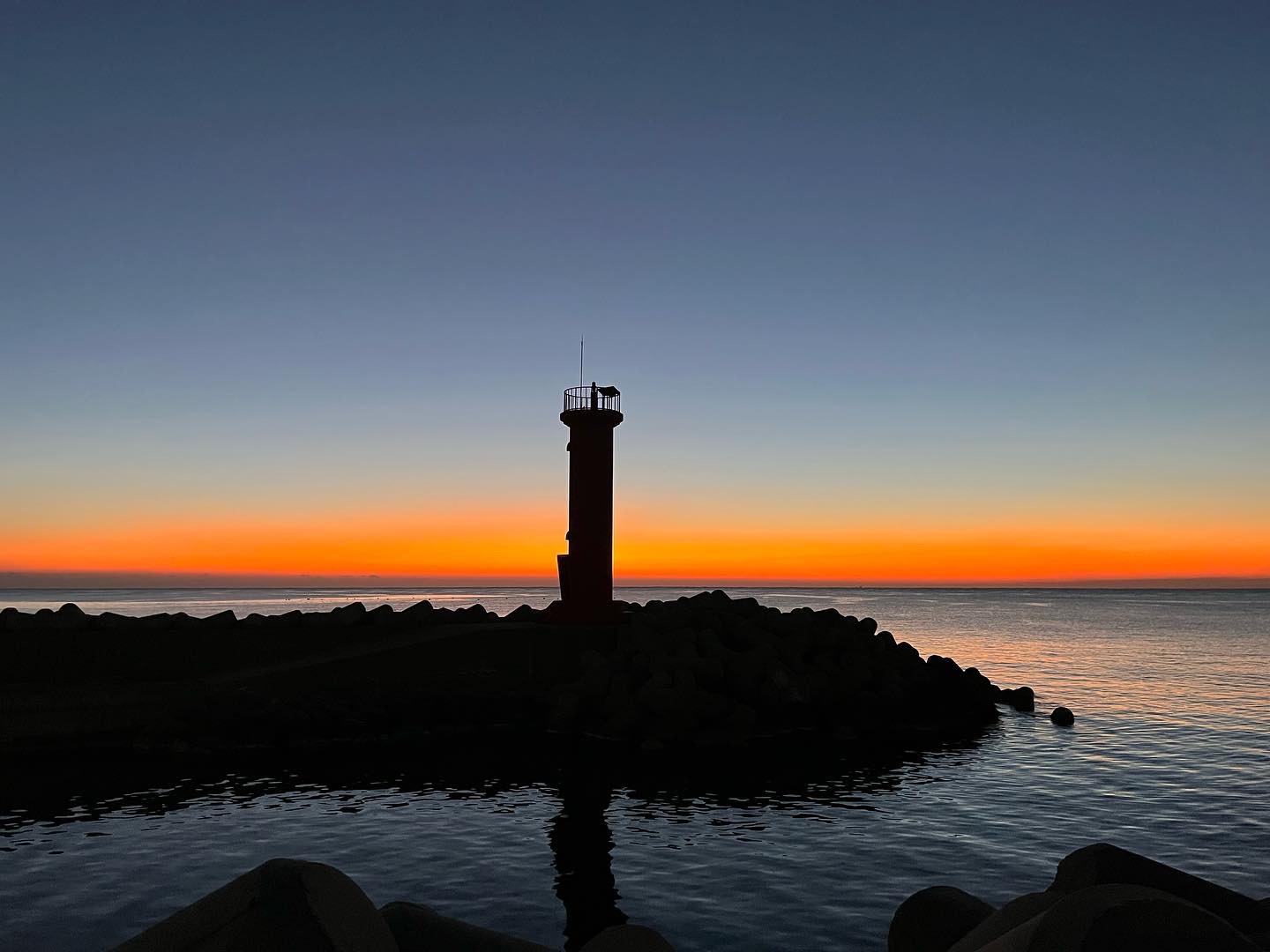 I saw maybe 2 Ahjussi (one went for fishing and the other was preparing his shop). I only stayed for 10 minutes outside because I was shaking and my hands were freezing.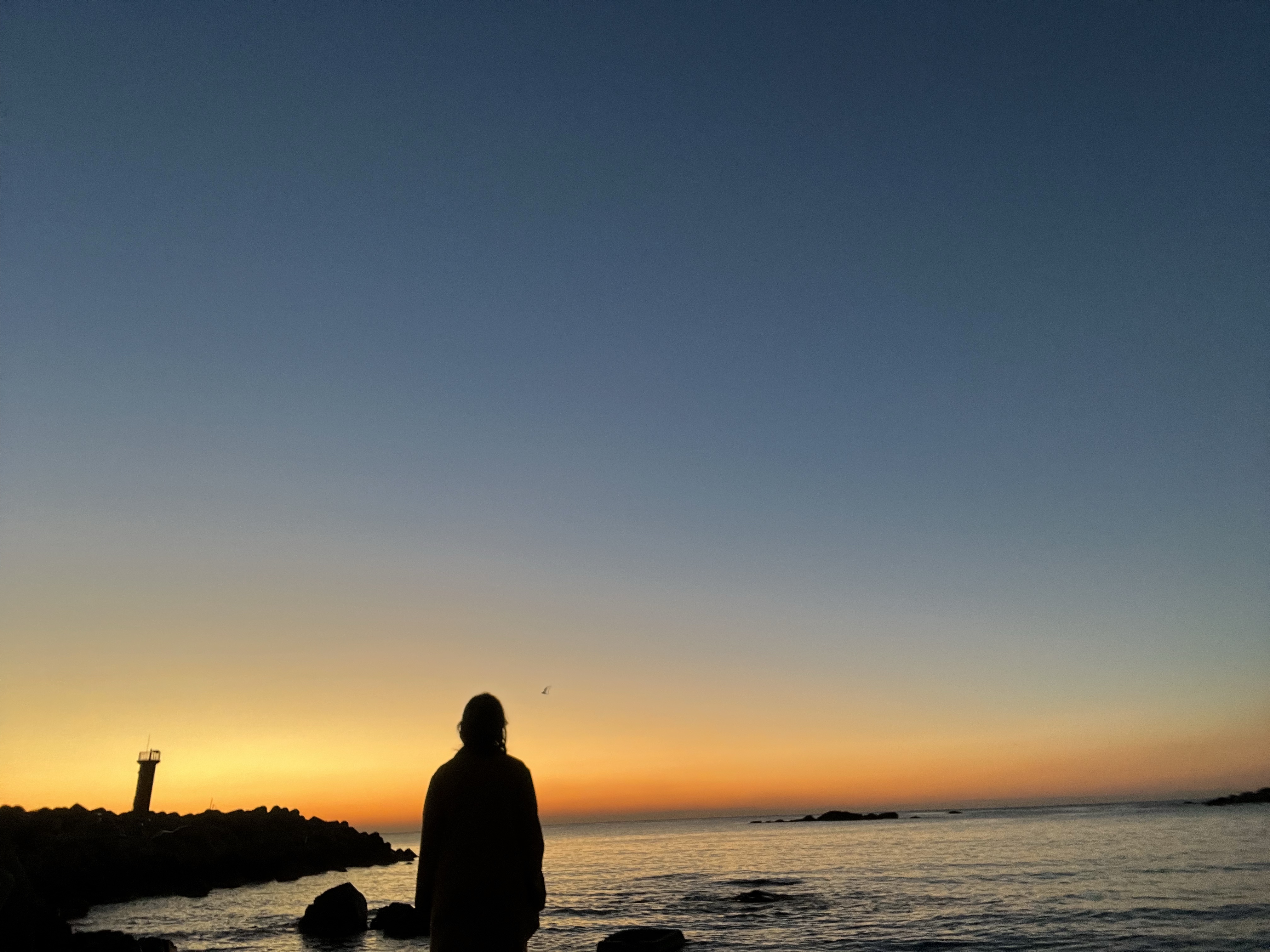 But it was all worth it. Totally! 😍😍😍
Then I took my breakfast and a quick nap before checking out & while waiting for my friends to arrive from Busan.
We started our tour in the neighborhood. So I have my day version of everything too. 😊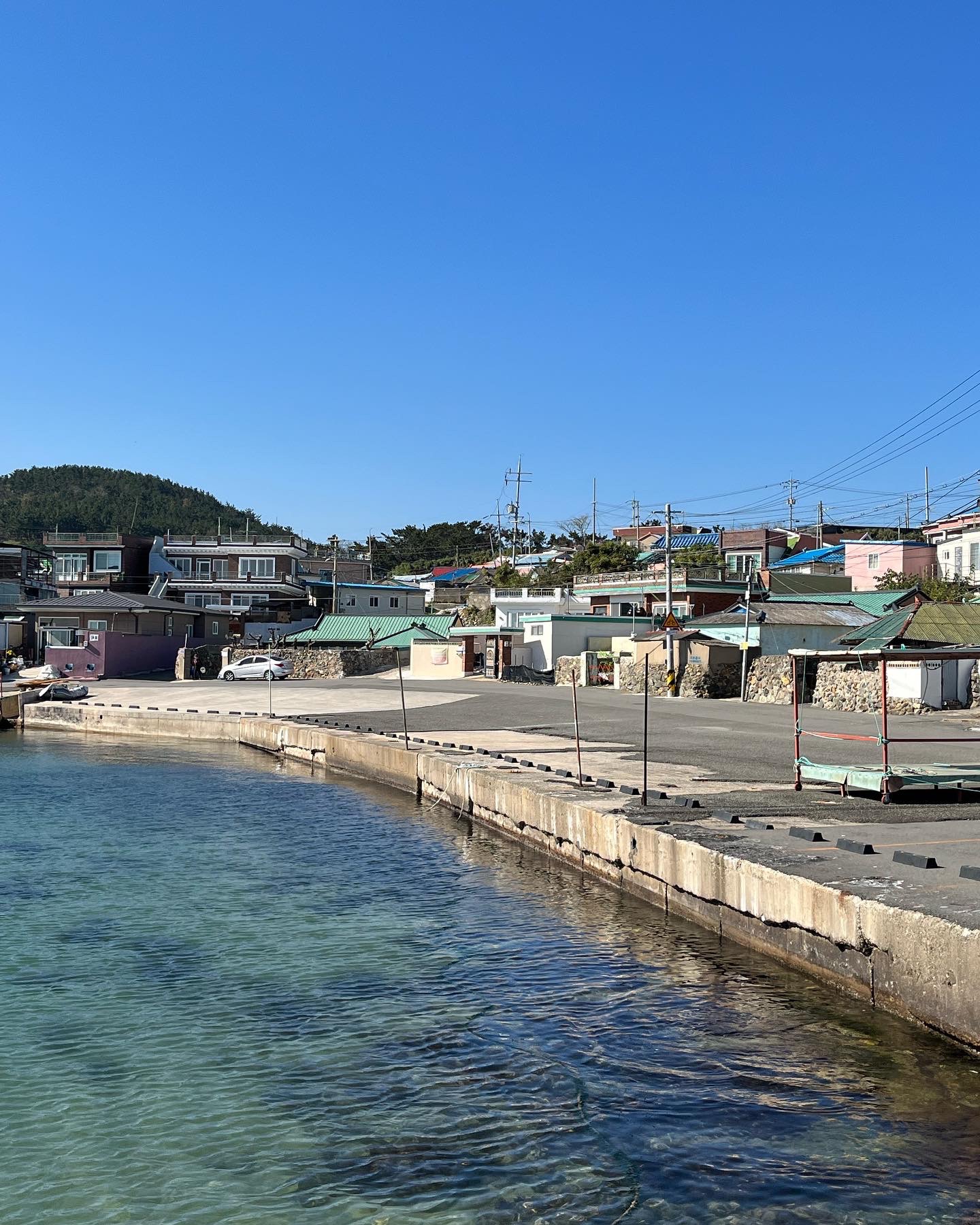 Our next stop is in Gongjin Market (Cheongha Market). We waited for 20 minutes for Bus 9000 to arrive. The travel time is more than an hour.
Then we were welcomed by Hong Banjang and Hye Jin Chigwa's signage. So we knew, we're in the right location. 😀
Upon entering, you'll find the Bora Shop on the left and followed by the Hardware Store.
The Gongjin Market is on the right with the octopus statue and the replica of the café. There is an area also where fans can leave notes and a map of the Hometown Chachacha filming locations.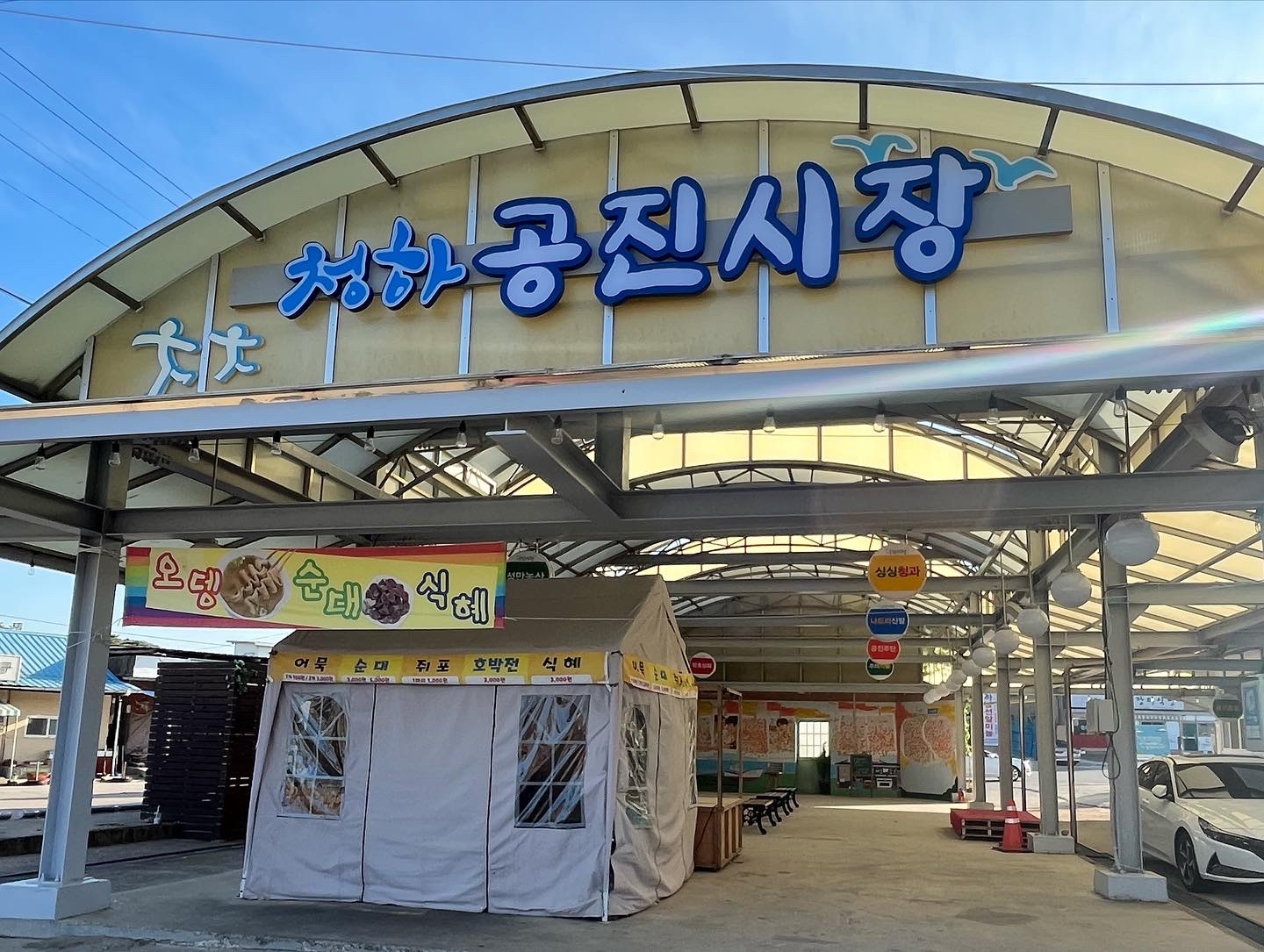 We were so hungry when we arrived since it's past 3PM. We were able to find a local restaurant that served authentic Korean foods.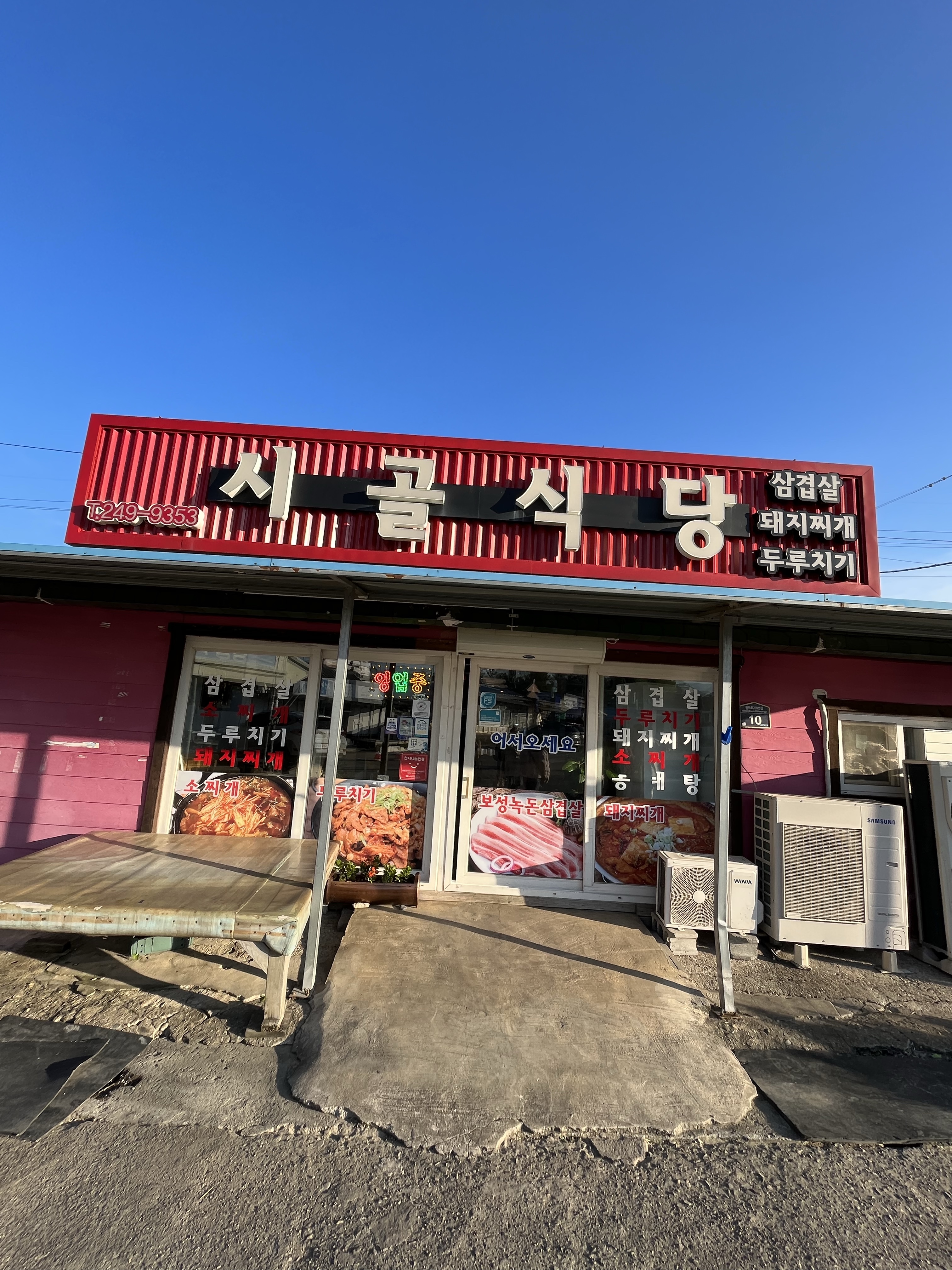 After we had our late lunch, took some photos of the filming locations; we went to the Bus Terminal and waited for the bus so that we can go to our next stop.
Our next stop is the Dental Clinic of Hye Jin (윤치과). We took 청하4 Bus. The travel time is about 20 minutes, more or less.
Before we reached the dental clinic, we got fascinated with how pretty the sky and the ocean. We took few photos there as well. Even we're shaking. 😅
Then a few minutes walk is where the famous dental clinic situated. It looks just like what it is in the drama.
We were not able to visit the rest (Ship on the Hill, Wolpo Beach, and the mountain overlooking) because we ran out of time and we had a bus to catch plus it's getting dark already.
We arrived in the Bus Terminal past our schedule so we had it changed to the next schedule and good thing, there's no extra charges. And we were able to buy dinner and hot pack.
That's why, it is best to arrive in Pohang in the morning and leave the next day in the evening. To have enough time to roam around and check all those locations without worrying about time.
But overall, we had a great time. It was still worth it. Totally worth it. And maybe, go back there the next time. 😊