Just this March, I traveled to South Korea again. This time, it's for the Spring. And sharing with you the requirements and process I went through.
I departed from Mactan Cebu International Airport. My flight was at 3:30PM and the check in counter opened 3 hours before my flight.
At the check in counter, the airline staff asked me for the following:
Valid Passport (at least 6 months before expiration)
Approved Travel Visa (presented the approved travel visa provided by the consulate's office)
Return Ticket (presented a printed copy of my flight itinerary)
Accommodation (presented a printed copy of my Airbnb Booking Confirmation)
Travel Insurance (presented a printed copy of my travel insurance which I purchased from Standard Insurance)
The staff gave me Departure Card and Travel Declaration Form that I need to fill out and submit during the Immigration Screening.
After that, I went to the TIEZA counter to pay for my travel tax. For regular adult traveler with Economy seat, it costs Php 1620. You can also pay it online upon buying tour plane ticket or through TIEZA website
I went back to Cebu Pacific Air counter to claim my boarding pass. They need a copy of the Travel Tax Receipt.
I can now go to the Immigration. But before that, I withdrew from the ATM since I didn't have any cash. 😅
For those asking if where did I exchange my money, actually I did not. I had KRW 50000 cash from my previous travel which I thought was enough to survive for a day or two without exchanging money or withdrawing. I withdrew not so much (just PHP 10000) because I planned of using my credit card and withdrawing from the Global ATM in Korea.
After that, I proceeded to the Immigration. There was no line when I arrived. In fact, I went directly to the Immigration Officer's booth.
I submitted my Passport, accomplished Departure Card and Travel Declaration Form. These are the questions the Immigration Officer asked me:
Where I am working and if how long I am with my current employer?
He asked for my Company ID but since I don't have, I submitted my COE with compensation details
If I am traveling alone? – which I said I am traveling alone
If it was my first time in Korea? -I said no, since it's not
The Immigration screening just took me 10 minutes or probably less.
After that, I went through the final X-ray check. When I travel, I usually wear the most comfortable but appropriate clothes. I am usually in my shirt-leggings-shoes/slippers combo. In this way too, I am sure that I didn't put anything on my pocket that would alarm like coins or phone.
When I am done with the screening, I went to the Departure Lounge. The thing with Cebu Airport is that the price is really expensive. But since I had not eaten lunch and I was so hungry, I had no choice but to eat in one of the restaurants.
Travel Tipid Tip: eat before you get into the departure lounge. And coffee is so expensive too, so better drink before entering.
At 3PM, we started to board. We were required to present our Boarding Pass and Passport.
When traveling internationally, the identification document that is acceptable is Passport. That's why, I always keep my ID cards in my wallet since I can't use them.
We were taxiing at 3:30PM and took off just few minutes after that.
During the flight, I got pretty hungry and ordered a cup of noodles and a bottle of C2 Apple. That's my second lunch. 😂
Also, the cabin crew was providing the passengers the following:
Arrival Card
Travel Declaration Form for Customs
Health Declaration (you can opt to exclude this if you have the QR Code from filling out the form for Q-Code through the website
I really love sitting on the window because I can't stop getting in awe of the view.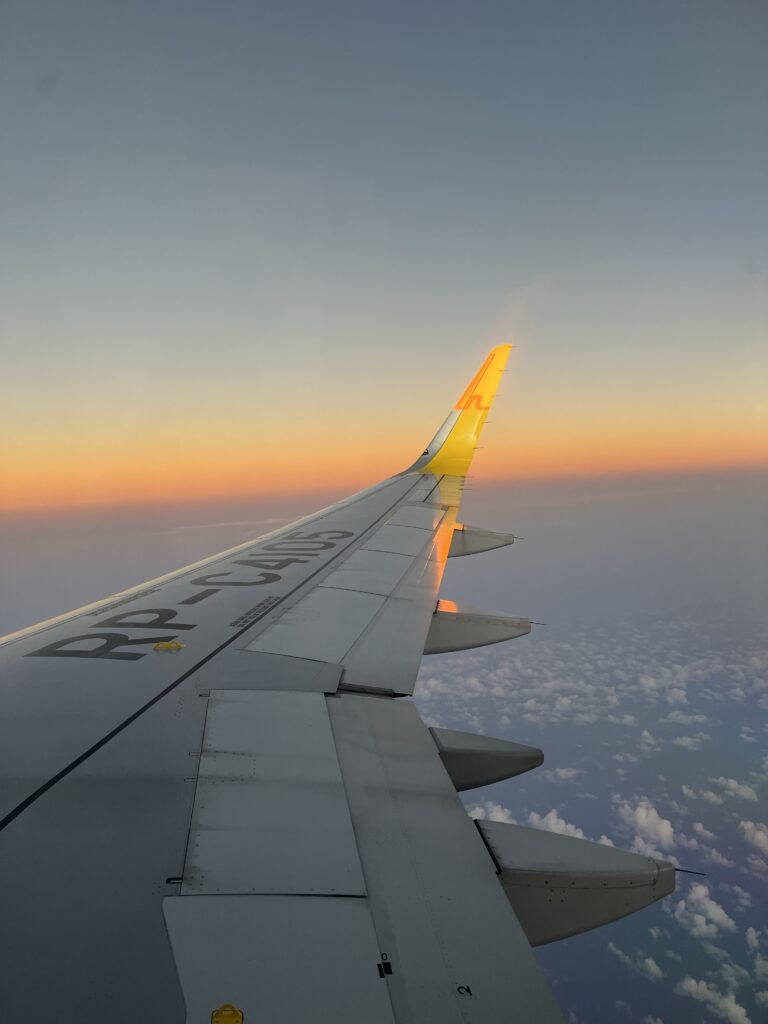 After 4 hours of flying, we landed in Incheon International Airport at 8:38PM KST (7:38PM PHT).
And finally, I am back in South Korea!!!😆
After deplaning, we went through Health Check. Body Temperature was taken through a camera sensor and then the Q-Code was being presented to the staff.
After that, we had to go down to the Subway Station and took the subway to Terminal 1. The subway is free.
After arriving in Terminal 1 Station, we had to go up to the Immigration.
Here, I presented my accomplished Arrival Card, Passport and Approved Visa. The Immigration Officer asked me how many days I will be staying and told him until when I will be in the country. He then stamped my passport and I was good to go.
After the Immigration Screening, I claimed my luggage at the belt assigned our flight.
Then I went to the Customs Area where I handed over the filled out Travel Declaration. Since I have nothing to declare, I immediately went out.
Upon exit, you can find Money Changer and some Global ATM.
But the first place I went to was the counter for KT Telecom where I claimed the Pocket WiFi I rented through Klook. I only rented for 9 days and since I extended my stay, I had to pay the excess through credit card or to their counter upon return.
Then I went to CU Convenience Store to load my TMoney Card for transportation and buy some food (Triangular Gimbap, Cake, Egg, Chocolate Drink, and Bottled Water) for dinner.
Then I went to the Subway station. Since I am staying in Bomun-ro, I need to go to Seoul Station then change line.
I was late for AREX so I just took the All- Stop Train. AREX or the Airport Railway Express Train is a line that would take you directly to Seoul Station. While the All-Stop Train will stop from all the stations for that Line. AREX is way more expensive but it will let you arrive fast and it is very comfortable since you will have your assigned seat and a trunk for your luggage. All-Stop Train takes longer since you have to go through a couple of stops though it is cheaper by probably half. The struggle is if you have many luggage and its peak hours. But All-Stop Train is recommended to those who will not head to Seoul and there's a nearby stop to their destination.
After 12 stops to Seoul Station via the Airport Railroad and 8 stops to the nearest subway station via Line 4, I arrived at my Airbnb. This time I was staying in a Single House which I booked through Airbnb.
Settled in, and had dinner. And that's how I ended my Day 0.