Oh hi there! Did you enjoy reading my Tinipak River post? I hope you did. 🙂
After our Tinipak River trekking adventure, we went for lunch and then headed to Daranak Falls, our second and last destination for Day 1.
Approximately almost an hour away from Rambull\'s, where we had our lunch.We reached our destination. Since, it was 3PM already and the falls will close at 5PM so we then hurriedly went inside.
Everyone except me went for a swim (luoy kaayo ko 😔) because I cannot. Bad timing! hahaha.. As far as I can see it, they were all enjoying. Many guest were there but it was not that crowded.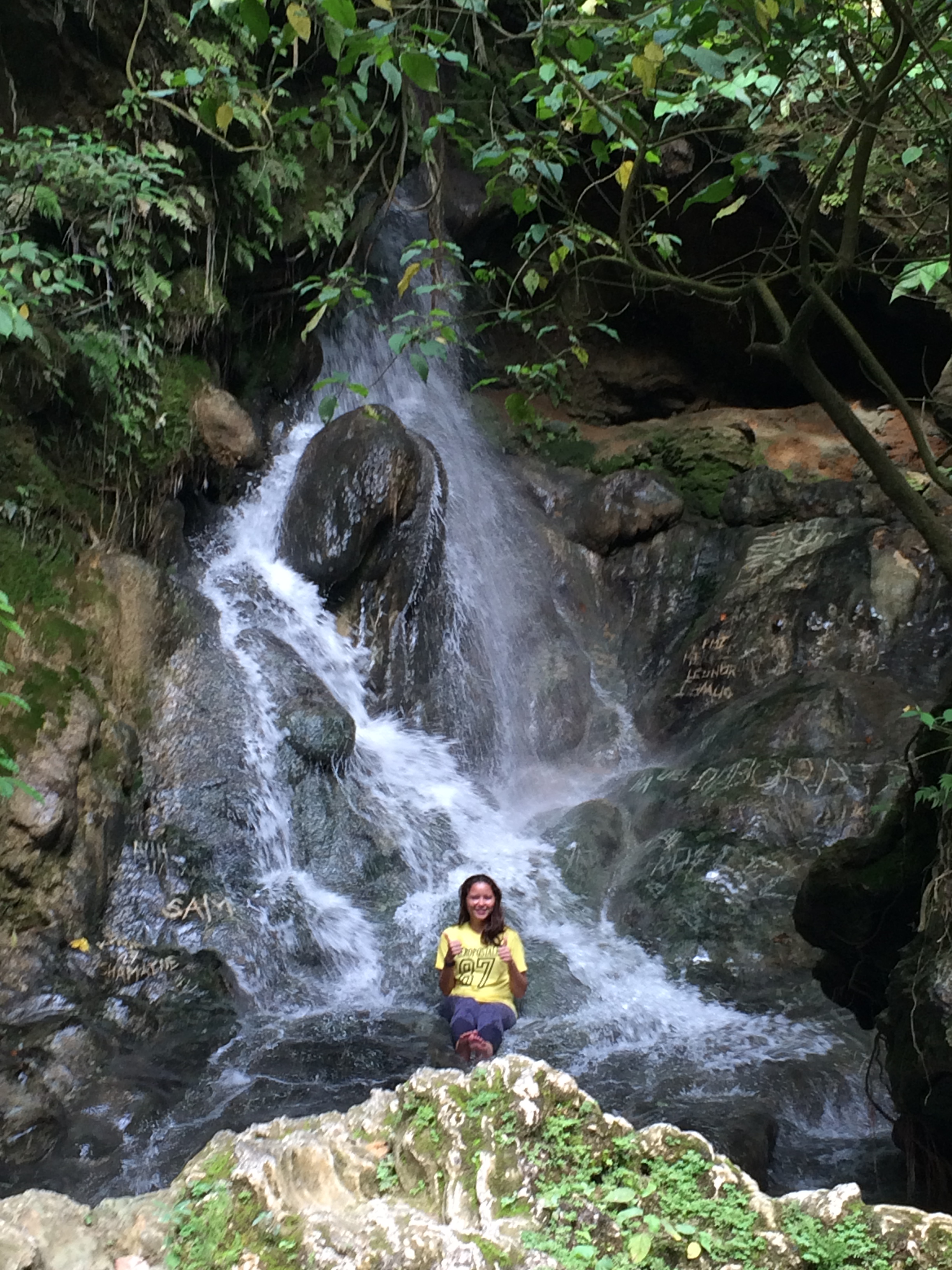 There are cottages for rent, comfort room that we can use for a fee, a store for what someone will need, a hanging bridge and that heart-shaped form from a pile of rocks.
This place is perfect for relaxation after the trek in the river, the mountain or the cave.
On the other hand, on our day 3, we went to 2 sites, Regina RICA and Pililla Windmill.
First was Regina RICA or Regina Rosarii Institute for Contemplation in Asia. Good thing we went there on a Sunday. It is a statue of Mama Mary with Jesus in the top of the hill. It is like Mama Mary\'s version of  Jesus in Divine Mercy Shrine in El Salvador. I felt really blessed to be able to visit these two shrines.
Before you can go to the top, you will still need to attend an orientation. In this orientation, they will explain about Regina RICA, the rules, what can be seen in the premises and what they do.
Many people visit the shrine especially during Sunday. Some will attend the mass, light a candle, kiss the image, stroll the area, relax and feel the serenity of the shrine. They have what is called the Power of Ps at Regina RICA.
After the orientation, the pilgrim and lighting of candles, we headed back to the registration area to try their homemade ice cream which is made of veggies. Then we proceed to our next stop.
Our last stop for the whole trip is Pililla Windmill Farm. During our tour on both days 1 & 2, we already saw these windmills on top of the hills. But on our last day, we\'ve got the chance to go closer and if we can, touch the windmills.
Upon entering the farm, we can already see the windmills. I was able to see windmills in Ilocos two years ago and I thought these are just the same. So it did not excite me that much. But, you can really never tell unless you are there. I was still amazed by these windmills. Maybe because for one, the location is different. In Ilocos, it is located near the beach while in Rizal, in the farm on top of the hills. Second, the arrangement/placement. But though they are different, still they are both amazing.
The farm is huge and the windmills are scattered from the entrance to the exit. They were grouped of I think by 3.
After more than 1KM ride from the entrance, we arrived and saw a lot of guests and huge windmills. But before we took pictures of the windmills, we were all approaching these food stalls and buy then eat then buy then eat. Forgive us because it was already lunch time. And we were all fascinated by these foods. hahaha..
Then after that, we were checking the souvenir stalls before we decided to explore the place and took photos.
Indeed, it was all beautiful. Plus, you have an overlooking view to Laguna de Bay. Perfect!
Tips
Daranak Falls

Bring coins. Seriously! 🙂 Every time you go the comfort room either to pee, poop or bath, you need to pay. So prepare some coins.
There are salbabida (life saver) available for those who do not know how to swim.
If you will be there for a short period of time, better not to rent a cottage.

Regina RICA

Since it is a sacred place, there is a dress code especially for ladies. You should not wear sleeveless and other sexy top, and should wear below the knee for the bottom. Otherwise, they provide skirts to cover for your shorts and mini skirts.
This is a solemn place so be quiet and respect.
Ask for a map in case you get lost. The place is big.
You can bring your own food and stay in their cottage.
Better be early if you want to get inside and kiss the image. The line is long.

Pililla Windmill

Prepare your sunscreen as there is no shed for you to hide.
Take as many pictures as you want.
There are many vendors selling souvenirs, better check the prices first.