As many people went to Clark, Pampanga for the Hot Air Balloon Festival, me and boyfriend headed South to Tagaytay City. This was my second time (1st step was last May 2012) while it\'s my boyfriend\'s first trip.
When we were able to finalize our trip, we then booked our hotel through Agoda and our Taal Lake tour at Taal Lake Yacht Club (most of the blogs I read recommended this).
The Journey to Tagayatay
My flight was in T4 and since my boyfriend is already in Manila (for a month of training), he just fetched me at the airport and we headed directly to the nearest bus terminal in Pasay (near the MRT station).
In this station, we can ride either BSC or San Agustin bus liner. Both will pass through Tagaytay City.
After more than 2 hours of land travel with a heavy traffic in Cavite, we alighted at Mahogany Market. Just right because we were already so hungry.
Tagaytay is popular for their Bulalo and a trip is not complete without trying this. And the best place to try is at Tagaytay Mahogany Market. Here you can find a series of eatery selling not just Bulalo but other foods like Crispy Crablets, Fries Tawilis, etc.
the yummy Bulalo at Php 300 plus good for 3 pax
After filling up our tummy, we then rode a jeepney to Olivarez Terminal then hailed a tricycle to Lazea Tagaytay Inn where we will be staying. It is just a walking distance to the City Market and one jeepney ride to Picnic Grove and People\'s Park in the Sky.
Photo by Lazea Inn Tagaytay
We were welcomed by their accommodating staff, Ate Juliet. We just settled in, rest for awhile and then started our tour.


Picnic Grove
First stop is Picnic Grove since it\'s the nearest. The entrance fee is Php 50.00. Some of the things we can do here are horseback riding, zipline, visit the Jungle and take a picture with the python, baby croc, birds, turtle, donkey, etc., and trek. We can find cheap and wide variety of souvenir and pasalubong here. Also, one can have a picnic at their cottages. Taal Volcano can also be viewed from here. Though it\'s not the main crater but it\'s still mesmerizing.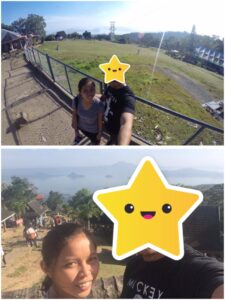 Strolling around the Picnic Grove. Picnic huts can be seen and a view of the Taal Lake.
Our Adventure Jungle experience. Was able to touch a snake and baby croc which I am both afraid of. #bucketlistcheck
People's Park in the Sky
A couple of minutes away from Picnic Grove is the People\'s Park in the Sky. Its name says it all. It is a park located in the higher place which overlooks Tagaytay. We reached here by hailing a trike from Picnic Grove up to the entrance. The fee is Php 30 per adult. After paying, you have the option to either walk uphill or ride a jeepney for Php 5.00. But what is more fun than walking right? 😀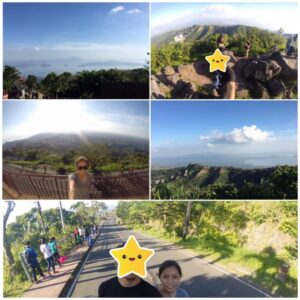 A taste of fresh and cold air while watching Tagaytay from the top 😍
Prayed to Mama Mary & Jesus Christ 🙏🏼

Sky Ranch
Our last stop for the day is Sky Ranch. It is an amusement park just opened not so long ago. Here we can choose from a variety of rides, buy souvenirs and pasalubong, watch a live band performing, eat at the restaurants or just simply stroll around, chill, meet different type of people and enjoy the breathtaking scenery with fresh and cold air. The entrance fee is Php 80.00 for every adult. Since it was Saturday that we went there, there are many guests, a live band performing plus a bonus fireworks display. It was such a nice experience.
Map of Sky Ranch
Sky Ranch Rides and Rates🎡🎢🎠
A huge wave of visitors 😁


Sky Ranch 💙
Some of the rides👊🏼
Say Hello to Smash! 💙🐵 Thanks to the BF for winning the game ☺️
Taal Volcano Tour
Our second and last day was reserved for the Taal Volcano Tour. Prior to our tour, we already reserved it at Taal Lake Yacht Club. Though it is a yacht club, but they still accept walk-in guests. I chose them because when I was researching about this tour, I mostly found them being recommended by bloggers.
From the hotel we were staying, it\'s about an hour to the yacht club itself. That\'s by a tricycle ride in a very downhill road. The tricycle driver will just wait at the resort.
Upon arriving, we immediately went to the reception area and presented our deposit slip. They then provided us a tour guide and the boat with the boatman.
We rode a boat for 20 minutes from Taal Lake Yacht Club to an island where we had a horseback riding for 45 minutes going to the viewing point. Make sure to be prepared of the scorching sun plus the very dusty path to take. Upon arriving the island, our tour guide brought us to the registration area and we were assigned with a horse and its guide.
The port at Taal Lake Yacht Club and our boat
Horseback riding to the top 🐎
The wonderful main crater of Taal Lake
Photo from the Red Rock 🌋
Thanks for a great, adventurous and a full-tummy Valentines weekend, Tagaytay! ❤️👣😉