Our first stop on the list is Oryukdo Skywalk. It is used to be called Seungdumal which marks the border between East and South Seas. It is a 15-meter glass bridge composed of 24 glass panels linked to each other in a horse-shoe shape on an iron beam on the 35-meter high coastal cliff. Oryukdo Skywalk means walking in the sky.
It is located in Oryuk-doro, Yongho-dong, Nam-gu, Busan. It is open from 9AM to 7PM with last call at 6:50PM. Admission is free. Make sure to bring water, coat/jacket if you're easily get cold, and sunglasses for eye protection against the sun.
To get there: From Busan Bus Station, take Bus 27. After 40 stops, alight at the bus stop in Oryukdo. The trip took about 30 minutes.
There were already many tourists when we get there. We thought they were closed because of the holiday but good thing they're not. 😊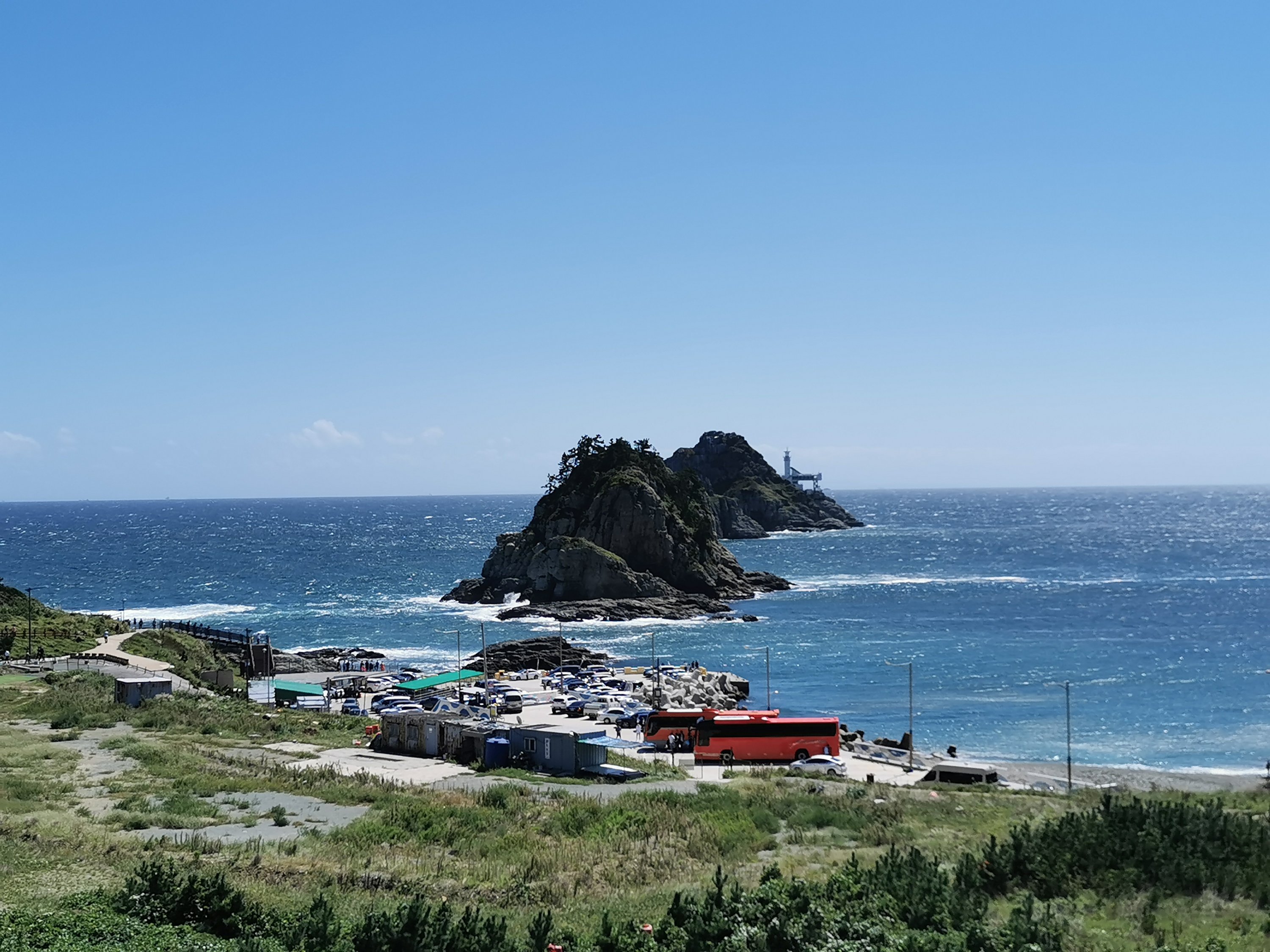 We walked going to the building where the Information Center and the café are located. The view is very magnificent. An overlooking view of the ocean, the rock formation, the buildings, the mountain. It's jaw dropping. ❤️
The wind was not on our side so we can't get a decent photo without our hair standing. Hahaha But well, the view is what we want to see here.
Then we walked going to the Oryukdo Skywalk. On the way going up, there is a cooling fog system. It is a purified water sprayed to cold down the temperature and reduce fine dust. Amazing, right? 😉
To experience the Skywalk, you need to wear a footwear cover which the staff will provide. The time is limited to accommodate everyone. We needed to fall in line when we got there.
The experience is pretty cool and awesome. You can see beneath the ocean, the rocks, the wave. If you are afraid of heights, this is a good way to conquer it. You just have to hold the railings all throughout. If you can't take it, you can just watch straight and afar. Though what's scary is if the glass panels can handle the volume of the people. But limited people will have to get in at the same time. Which is good! 👌
I enjoyed this experience though as much as I had fun doing it in different Skydecks.
Once we're done, we went in the other way to get down and go back to the bus stop. We finally had one photo taken by a guy, a fellow tourist who asked us to take his & his friends' photo. 😬
After that, we went back to the guesthouse to check in and got some rest. We took the same bus number going to Busan Station.
Walking going to the guesthouse, we dropped at McDonald's to have our late lunch. It's 2:30PM already.
When we arrived, we're just right for the check in time and we napped for a while after settling in.
We agreed to wake up at 5PM but I think we went beyond that. We were really tired since we were sleepless. Hahaha
Our destination in the evening was at the Gwangalli Beach. It's the beach that the guy in the flight mentioned. We departed almost 7PM.
To get there: From our hostel, we went to Choryang Station. Then take the platform with route for Nopo. We alighted at Seomyeon Station (after 5 stops) and transferred to the platform with route for Jangsan. We got off at Gwangan Station (after 10 stops). From there we walked for a few minutes.
Gwangalli Beach is a 1.4km long and famous for its fine sand. The area is filled with restaurants, cafés and pubs. What's best about going here in the evening is witnessing the bright lights from Gwangandaegyo Bridge.
When we got there, it's like there's a light show on the bridge. Changing colors, synchronizing with the music while people were doing there thing. Family was enjoying. Couples were sitting and chatting. Children were playing. Some was firing some fireworks. Others were in the pub and restaurants.
It's very relaxing and I had fun seeing those things. How people were enjoying a simple night along the beach. No chaos. It's like you're not in the city.
After strolling around, we looked for a place to have dinner. And voila, we had our first Korean dinner in Kimstar Dinner. With tteokbokki, chicken and beer. 😂
And that's how our first day & night in Busan went. So fun and yet, we still got time to relax. Plus the yummy dinner. 👌😍