Philippines has a lot of beautiful places to offer including white sand beaches, picturesque mountains, wonderful islands, scenic views, places where the history still lives on, etc.
So when Cebu Pacific had a piso fare promo, me and my friends agreed to go to Ilocos since this place is where tourists would love to visit. We booked a ticket for February 19-22, 2015.
We booked everything ahead from the Hotel to the Transportation to the Tour. Ma\'am Mae arranged our stay at Villa Angela Heritage in Vigan.
For our transpo and tour, we contacted Kuya Eddie at 09062303105. He was the driver when my sister and her friends went to Ilocos. He is such a kind person (he even let us stay in his house for two night for free and invited us for a dinner during a birthday celebration) and a strong one (survivor of cancer).
Kuya included in our tour package the following:
Manila-Ilocos-ManilaTransfer
Ilocandia Tour (Vigan, Paoay, Pagudpud)
Side trip at Baguio City
2-night free accommodation
For this, we just paid him more or less Php 2000 each (we were 13 in all then). That\'s so cheap, right? 👍🏻😃
First Stop: Baguio City
Also known as the Summer Capital of the Philippines, one of the most famous cities in the country.
After the 6-hour trip from Manila, we arrived in Baguio City. We went to Lion King\'s Head (a mandatory photo to prove you are in Baguio), Philippine Military Academy (where weapons/machinery used in the war can be seen, trainees for Military), and Mine\'s View (where you can have a picture with the dogs, the pink-hair horse, be an Igorot for awhile and see the mining in Baguio). We passed by Kennon Road, Session Road and Burnham Park. We decided to have this side-trip since only few of us (maybe 4) went there.
Second Stop: Vigan
Also known as the Heritage City, was declared recently as one of the New Seven Wonder Cities of the World.
We arrived in Vigan and immediately checked in at Villa Angela Heritage. Our room can fit us all. For a low rate, it already has a breakfast and just a walking distance to the famous Calle Crisologo.
Once done settling down, we decided to stroll at Calle Crisologo. Only few stores were open (since it\'s late at night). We were in awe of how magical and beautiful the place is. We strolled, took pictures, and buy some souvenirs. After which, we went back to the hotel to rest.
The next morning, after breakfast, we checked out and continued with our Vigan Escapade.
We went to Pagburnayan Pottery wherein the staff demonstrated to us how to make a pot. Afterwards, we can have a picture with the pot he made and even experienced making one. There is no entrance fee but just some tip.
Next is the Hidden Garden. You can stroll around and feel relax with the plants. They also have a restaurant wherein you can taste the famous empanada.
Then we headed to Baluarte. It is a zoo owned by Gov. Chavit Singson.
Third Stop: Laoag
Officially the City of Laoag, is a third-class city and the capital of the province of Ilocos Norte.
During our visit here, we went to the breathtaking Paoay Church, scenic view of Malacañang of the North and Paoay Lake, intriguing body of President Marcos at the Marcos Mausoleum and the exciting ride at Paoay Sand Dunes.
Paoay Church
This is called the San Agustin Church of Paoay or Iglesia de San Agustín de Paoay. It is declared as a National Cultural Treasure by the Philippine Government in 1973 and a UNESCO World Heritage Site under the collective group Baroque Churches of the Philippines in 1993. (From Wikipedia)
Malacañang of the North
Malacañang ti Amianan as the locals call it, is a birthday gift from then First Lady Imelda Marcos to her husband\'s 60th birthday. This served as the official residence of the Marcoses in Ilocos Norte. (From Choose Philippines)
Paoay Lake
It is historically known Lago de Nanguyudan and referred to locally as Dacquel a Danum (Ilokano for big water), is a horsehoe-shaped lake located in Paoay. It can be viewed at the back of Malacañang of the North. (From Wikipedia)
Marcos Museum and Mausoleum
The Marcos Museum and Mausoleum integrates both memorabilia storage and the current resting place of Ferdinand Edralin Marcos. It is situated in the heart of Batac City, Ilocos Norte. The museum shows memorabilia of the late president, from his stint in the armed forces down to his presidency. The large and solemn mausoleum contains the glass-encased coffin in which Marcos\' embalmed body has been on public display since shortly after his remains were brought home in 1993. (From Wikipedia)
I do not have photos since we cannot take pictures on the body of Marcos.. 🙁
Paoay Sand Dunes
The adventure will start by riding a 4×4 Off-Road Vehicle. After a whirlwind ride, the driver will take you to the sand boarding area where you can have sand boarding all you want. Then he will bring you to the beach shores. In going back to the registration area, you will pass in a place with the sign HIMALA. This is where this movie shot.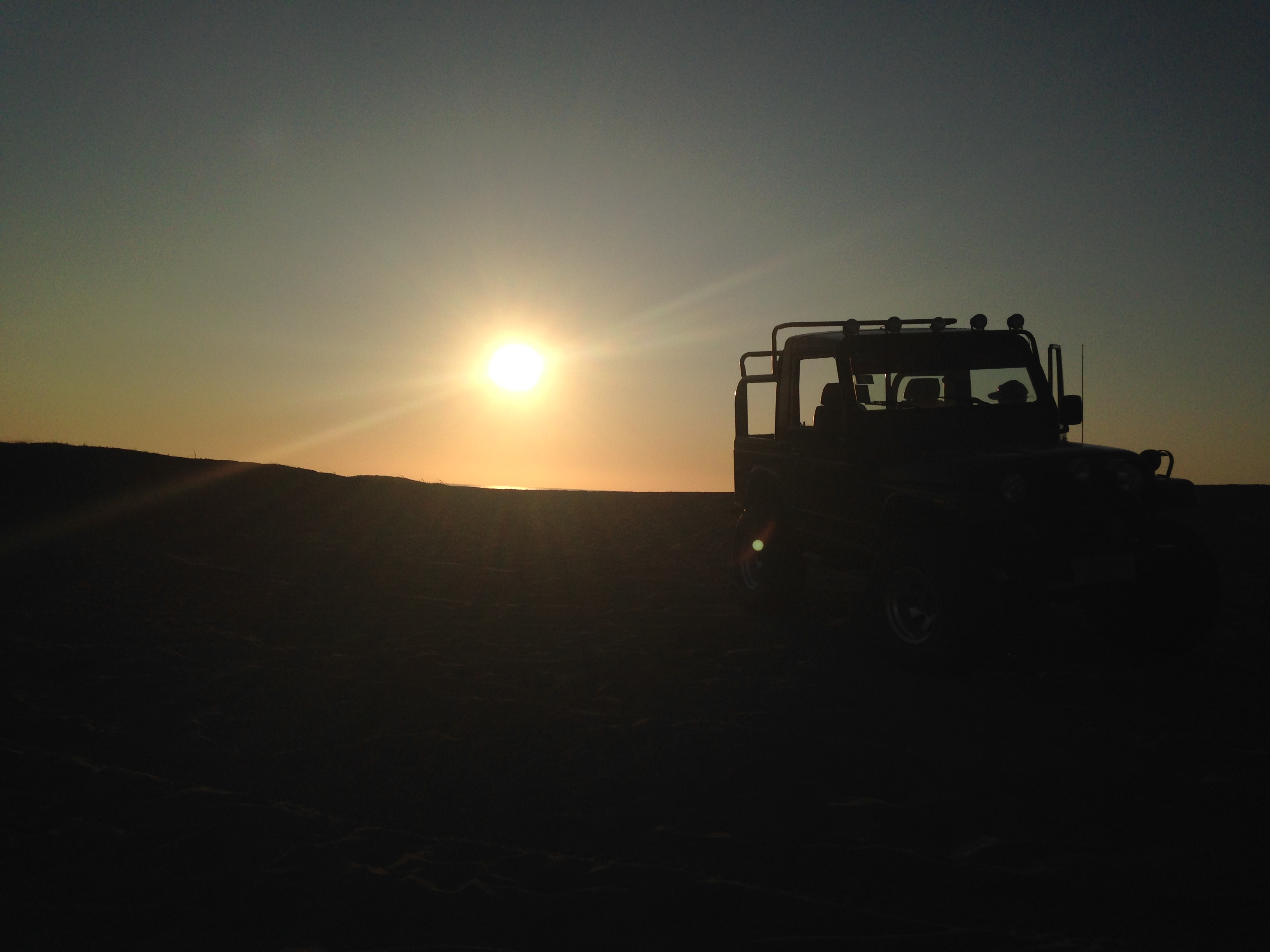 Last Stop: Pagudpud
We travelled the next day to Pagudpud. Our trip includes Patapat Viaduct, Bantay Abot Cave, Blue Lagoon Beach, Bangui Windmills, Kapurpurawan Rock Formation and Cape Bojeador Lighthouse.
Patapat Viaduct
This bridg is elevated 31 meters over sea level. It is a concrete coastal bride 1.3km long and connects the Maharlika Highway from Laoag, Ilocos Norte to the Cagayan Valley Region. It is the 4th longest bridge in the Philippines. (Source: Wikipedia)

Bantay Abot Cave
Bantay Abot means mountain with a hole. Though technically it is not a mountain. 😋
Blue Lagoon Beach
This is also called Boracay of the North. It has a wide beach shore with white sand and has a clear water (though the waves are kinda huge).

Bangui Windmills
Also know as Bangui Wind Farm is located in Bangui, Ilocos Norte. The wind farm houses and uses 20 units of 70 meter (230 ft.) high Vestas Wind Systems. These wind turbine systems are arranged in a single row that stretches in the 9 kilometer shoreline of the Bangui Bay which faces the South China Sea. (Source: Philippine Tourist Attractions)

Kapurpurawan Rock Formation
Kapurpurawan Rocks are rock formations created by forces of the ocean on the rocky coast of Burgos, located just a few minutes further from the lighthouse.
Cape Bojeador Lighthouse
Also known as Burgos Lighthouse, is a cultural heritage structure in Burgos, Ilocos Norte, that was established during the Spanish Colonial period in the Philippines. It was first lit on March 30, 1892, and is set high on Vigia de Nagpartian Hill overlooking the scenic Cape Bojeador where early galleons used to sail by. (Source: Wikipedia)
And that's how our Ilocandia Journey have been. The long trip from Manila is nothing compared to how fascinating, wonderful and great the places, foods, adventures that are waiting for us there. It seems that we were not in the Philippines. These places deserve all the recognition and appreciation. 😎💯📷👣🙈
And during this trip that I learned something more about life and travelling. ❤️💚💙💛💜
Plan a trip now to Ilocos and get ready to be amazed! 😍