On our second day, we spent it visiting the palace, watching the changing of guards, buying some stuff at the flea market, collecting freebies at Myeongdong and saying a prayer at Myeongdong Cathedral.
Since we will just be within the city, we did not start our day that early. Actually! We were just so tired. Hahaha!
After breakfast, we headed to Dongmyo Station for Gyeongbokgung Palace. But before we reached the station, we saw a market across the street. It was a Sunday Market selling affordable stuff and foods. We just bought a biscuit that we can eat on the road or when we are still enjoying the tour.
The street of South Korea on a Sunday morning.
The market near Dongmyo Station. I guess, they are only here during Sunday.
How to get there
From Dongmyo Station, take line 1.
Dongmyo Station -> Dongdaemun -> Jongno 5-ga -> Jongno 3-sam 
Alight at Jongno 3-sam Station, then take line 3.
Jongno 3-sam Station -> Anguk ->Gyeongbukgong Station
This can be found inside Gyeongbokgung Station. It is a Bullomon.
I love how the architecture of the Gyeongbokung Station plus the interior design. 😀
When we went out from the station, we were welcomed by an old couple walking hand in hand. See! That\'s how sweet Koreans are. 😀
When we were at the National Palace Museum of Korea, there are girls walking towards the palace wearing hanbok (a traditional South Korean dress). It comes in different shades of pastel colors and they really looked lovely.
Then we walked to Gyeongbokgung Palace. Before getting inside, you have to pay for the admission fee of 3000 KRW or 10000 KRW for combination ticket (Gyeongbokgung Palace, Changdeokgung Palace – the Secret Garden included, Changgyeonggung Palace, Deoksugung Palace and Jongmyo Shrine) or free admission if you are wearing a hanbok.
Since we were not going to all those palaces and we found it too hot to wear a hanbok while roaming around, we just bought the 3000 KRW admission ticket.
Then, we started our Gyeongbokgung Palace tour. We did not stay that long because we wanted to witness the Changing of Guards at the front of Gwanghwamun Gate.
At 1PM (with no lunch), we were at the Gwanghwamun Gate. The ceremony did not start yet thus, we take some photo with the guards. You can really see how difficult it is for them to stand there for a couple of minutes or hours with the heat of the sun and without moving or anything. They were just really standing still.
After a few minutes, we were instructed to move backwards as the ceremony will start. We were fortunate to be able to stand in the front row and can really see the whole thing clearly. The ceremony is not that easy and quick. They are really following some protocols (I believe the tradition way) in changing guards. It took them for about 15 minutes to complete. Then after that, we took another photo with the new set of guards.
It is a must to witness the changing of guards.
Then decided to head to the flea market across the street. We roam around checking on the items being sold. From used clothes, shoes, sunglasses to stuff toys to toys to bags to books to anything that they think are no longer useful to them but can still be used by others.
I was able to buy two Doraemon stuff toys. One is color pink and the other one is blue. Hahaha!
We also did some food and wine tasting. They are delicious but it is gonna be a hassle to bring and it is not part of the budget. 😀
Some of the stalls and things that are being sold in the flea market.
After that, we headed back to the station and then,will go to Myeongdong. Have our lunch there and go for some window shopping! Haha!
To get to Myeongdong from Gyeongbokgung Station:
Take line 3 then alight at Chungmuro Station (Gyeongbokgung -> Jongno 3-sam -> Euljiro 3-sam -> Chungmuro).
Change to line 4 then take the train to Myeongdong Station.
You can also find stores inside the MRT station.
Myeongdong is known for the cosmetics heaven. You can see a line of cosmetics store in here of all the famous brands back home (i.e. Faceshop, Etude, Innisfree, etc.). There are also stalls selling foods, souvenirs, clothes, and your favorite Korean actors memorabilia. I have seen lots of Gong Yoo, Lee Min Ho, EXO, BTS, etc. But I am not that so fanatic so I just bought an EXO pouch for my cousin and took a photo of the Goblin stuff for the people in PH. Hahaha!
What is the best thing in shopping at Myeongdong?
Their prices are low compared at home plus a wide variety of brands and products plus almost everything are on sale (whether up to 50% discount to buy 1 take 1) and most of all, there are lots of freebies (masks, cotton pads, etc.) given to whoever entering the store.
I highly recommend to everyone who loves cosmetics to visit Myeongdong.
And since we were getting too much hungry, we just bought foods on the stall found in the middle of the street. We rested for a moment while having our lunch. Then after that, the shopping resumed.
Along the way, we found this Korean guy selling some food. He greeted us in Tagalog and we were like surprised because he can really speak that well. Our friend saw him on YouTube and so we did stop on his stall. He chitchatted for a while then demonstrated to us how he made the food he is selling. (I shared the video on my IG account.)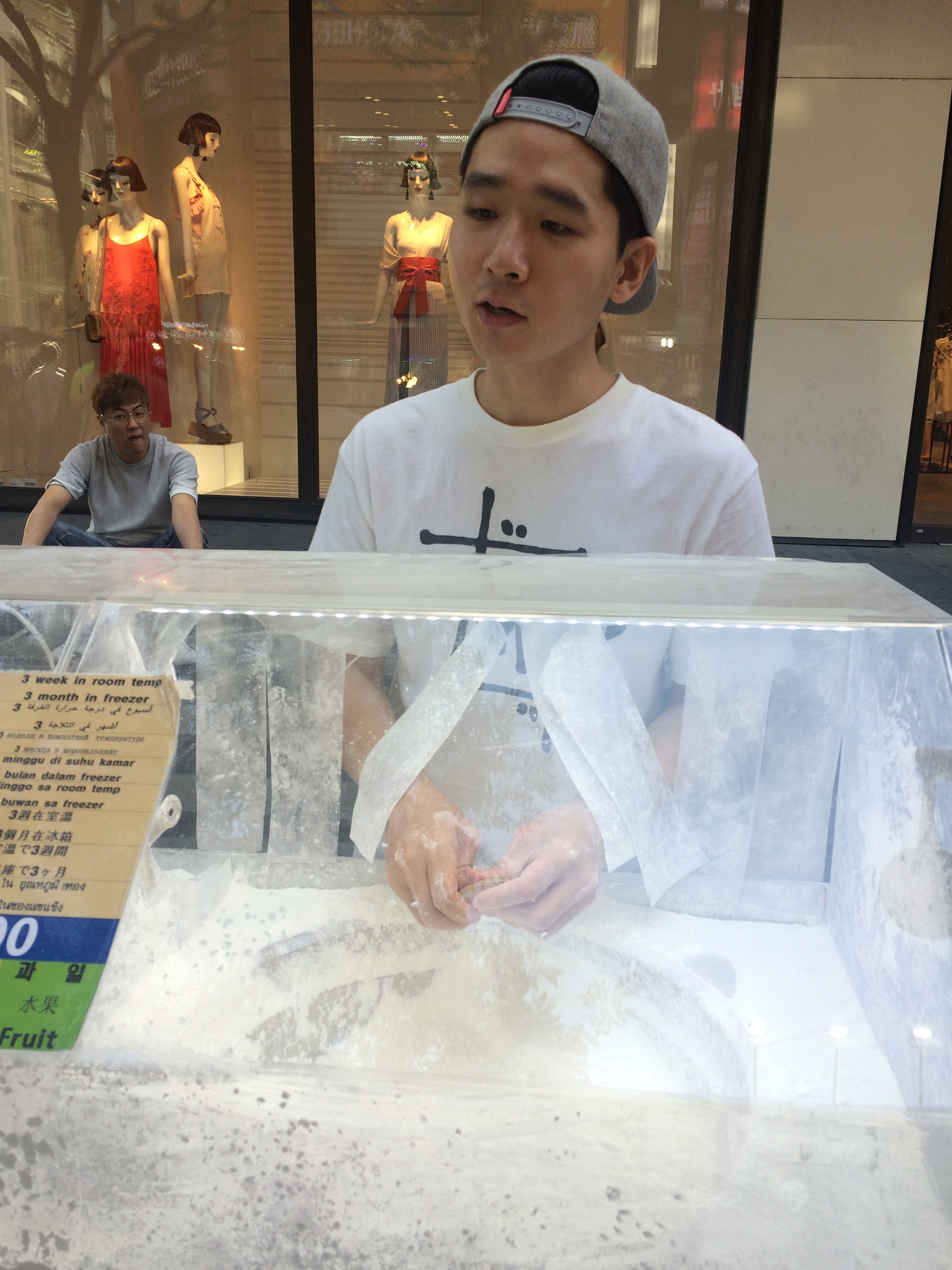 After that, he gave us some for free taste then we bought one box.
We bid farewell and walked towards Myeongdong Cathedral. We passed by a souvenir stall thus, we stopped and bought some for our friends and family.
Then we resumed walking until we saw that beautiful, castle-like cathedral. It is located in a hill which is kinda overlooking.
We rested for a while then went up and got inside the church. Supposedly, we will attend the Sunday Mass but unfortunately, it was in Korean language. So, we just prayed then went out. Then stayed for a few minutes outside, took some photos then decided to go home.
We just walked again going back to our hotel. Another exercise! Hahaha!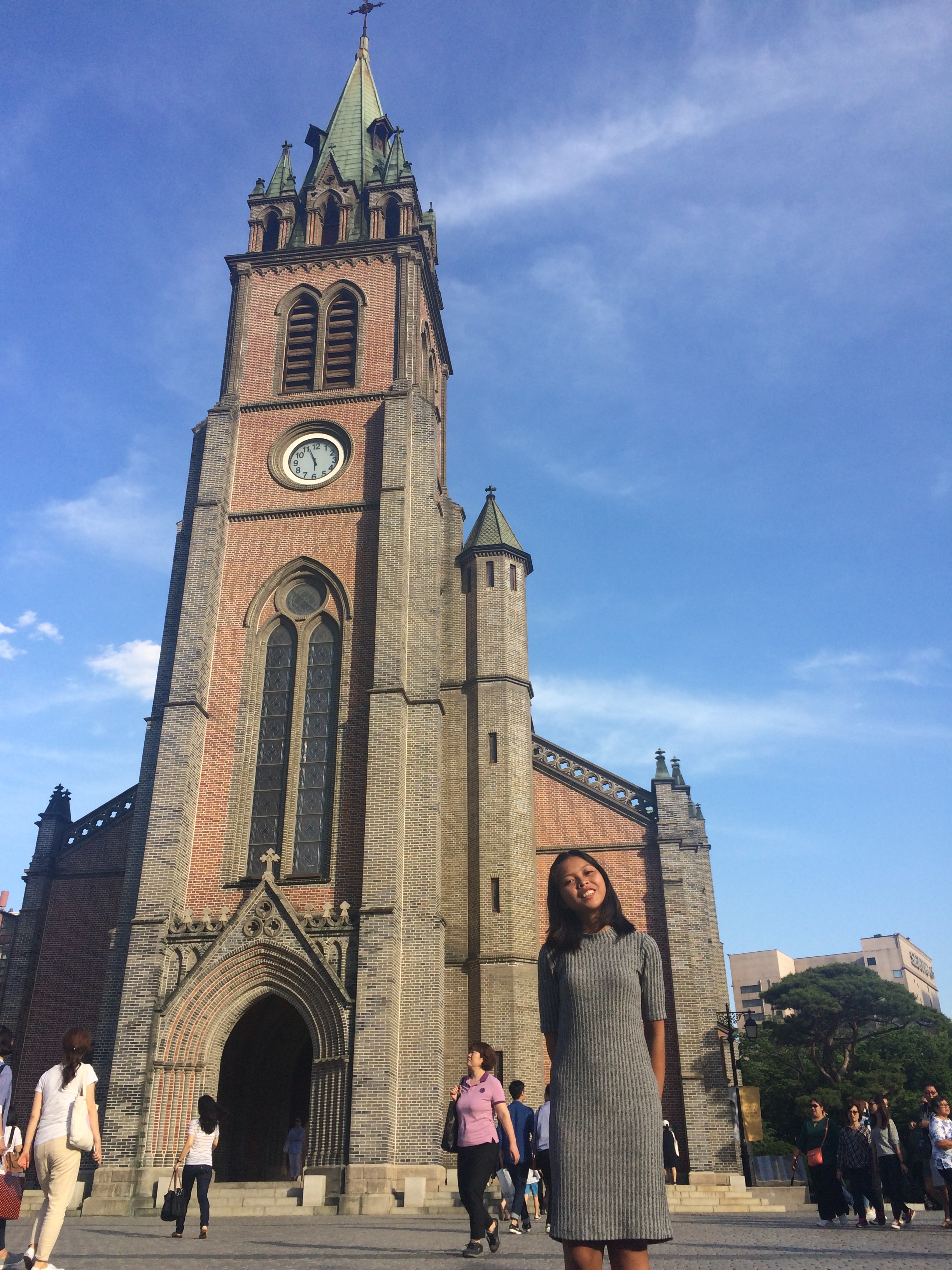 That\'s how our day 2 ended. 🙂
TIPS!!!
Plan on what to visit and check the opening hours & schedule. You can visit all the palaces and garden but it is gonna be a fully loaded day. Just plan it out well.
Savor the moments. Take as much photos as you can. Wear that hanbok if you like and live for a moment like a Korean Princess. But if you are on a budget, leave that for your next visit.
Palaces could look almost the same. But stories in each are different. If you are into that, buy the combination ticket.
Get as much freebies as you can. You can give that as pasalubong to your friends. 🙂
Check properly the items based on what you want. For example, the Aloe Vera Soothing Gel\'s price differs from every brand/store. But the Aloe Vera content also differs. The more Aloe Vera, the higher the price. So know which do you prefer.
Take advantage of the discounted price and buy 1 take 1. Prices in Korea is cheaper already but with that promo, it can go beyond that.
Tried the Korean local snacks or foods that you can find along the street.
If you wanted to buy souvenirs, the one being sold in Myeongdong is more expensive than the markets like Dongdaemun and along the sidewalks or subway stations.
You can bargain if you want to. Some Koreans are generous enough to give you discount.
Never forget to visit Myeongdong Cathedral. It is one for the book!