Looking for a place wherein you can unwind and escape the stressful life in the city? Want to spend a day or two in a relaxing place with your loved ones, family or friends?
You do not have to travel for hours and spend more than your budget. Elsalvador Beach Resort located in Sabang, Danao City, Cebu is a place to go. An hour drive from Cebu City, a resort that offers wide range of amenities and services that will surely make your stay a comfortable, fun and enjoyable one.
You can reach Elsalvador Beach Resort from Cebu City by taking a V-Hire at SM Cebu V-Hire Terminal, or ride a Jeepney from SM Cebu or take a taxi.
Elsalvador Beach Resort both have a swimming pools for kids and adults and outdoor jacuzzi that require proper swimwear. If you are not fond of swimming in the pool and instead want to try water activities, you can do Kayaking and other non-motorized activities. You have to pay the rent and inform the Reception Area so that these can be prepared. You can also do Beach Volleyball since they have a wide shoreline.
If you just want to relax and you are in no mood to do the water activities, they offer a perfect relaxation packages in Elsa Spa & Fitness Gym that will surely pamper yourself. And for those who are singers by heart, you can rent a room for Videoke all day all night at Buddy\'s KTV. Rates are Php 250 good for 2-6 persons and Php 350 good for 5-15 persons.
Elsalvador Beach Resort also proves that they are indeed a resort for all ages especially for the kids. Their resort has a Children\'s Playground where the kids can enjoy themselves playing while the adults have fun swimming and exploring the resort.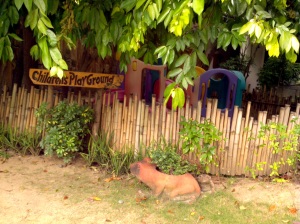 Coco Restaurant offers very delicious yet affordable foods. A food lover like me will never get tired of going back and waiting for the foods to be served. Worth the wait and the money you pay. And what adds to this is the ambiance and the beautiful view you will have while having your meal.
Room rates start from Php 1850 per night. Perfect for those who want to be away from stress and want to be alone, for lovers to spend quality time together, for the family and friends bonding moments.
ELSALVADOR BEACH RESORT is indeed a place to be. A place to go. A place every single thing you can spend whether it is money, time or effort is worthy. A place where you cannot just relax but also have fun. Visit now and explore Your Gateway in Danao City, Elsalvador Beach Resort.
For more info, please visit their site El Salvador Resort. You may also reach them through +63 32 200 3622, +63 32 200 4494, +639231455613.