The pandemic has opened more the door to working from anywhere or the digital nomad life. People can work in different locations provided that they have a good internet connection and they can deliver their tasks without miss.
Personally, the work from home setup that I had for more than a year had lead me to wanting a digital nomad life. In that manner, I could work and travel at the same time. It\'s like hitting two birds with one stone. 😅
I went back home in the island for 4 months now. And there\'s a place in the island that me and my sister would like to try. Unfortunately, our parents won\'t let us do it.
Until one day, my friends from Cebu decided to visit us here in the island. I grabbed the chance to book the place for a night.
The place is called Jungle Hut. The name says it so. It is a hut within the jungle. Surrounded by trees and plants. With the sound of crickets and other animals. And yes, there\'s a river nearby too.
Finding the place was quite hard for first timers like us (even if I\'m a local) coz I\'m not familiar with the place. There were signs though but we did not notice it at first.
When we got there, we were welcomed by the very accommodating host Lee. He led us to our hut where we will stay for the night. We walked for a few meters down until we found a pretty unique hut.
One word to describe when we first saw it… wow! Literally, jaw-dropping. 😍
Lee then gave us a briefing and Jungle Hut Tour.
The Jungle Hut has two storey. The first floor is where the living/dining room and toilet & bath. They provided us with a gallon of drinking water. The hut is also equipped with its own refrigerator, coffee maker, induction cooker and utensils & kitchenwares. A hut with modern amenities. Wow! 😮
The toilet & bath is outdoor. Meaning it\'s like you\'re going for a shower outside the house. Not covered with roof. You can see the trees and plants outside. And they have a hot & cold shower too. Wow! 😮
The first floor has a bamboo sliding door where you can close when you go out or sleep at night. Wow! 😮
On the second floor is where the bedroom. There\'s a double bed, a fan, a chair, few throw pillows, small basket, and the big round window. With an overlooking view of the trees and the garden. Wow! 😮
Outside is the garden with bonfire and the table for dining or chilling. The ambiance at night especially is very relaxing. Perfect for people like us who want to chill and be away from the hustle & bustle of the city. Wow! 😮
And since we were there on a Friday, we were able to not just stay in a jungle hut but also work from the jungle. Literally! Except there\'s no monkey. 😂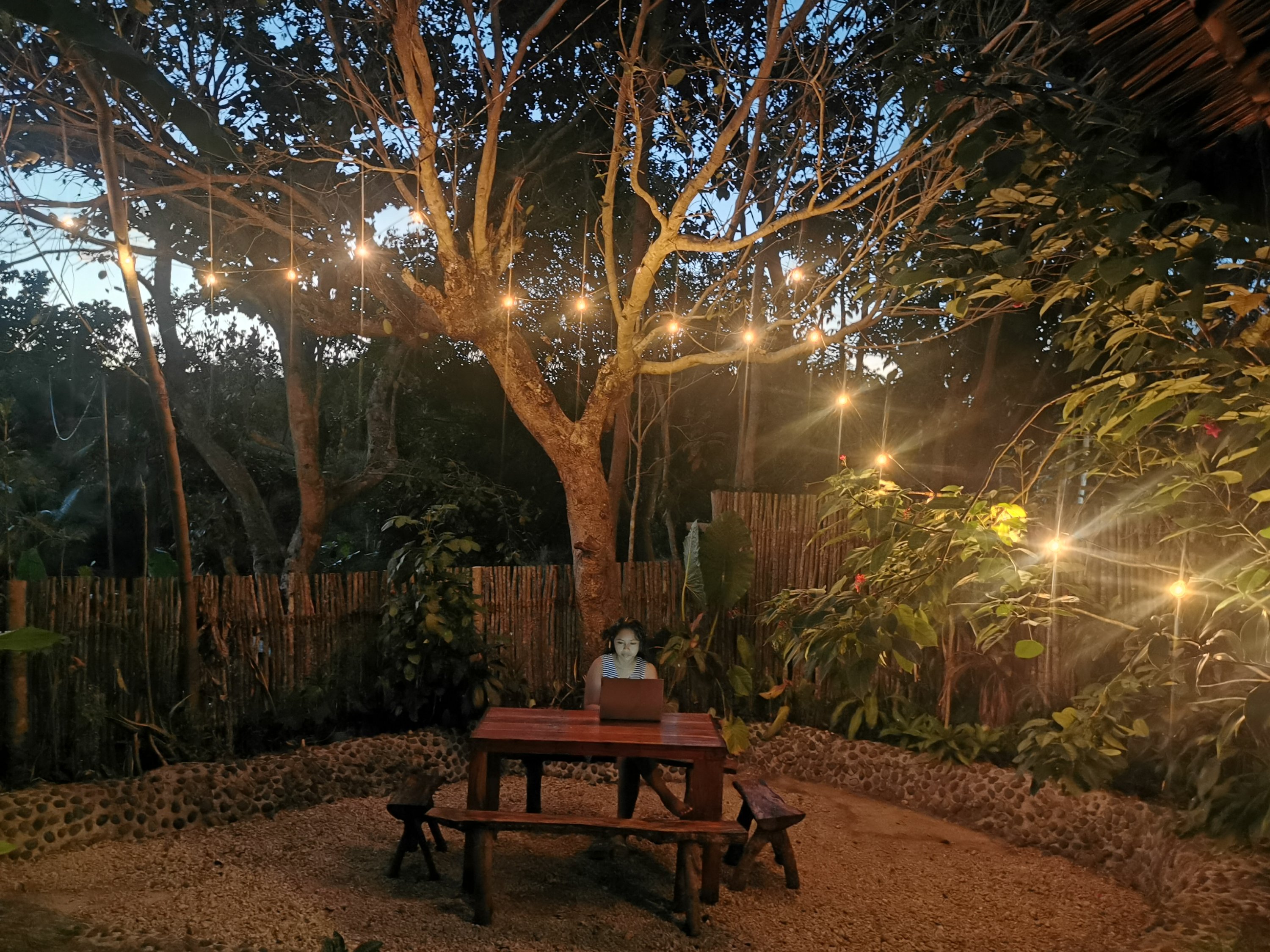 The internet connection in the evening was a bit intermittent but it got better as the night went deeper until the morning.
Since me and April were on a night shift, we were sleeping the next morning. Toj was able to check the river.
We really had a good time and great experience. Something that is one-for-the-book. And yes! We can work anywhere. 😁
Though you can cook at the kitchen, you can also opt to order and have a food delivery. It\'s from a nearby café called Twenty4 which offers variety of delicious food and delivers in no time at a very minimal fee. You can pay them via Cash or GCash.
So there you go! If you want to relax, be with nature, have a peaceful time, create memories with loved ones, and maybe experience working from the jungle – book a stay at Jungle Hut. You\'ll definitely get what you paid for. Or even more.
From their very friendly hosts Lee & Jang to the Instagrammable, picturesque and well-equipped hut to appreciating a simple life with nature… You will get it all here.
Plus you\'ll get lucky to meet Kodak and Ebony – their big but sweet dogs. 🐶
And oh! It\'s a safe and quiet stay. Lee & Jang are staying just near the hut and they are there whenever you need help. Nothing to worry! Just have fun. 😊
You can connect with them through Instagram, and book through Airbnb. Happy Jungle Stay! 💚