Melaka Strait Mosque or Masjid Selat Melaka is located in a man-made island called Pulau Melaka (Melaka Island).
As I was searching for things to do or visit in Melaka before our trip, I always find the mosque in the list. With curiosity, I include it in our itinerary.
And on out 2nd day in Melaka, after having our late lunch and short window shopping in Jonker Walk, we booked Grab to the mosque. Grab is the best way to reach it. And the fare was so cheap. It was MYR 9 (around PHP 110) from Jonker Walk. The distance is about 5.8km.
There was no traffic and so we arrived so fast. At around 3PM when the sun is up and it's quite hot.
We actually didn't know what to do and if we can get inside since we're only wearing our regular clothes. We asked the owner of a restaurant there and he said we can use the Abaya & Hijab for free and change in the toilet.
After changing and getting amused with how we looked differently (it's my first time to wear them), we started to walk towards the entrance.
Things to remember when going to a mosque:
Leave your footwear in the designated area
Always wear the proper clothes. There are posters outside for the proper clothes.

Tourists can use the free clothes provided by the mosque's personnel

Keep your voice low. If possible, stay quiet.
Respect the place and the people praying.
Do not litter or throw any garbages anywhere
Unless you're a Muslim, prayer hall is prohibited
Observe the praying time
As we entered, confused where to go, the security guard called us. He told us that we can go around the mosque but not inside the prayer hall.
We then went as instructed by him. We took some photos and roam just half of the mosque then went back to where we entered.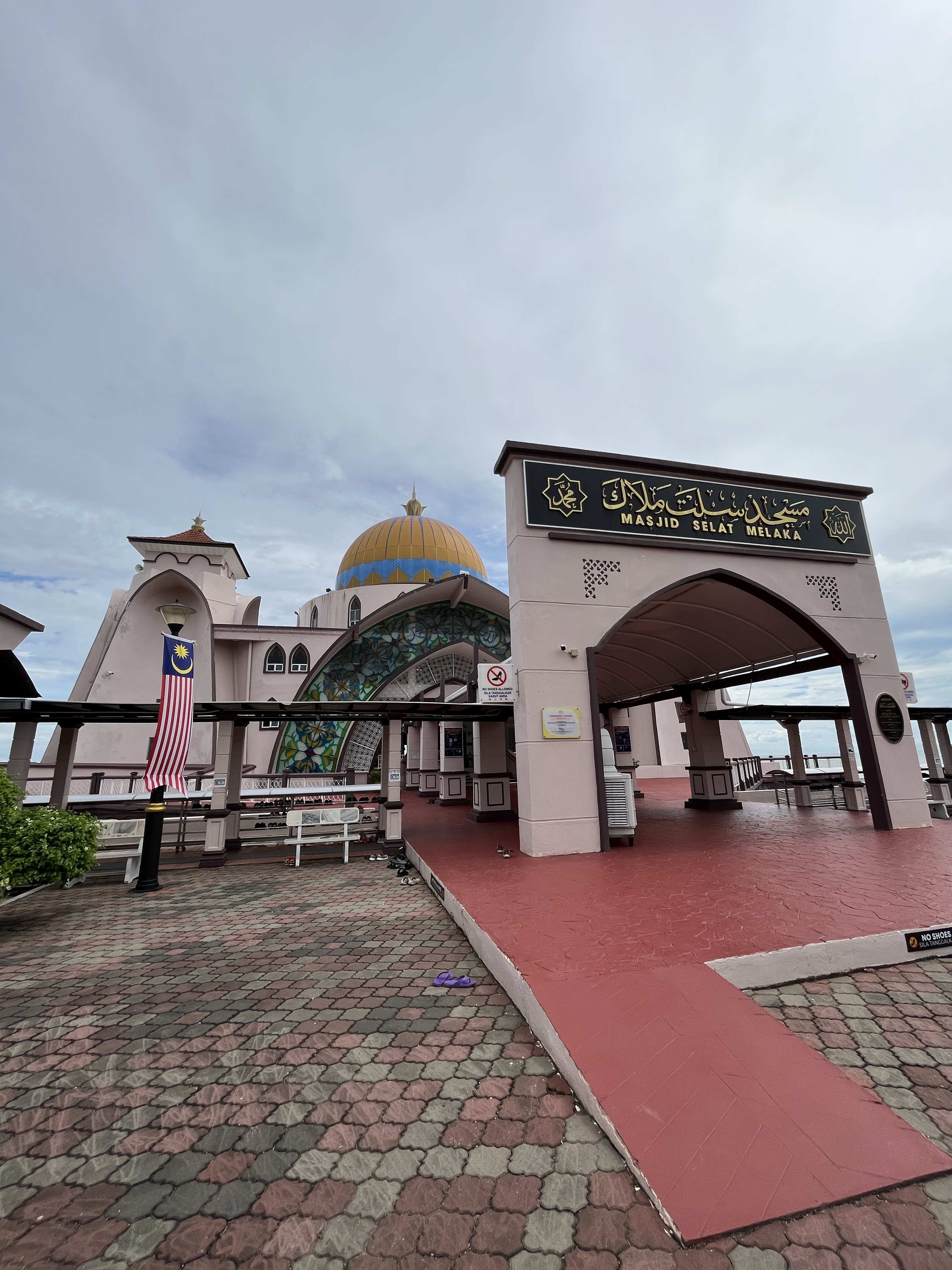 The structure of the mosque is beautiful. Having it built on the strait makes it even more magical. When it's high tide, it looks like a floating mosque. When at night, it will be filled with vibrant lights.
So when you are visiting Melaka, include the mosque to the places you'll be going. They are very welcoming even to tourists that are not Muslim.
Just remember to follow their instructions, and respect the mosque & the people. The place is sacred. Very sacred.
And best time to visit? Right before sunset til night. And if you're hesitant to get inside, you can always get mesmerized by the mosque from the nearby shore.