Hi everyone! Been busy this past few days as I have been travelling! Char2 lang. 😀
After my travel in Boracay for work, a long weekend is coming since August 21 is a holiday.
Thus, me & my sister went home to relax and spend some family time. Plus, I just want that traditional hilot. 😛
When Sunday came, we had our usual impromptu tour in the island. But this time, we visited those newly discovered places. It is a sort of ocular inspection as well if in case we will be having visitors.
Our trip started at Locong Falls in Catamboan, Lazi.
You need to rent a vehicle to be able to reach there since it is far from the national highway.
You will then be welcomed by friendly staff who will let you register and where you will pay for the entrance and parking fees. (I am not sure though if there is an entrance fee.)
To get to the falls, you have to trek for 10 minutes from the registration area.
Tsaraaaan! 🙂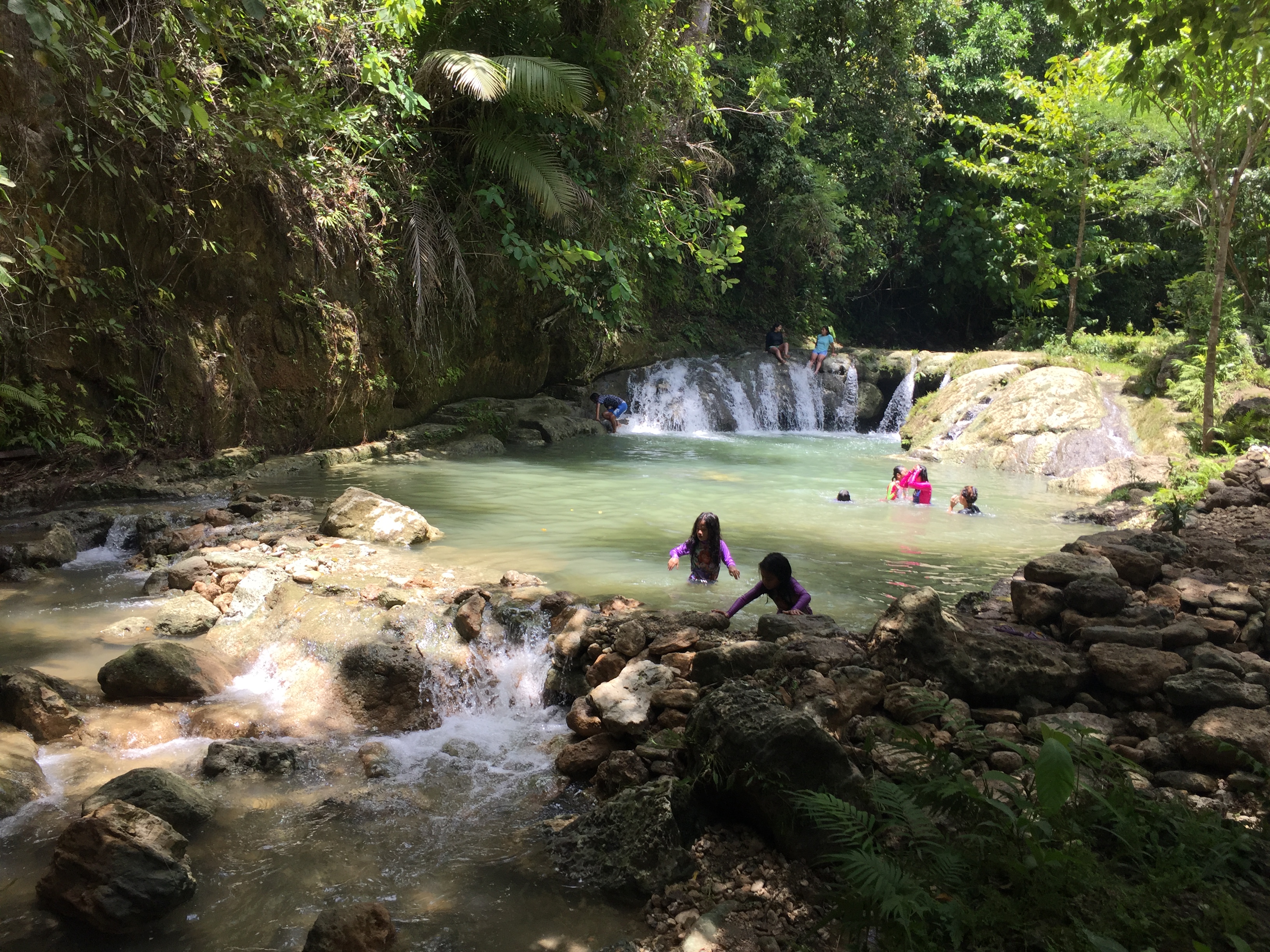 The falls is not as big as Cambugahay Falls but it is still beautiful and there are few people visiting that day too.
We spent just a short time taking pictures and roaming around then headed to our next stop because it is almost lunch time.
The residents here are just developing the area to make it more beautiful for tourists. and locals who will be visiting.
After that, we travelled for about 30 minutes to our next stop, Capilay Spring Park.
This tourist spot is not new to anyone especially to the Siquijodnons like us. We used to swim here whenever we are touring around the island.
But for that day, we went there to have our lunch. My mother has been suki already because it is where they will bring their visitors in the office.
There were already customers when we arrived, so we still have to wait for about an hour. Tip: Order in advance so that the foods are already prepared when you get there.
While waiting for our order we had eaten Pizza and Halo-Halo. Good thing we did because it did really take them an hour or so for the orders to be served.
But, the long wait is over! This is our sumptuous & delicious foods.
Note: the boodle only cost Php 1000 yet the serving is big. Worth the wait though!
When we got our stomach full and had enough time relaxing, we decided to head to our next destination, Kamp Aninipot.
It is called Kamp Aninipot because of the fireflies that are present at night in the site.
With this, here's a trivia. 🙂 Do you know Siquijor Island has been called the Island of Fire or Isla del Fuego by the Spaniards because of its glow at night coming from the swarms of fireflies.
This site is a newly opened camp site in Siquijor. Guests can do a day tour, or an overnight stay at their Hobbit Huts or in a camping tent. Kids can do zipline, wall climbing and pull up bars. Every guest can enjoy the overlooking view, fresh air, serenity, taking pictures in the frame and on the bike, and have some snacks in their snack bar.
It is located in Tacdog, Siquijor. You have to take a long uphill road to get there. So better have a professional driver and if possible not a fully loaded vehicle. Along the way, you can already see the view in the island. It is totally breathtaking!
This is the view that you will see right before the entrance to the camp site. You should not miss taking a photo in here. 
This is the Entrance. But no one is guarding here and you just have to pay at their snack bar (which you can reach by trekking).
This is the Hobbit Huts where guests can stay for overnight. Isn\'t it cute? 😀
Then take another time to trek to the top. Trekking is kinda tiring especially to the oldies. But having this kind of scenery is totally worth it.
Fortunately, when we got there, we were the only guests. So the whole place was ours and we were able to spend more time taking (unlimited) pictures.
Now you know the Jerusalem\'s trademark pose! :p
Wall climbing for kids only! 😀 Kids at heart are not allowed too. 
And more things to do. 😀
That scary road (super uphill) and lovely overlooking scenery.
Our last stop is Marikart in Larena. We had some snacks (halo-halo & fries) before heading home.
That is how we spent our day in the island. You can either just stay at home lazing, watching TV and eating or roaming around the island, discovering new places & trying that island foods & vibes.
Siquijodnons are continuing to beautify the island & its tourist destinations and discovering new spots because we want to encourage more guests to visit and experience the life in Isla del Fuego.
We hope to see you there one of these days. <3