One of the best things to do in Busan is to ride the Busan Air Cruise or the Cable Car at Songdo Beach. This was originally part of my itinerary but I did it earlier since some of my activities were cancelled.
I went there just before sunset and I must say, it was the perfect time.
Direct Bus: Take Bus 26. After 14 stops, get off at Amnamdong Community Service Center. Then you have to walk for 402 meters (cross to Songdo Patrol Division then go straight then turn right when you see a road going to 99.9 Hotel then go straight until you see the building with the sign 송도해상케이블카 (Songdo Marine Cable Car).
How to get there from Busan Station
Subway + Bus: Take Line 1 Dadaepo Bound. After 3 stops, get off at Jagalchi Station. Exit at Exit 2. Walk to Chungmudong Gyocharo Bus Stop. Take Bus 71 (other bus options: 96, 6, 26, 30, 96-1). After 6 stops, get off at Amnamdong Community Service Center.
Once you get there, purchase your ticket. Either through the Kiosk or through the Ticketing Booth. You can also book in advance through third-party apps like Klook.
Cable Car Ride Rates
There are two types of Cable Car Cabin – the Air Cruise (which is the standard cabin), and the Crystal Cruise (which is a glass cabin). Speedy Cruise if you don't want to wait. Premium Cruise is per cabin and can accommodate up to 8 persons. One-say Free Pass is an unlimited ride.
Once you're done buying the ticket, proceed to the 4th Floor. 3rd Floor has Ediya Coffee and Bay Terrace
Once you're in the 4th Floor, show your ticket to the staff and you will fall in line according to your cabin type.
I purchased the Crystal Cruise because I want to see what's beneath me and I just think it's cool. Unless you have fear of heights. 😁
And yes, I was alone in the cabin. 😄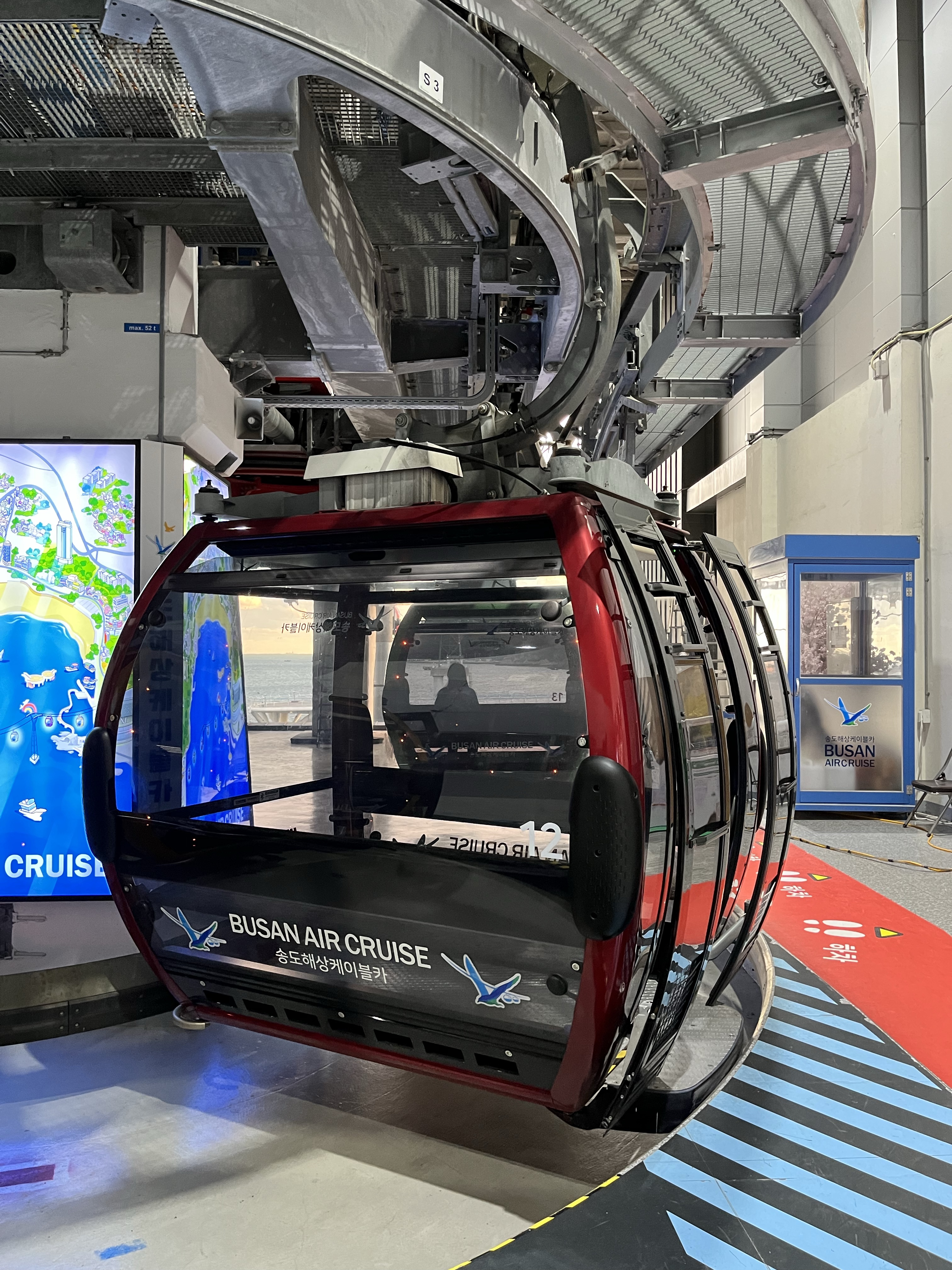 The ride was about 8 minutes. And right before we arrived at the Songdo Sky Park, the sun was just about to set. It was a pretty sighting.
When you arrived at the Sky Park, you'll be asked to take a photo which of course you need to pay if you want to get one.
There are food stalls where you can dine. And there's a park where you can chill & enjoy. You can also take a hike.
There was supposedly the Songdo Skywalk but I think it was closed because it was damaged due to the typhoon that hit Busan.
So I took a walk around the park, took some photos, did a little sightseeing and enjoyed watching others doing their thing. 😅
Then I decided to go back. Wherein some ahjussi and ahjumma were looking at me because I was taking the whole cable car to myself. Haha
It was a bit dark already when I arrived and it was sooo cold because of the wind. Good thing I brought hot pack with me. Coz I was really shaking. 🥶
I recommend to visit during sunset. The ride is for all (from babies to seniors). The cabin is big enough to accommodate up to 8 people. Crystal Cruise is the best choice but it is kinda pricey than the Air Cruise. Tickets can also be purchased online and through third-party like Klook. But I preferred to buy it onsite so that you won't be pressured with time. Spend time at the Sky Park. And yes, have a fun ride! It's worth it. 😉