Mati always has a good place in my heart. I\'ve been there twice (first on a solo trip and second were with friends). And yet, I still want to go back. It must be the waves. 😂
And so, we did not miss to include it in our trip to Davao. We stayed in Mati for 3 nights and 4 days. Yes, that\'s 4 long days in the beach. That\'s why, I looked so dark after. But I love it. After all, I\'m from the island. 😊
During that 4D3N workcation (vacation + work), we stayed in different resorts and did different activities.
We started our trip on a Friday morning, an hour or so after my shift ended. We had our breakfast at Baryo Kambingan and Native Lechon Manok in Panabo, Davao del Norte. It\'s something you should not miss when in this area.
Then continued our journey and had a stopover at Davao Oriental Welcome Park to take a photo at the big Davao Oriental signage and to take a pee break.
As we entered the area of Mati, we were asked to had a stopover and fill up a form. You need to specify the vehicle\'s plate number & model, your accommodation & the number of days you\'re staying, and the name of people coming in. They will then give you a pass that you need to give to the next checkpoint.
Then our next stop was the famous Sleeping Dinosaur. As the name suggests, the island looks like a sleeping dinosaur. You can climb onto it but for people like us with limited time, a good photo with it at the viewing deck is already great. 😁
Finally, we were able to arrive at our first accommodation – Somewhere in Dahican, just right the check in time. The security guard asked for our name to check against their list. So better book in advance.
We then had a quick tour. Jen & Eric then worked and I had my sleep. After that, we decided to go to the market to buy for our dinner – Shrimp, chicken, mussels. Thanks to our chefs – Eric and Bryan. It was a full good meal.
Then as I started my shift, they were drinking and yes, chitchatting. Until they decided to sleep and I\'m left all alone by myself working. With my music and the sound of the waves. Always have time for me time. 😅
And before 6 in the morning, I went to the beachfront lounge. Thinking I could get a glimpse of sunrise but I wasn\'t able to so I just took some photos while waiting for my shift to end. Until Shem & Bryan joined me.
We then went to Amihan sa Dahican to supposedly join the release of the baby turtles. But we were too early so we just went back to the resort and prepared for breakfast & had breakfast.
Then it\'s my cue to sleep. While I was sleeping, it\'s their turn to have a photo shoot. 😁
We checked out at 12 Noon and transferred to the famous Dahican Surf Resort. The area was filled with people as we arrived. We were able to book in advance a non-air conditioned room that could fit the 5 of us at Php 2500. Our room\'s name was Chills. Just what we\'re about to do – chill. 😉
We had our lunch at Dahican Surf Shack, took a nap and changed to our swimming attire. We were so brave to swim with the huge waves and eventually had fun. Except during the time that the waves washed and spinned us like we\'re clothes inside the washing machine. Haha
And I gained sands that were stuck in my ears after that (which I needed a help of an ENT to remove it). That also made us stop and went back to our room.
We then checked the resort and the nearby stores, ordered food for dinner, had a full dinner, watched live bands, drank Margarita and called it a day.
The next morning, I was awake earlier than my friends. With my Go Pro, I took a walk at the beach area and took photos. It\'s the me time I needed and made me happy when traveling in group.
That morning, we had surfing at Amihan sa Dahican before we checked out and headed to our next destination.
I had my first surfing at Amihan sa Dahican as well back in 2018. And so, I really made sure to do it when in Mati. The surfing was so fun and I improved because I was able to make 5 consecutive rides. Until I stopped coz it was making me hungry. Hehe
I\'ll surely be back in Amihan sa Dahican to surf and to experience the releasing of the baby turtles.
After we checked out, had lunch at Penong\'s. Then had a stopover at Pujada for a photo. Then continued the ride to Tinikaran River/Campsite. We had a quick dip on the cold and crystal clear water.
Before going back into the road to our home for the night. But before arriving, we had a quick stop at the Centennial Tree in Governor Generoso.
Then had a few stops to buy our food for the night. And finally arrived at Lanca Shoreline Campsite. Though we traveled for a couple of kilometers, still this area is part of Mati. And the waves? Well, just like in Dahican.
The area has 2 or 3 open cottages wherein guests can rent. You can bring hammock or tent. Each cottage has power outlet so no need to worry. And you can grill too. Though, you need to cross the street to get to the common toilet & bath.
We had a boodle fight dinner (all thanks to our chefs again), drank few bottles of beer, and slept on a hammock/tent.
The next morning, I was able to witness the sunrise. It was a bit cloudy but it is still beautiful. You can still see the sun slowly rising.
Then we decided to swim thinking it will be better than in Dahican. But we\'re wrong, they\'re the same. Still strong waves. Haha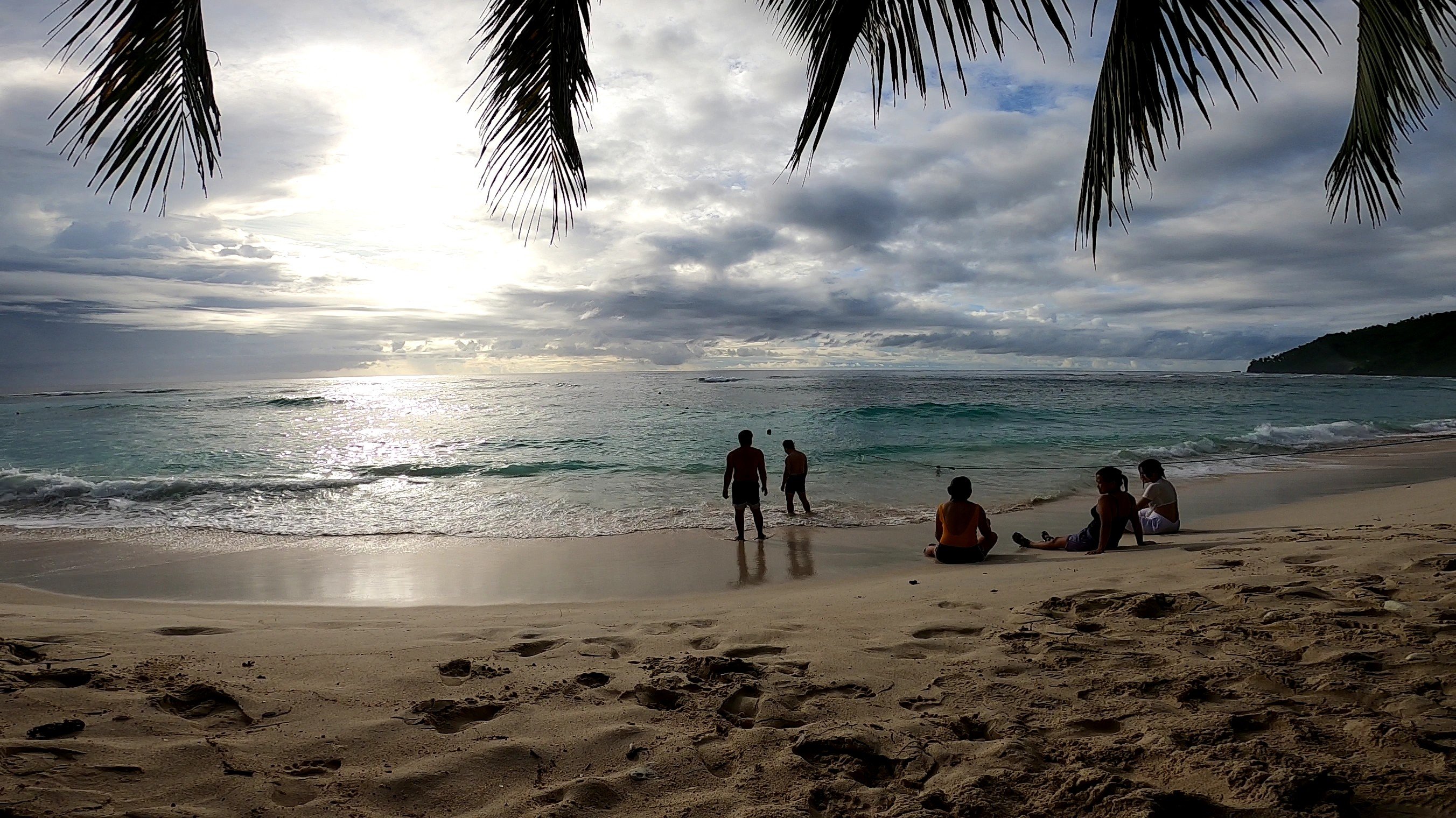 We then checked out and traveled to Parola Lavigan (Cape San Agustin). But before that, we had a stopover at Basarte Mangrove Park. We walked through the bridge to get to the end of the park and took some photos.
Then went on to Parola Lavigan (Cape San Agustin) which is the Southern Tip of Davao Oriental. It\'s like we were able to reach the other end of Philippines.
We were able to climb at the top of the lighthouse, had a 360 degrees view for 5 minutes. Before we were told to go down because other guests went up.
Since it was so hot and we were totally sweating from climbing up, we had cold Mango shake. Then continued our trip going back to Davao City.
We had a stop at Berns Halo-Halo and Desserts in Mabini, Compostela Valley for the famous halo-halo. And a little carbs too.
Then Eric was so kind enough to drop us off at our hotel in Davao City.
So there you go! It\'s a long journey indeed. With the number of days in the beach and the distance we needed to travel (Davao City to Dahican is 192km while Parola Lavigan to Davao City is about 243 km).
We had a lot of fun memories. Great ones! Amazing enough to be cherished forever. A lot of bloopers, eating, drinking, laughing and maritesing. Haha
And all of these would have been impossible if not because of our amazing hosts (Shem, Bryan and Eric) and our model (Jen).🤩
Traveling is not just about the destination. More so, it is about the people you are with. The good and the bad will always depend on who you are sharing that experience with. And I\'m so blessed to share it with these 4 awesome, cool people. Oh, I wanna go back! 😍