On our 3rd day in Japan, we opted to visit one of the many towers you can find in the Land of the Rising Sun. Well, there are 2 in Tokyo as far as I know. First is the Tokyo Tower and the other one is the Tokyo Skytree.
Before booking for an admission ticket through Klook, we were researching on what is better or preferred per experience of other travelers that visited these two.
To compare and for your reference, I\'m gonna use this article from Klook wrote by Hew Lee Yee. Though you can definitely find lots of comparison and blog posts online.
Tokyo Skytree
This is what we saw when were roaming around Asakusa. And all those time, we thought that this is the Tokyo Tower. But again, we were completely wrong and we just realized that on the day of our visit to Tokyo Tower. Haha
Anyway, this tower was completed just last 2012 and it was considered to be the world\'s tallest tower and 2nd to Dubai\'s Burj Khalifa in terms of world\'s tallest structure. It\'s primary purpose is as a radio and television broadcast site for Kanto Region. It stands 634 meters and the tallest structure in Japan. Its observatory decks can be found in 350 meters and 450 meters. It offers wider view of the city mainly due to its height. It is located in Sumida and close to the Asakusa district. It can be accessed easily by train.
Tokyo Skytree
The other tower is Tokyo Skytree. It was built in 1958 after World War II and has been the famous landmark of Tokyo skyline for decades. It stands 332.9 meters and has two observatory decks at 150 meters and 250 meters. It offers a closer view of the city and is located in the middle of the business district. It is located in Shiba-Koen district in Minato, Tokyo. Although there is no direct access to the train station, there are 5 different stations that are walking distance to the tower. The famous facility here is the Tokyo One Piece Tower.
We chose the latter and I forgot why. Hahaha We are not One Piece fanatics too. I only know Luffy. 😅 But yeah! Our 3rd day was in Tokyo Tower. 🗼😊
We were coming from our 2nd accommodation, Nine Hours Woman Kanda. It took us about 30 minutes to reach the tower. But we dropped first at Yoshinoya for a breakfast before going to the tower.
This was our 2nd Yoshinoya meal. Their foods are really delicious. Opposite to what I tried in PH. 😁
Then after that, we walked towards the tower. There is not other way than walk. Actually, there is. Through taxi or private vehicles.
It was quite a long walk coz we took the longer route. And realized a couple of minutes later that we could have take the shortest way. But anyway, still fine coz we were able to see that side of Japan, your regular neighborhood.
We were even unsure if this is the tower we are looking for. Coz what\'s really in my mind was that the Tokyo Tower was the one we saw in Asakusa (Tokyo Skytree). We were using Google Maps but still I\'m in doubt. Hahaha
While we were taking photos, a bunch of friends Karting like Mario passed by. Yes, you can tour around Tokyo by Karting. You just need to have an International License. This is pretty cool and fun, for sure! 😉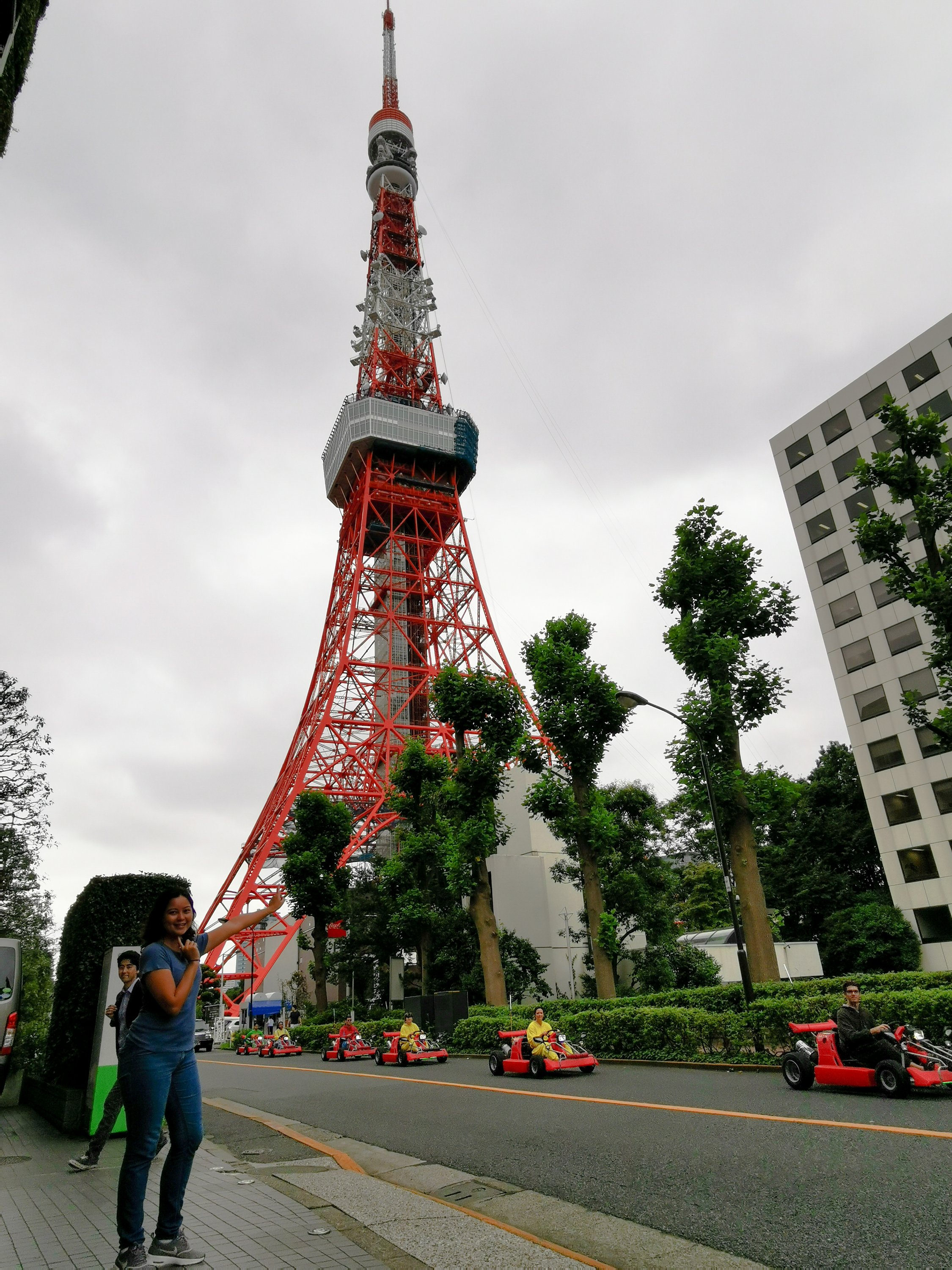 We still headed to the tower, even again in doubt. Hahaha I completely forgot the look of the tower we\'re going to. But Google Maps was directing us here.
We exchanged our Klook voucher at the counter in the 1st Floor. They gave us tickets for the One Piece and Observatory deck.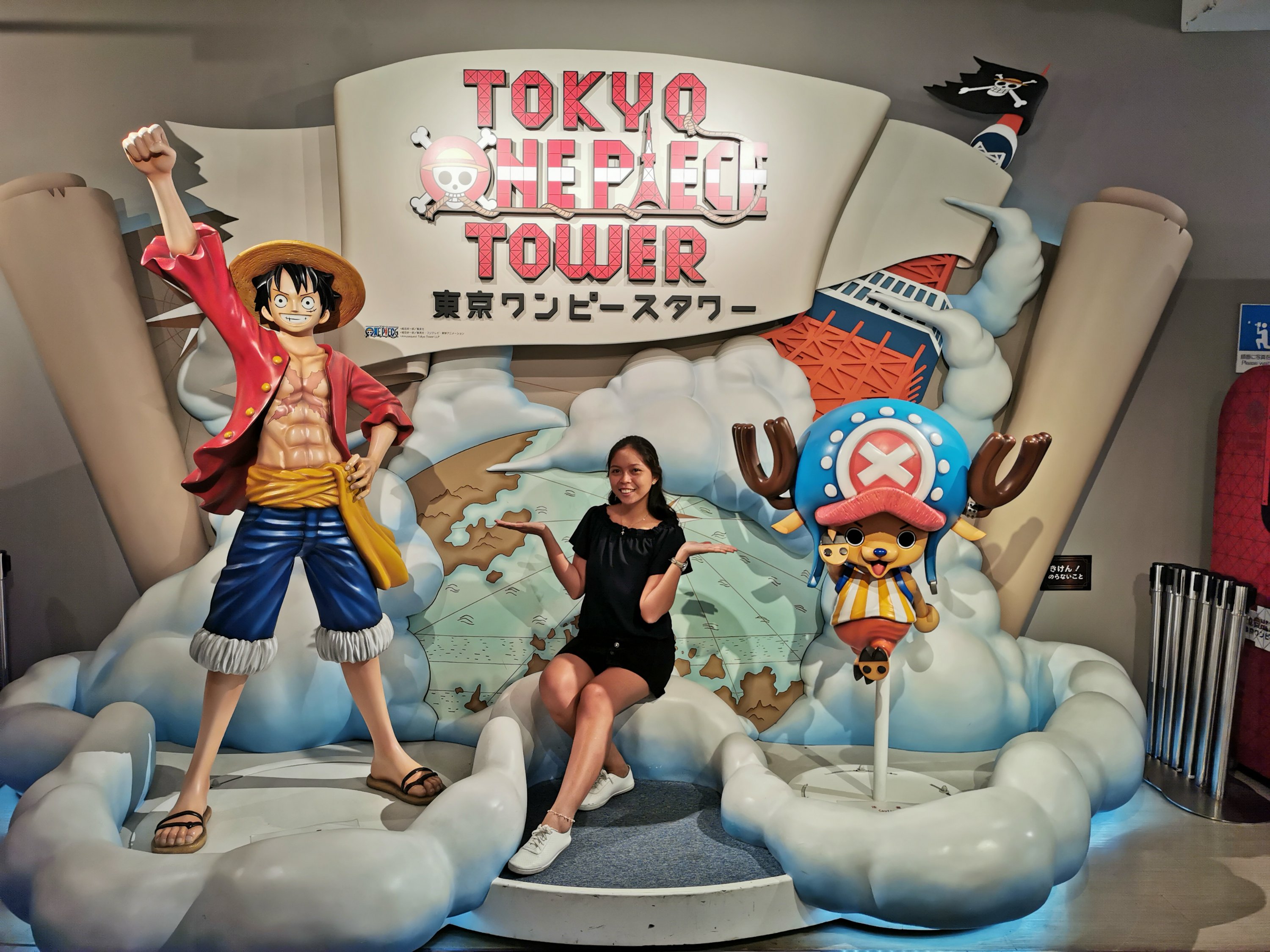 A staff gave us instruction and rules inside. Our first stop was the show which was very awesome but we cannot take photo or video but it is a must. Then we headed to an area where we can find the life size One Piece characters. Then, there is a souvenir corner.
On the upper floor is where you can find an arcade zone. You can play various games and they have a café too. Next floor is the exhibit of One Piece stuff (clothes) and story. There is also a theater which we opted not to watch coz of limited time and it\'s in Nihongo.
Then, we went to the Observatory Deck.
You can even see the Tokyo Skytree from here.
And there is a Skywalk Window which you can see the bottom of the tower. If you have a fear of heights, this is the best way to conquer it. 😊
And you can find a lot of shops selling souvenirs and One Piece merchandise. There are also restaurants where you can have your lunch or refreshments.
So, come and visit Tokyo Tower and meet Luffy & his crew. 😍