When you talk about traveling to Cebu, people will always suggest Oslob Whale Shark Watching, Tumalog Falls, Moalboal, Simala Shrine, Mactan Shrine, Camotes Island, Bantayan Island, Malapascua Island and the list goes on.
I have been traveling for quiet some time but always I got to travel less from where I have been staying. We always aim on visiting those places far from home. I know many would agree. 😊
I always wish on visiting Malapascua Island since I was able to visit Camotes and Bantayan already. And so, when Tropang Laagan planned for a summer getaway for May (yeah, you heard it right? we have been planning on traveling almost every month.. haahaha), there was a suggestion to go to Daanbantayan.
We are blessed that one of our bestfriends came from Daanbantayan. Toj planned everything and coordinated all the things that we need.  The plan would be Day 1 in Malapascua Island (finally.. hehehe.. dreams do come true 😝), overnight at their house and Day 2 in Carnaza and La Manok island.
And when the day came, everyone is very much excited. But instead of our call time at 6AM, it became 7AM and we departed around 7:30AM. Pinoy time! 🙄😝
We hired a van that is exclusive for us and for another group (3 guys) from Manila since they are in a hurry. Normal bus fare is around Php 170 for non-aircon and Php 180 or Php 190 for aircon.
We arrived in Casa de Tohay almost 11AM. They were already preparing us lunch. And they prepared a lot: Tinolang Manok Bisaya, Crabs, and that squid. 😄
After lunch, we changed and then headed to Malapascua. We rented a boat for the whole trip including island hopping for Php 3,000.00.
Our boat can occupy up to 22 passengers and we are only 8. Imagine, how big it is for us that we can sleep and party. hahaha..
And as planned, we headed to Malapascua Island. It is just 30-45 minutes away from Maya Port. Look what welcomed us! Paradise! 😍
Malapascua Island has a stretch of white sand with beach resorts lined up. It is peaceful and serene perfect for those who want to be away from the hustle and bustle of the city. The water is crystal clear. Though the shoreline is not that long as Boracay but still it is perfect for beach lovers like us.
Since, there is not much we can do and after a few minutes of strolling and taking picture, we decided to do the island hopping.
First stop is the area for cliff jumping. It measures 50 feet (if I am not wrong) and it is only for those who have willingness and strong courage. Definitely not for those who have a weak heart like me. 😝
Only Neil and Toj did the cliff jumping. And the rest were just swimming near the boat. There is also an area in the cliff where you can have a good pictorial session. Brave hearts though! And they got a whole boat of cheerers. hahha..
Near the cliff is the Sunken Ship. Since when we were done with the cliff jumping and swimming, there are many tourists in the Sunken Ship so our boat captain suggested to go to Chocolate Island instead.  And off we go!🛳
This is Chocolate Island. I am not sure why it is called that because I haven\'t seen a single chocolate instead there is a lighthouse. Well.. Let it be that! hahhaha.. no whys!
Once we got there, we then went to the lighthouse. We still have to climb for a couple of steps before getting there. But you can appreciate more the view if you will climb up to the top of the lighthouse.
It is a 360 view. And just so relaxing and calm. 🙂
That ends our Day 1. Later that night, we gatecrashed a party of Toj\'s cousins thanksgiving. Literally, we just ate and ran. 😋🙈
Unfortunately, that night there was some incident happened and so we decided not to proceed to Carnaza and La Manok Island. Toj\'s family suggested to go to the a nearby beach which is Nalundan. Good thing, Tolits and Che can join as well.
So the next day, with all the foods, the drinks and everything that we need, we started trekking for 15-20 minutes. And along the way, we saw Maya RORO Port and another relaxing view.
Just when we got there, this welcomed us. The water is clean and crystal clear. There is just few people mostly within the area since this is undiscovered yet. But you just have to bring tent or something for your stuff because there is no cottages.
We really had fun swimming, cliff jumping, eating, chitchatting and just savoring the moment in this paradise with the people we love.
Carnaza and La Manok Islands are a must-visit places but being able to visit Nalundan is enough. We still enjoyed and got burnt by the heat of the sun. Literally, I was kissed by the sun as I have sunburn! hahaha..
There is more to Daanbantayan than a jump-off point to Malapascua. There are many undiscovered places that should be visited. There are delicious foods that can be bought for an affordable price. And more than that, there are people who are very much hospitable and nice.
Thanks a lot to Tohay Family especially to Uncle Diomeng and Ante Lacion for taking care 7 noisy people, for the warm welcome and for the makabusog na foods. We still have to go to Carnaza and La Manok so we shall return. Hahaha..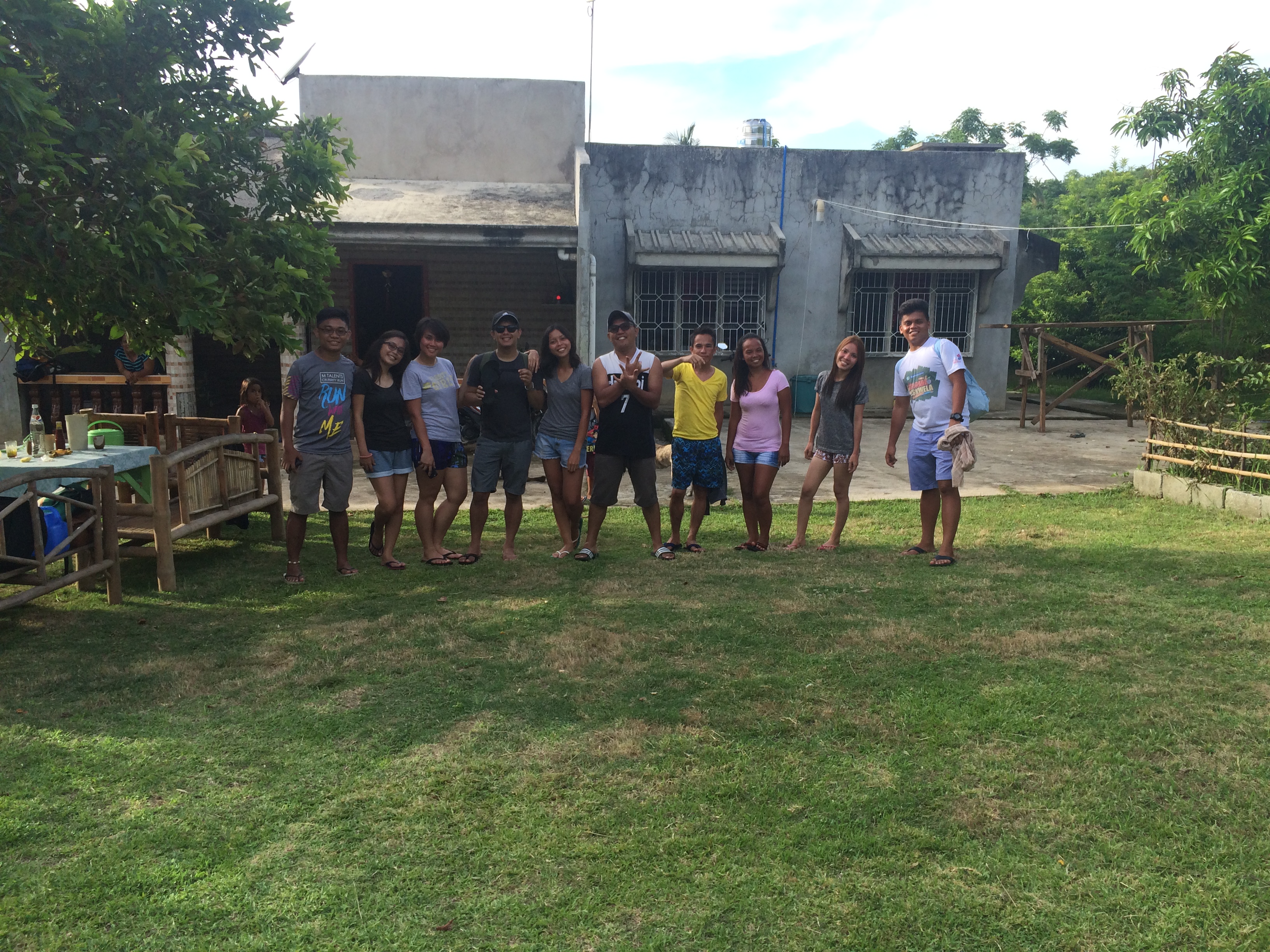 All the love from Tropang Laagan! ❤️