It\'s one Saturday morning, almost lunch actually, we took a taxi to a place called Nickrek Center. I don\'t have an idea what it looks like and so the driver. The location is so familiar but haven\'t heard of this center.
I\'m having lunch with my sister. When we arrived, I saw a familiar road and familiar buildings. Oh! It\'s where I had Yakiniku lunch with my colleagues, (Wakamatsu Yakiniku) on my left. And oh, this was where my former colleagues from Davao would stay when they\'re in Cebu, (Castle Peak Hotel) on my right. Then… Ohhh, so this is the place, in front of me. Across the street where vehicles are passing non-stop.
This is what we\'ve been looking for – JEJU SAMGYUPSAL.
It\'s a new Samgyupsal Restaurant (삼겹살집) in Cebu. I found it a couple of times in Instagram coz I know one of the owners.
For the love of Samgyupsal and to support someone I know, we tried to dine here. We reserve a seat in advance as this is more preferable.
As we got inside the restaurant, we saw their menu board placed near the door. They offer two sets of unlimited meal.
We were welcomed by friendly staff and was told to sit & wait for a moment as they prepared our table. And oh! Since it\'s pandemic, they took our temperature.
In front of the seat, there are refrigerators where meat & side dishes (which I believe are both for sale) were placed. At the back are the tables with customers enjoying their meal while talking & some, taking photos.
The moment you entered the restaurant, you\'ll see how vibrant the colors are. Yellow paint on the walls, mural paintings of Jeju Island, the black with yellow bulb lighting, their open kitchen. It is indeed picturesque / instagrammable as they say.
Then we were led to our table – Table #1. We are close to both the kitchen and the comfort room. And a beautiful painting was in the back of my sister. Oh, it\'s Jeju!
We were served with side dishes which I was amazed of how much they have. A different side dishes that I\'ve never seen in other Samgyupsal Restaurants in Cebu.
They served us Fried Chicken, Japchae, Cabbage Salad, Korean Sausage, Kimchi, Pink Radish. They also had Kimchi Stew (Kimchi Jjigae) which my sister liked a lot and the Steamed Egg (Gyeran Jjigae) which I love.
And then, they gave us the meat. It will be grilled in a huge hot stone plate with a rectangle shape. You can grill a lot of meat at the same time.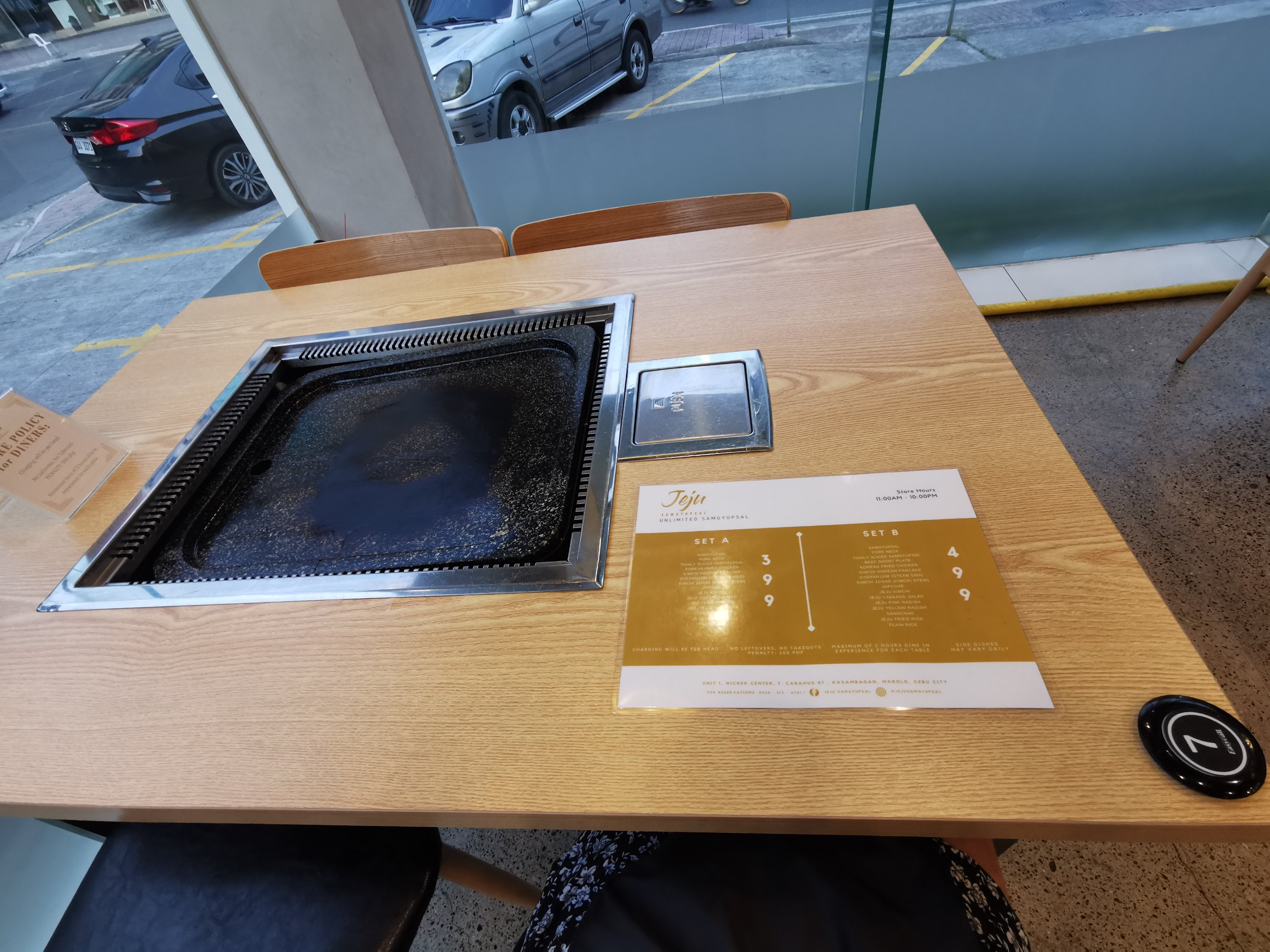 Then while we\'re grilling a Korean woman approached us and grilled the meat for us. Am not sure if she\'s one of the Boss 사징님 or the Manager. But when I went back for the second time, the staff said she\'s one of the Boss.
She\'s so friendly and helpful. She would check the customers from time to time and go to the kitchen if there\'s anything needed to be served. I asked her if the meat are from Jeju and she said no. I told her 너무 덥다 and she said something about the aircon. I guess she thought I was complaining that it\'s hot in their restaurant. But what I actually wanr to say that the stove is hot and it means it\'s good one. 😂 And few minutes later, the ACU was facing towards us and it\'s cold.
We asked for more side dishes and meat. The place has become a bit noisy as everyone is talking which is given. And it\'s not as big as other restaurants. That\'s why, it\'s preferred to reserve and they also limit the customers to dine for 2 hours only. In this way, they could give way for other customers.
Well that\'s fair enough, I guess. It\'s enough time to eat as much as you can.
And then… The most awaited part arrived, we were served Kimchi Fried Rice (김치 볶음밥). This is a dish I would cook for myself at home whenever I have Kimchi. The staff brought a plate with Kimchi Fried Rice that is good for 2 and a molder with a ♡ shaped.
She put the meat at the side of the hot plate then put the molder in the middle. She then poured the Kimchi Fried Rice into the molder and flattened afterwards.
Voilà! The Kimchi Fried Rice Heart (which I called 내 김치 볶음밥 심장) is ready. It\'s delicious. 너무 맛있어~ My sister would definitely agree and my friend too (who I\'m with the 2nd time I dined in).
We had indeed a fun and full dine in experience here in Jeju Samgyupsal. Something worth for the money you\'ll spend. There are some things though that might not suit for everyone like eating time limit is 2 hours and the place can become a bit noisy. BUT these things are nothing for the super delicious food and excellent service you\'ll get.
And oh! Their playing a KDrama on the TV and Kpop songs too. Just like an ordinary Korean Restaurant. 😉
곧 만나요 제주 삼겹살! 잘았어요 😉